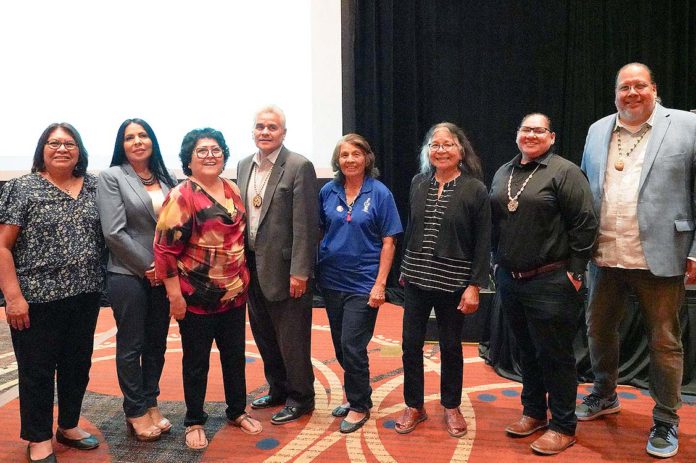 CHANDLER, AZ – The Inter Tribal Council of Arizona (ITCA) celebrated the 75th anniversary of the Native Right to Vote in Arizona with a luncheon. Nearly one hundred tribal members and leaders gathered at the Gila River Resorts & Casinos – Wild Horse Pass to honor the historic occasion and those who helped make it possible.
Established in 1952, ITCA provides a united voice for tribal governments in the state to address common issues of concern and provides an independent capacity to obtain, analyze, and disseminate vital information to tribal communities. Gila River Indian Community (GRIC) was well represented at the event by members, elders, Gov. Stephen Roe Lewis, who delivered welcoming remarks, and Tribal Historic Preservation Officer Barnaby Lewis, who provided a blessing for the event. 
Gov. Lewis echoed the importance of the Native vote, sharing the historical role of two GRIC members, Peter Porter and Rudolph Johnson, who in 1928 attempted to register to vote in Pinal County but were denied by a county recorder. As a result of the denial, both filed a lawsuit, and the Arizona Supreme Court ruled against the case.
Frank Harrison and Harry Austin, both Fort McDowell Yavapai Nation members, filed a lawsuit in 1948 after being denied the right to register to vote in Maricopa County. After the superior court ruled against the case, it was appealed to the Arizona Supreme court who unanimously overruled the prior decision made by the superior court.
Fort McDowell Yavapai Nation President Bernadine Burnette honored Harrison and Austin. She knew Harrison personally and said, "Because of him and Mr. Austin, we could exercise our opinions. Voting impacts lives in many ways."
ITCA screened a short film at the event that delved deeper into the legal battles and historical struggle for Native Americans to gain the right to vote in the state. Asari Taylor, a member of the Salt River Pima-Maricopa Indian Community and Young River People's Council, joined fellow youth for the event. 
"We are very excited to be here. It was a great experience and opportunity to be here and meet all my people," said Taylor. "I think the most important part for me was the video and watching that and how emotional it was. It was shocking to see. That is definitely something you need to learn."
"It was an exciting event," said Bonita "Bonnie" Lyons, a GRIC member from District 5. "There was a lot of youth here, a lot of tribal leaders that were present and talked about their tribe's involvement in voting in elections and how important it is for our people to vote."
Lyons stressed how important voting is and how it helps to change the voting future for tribal communities, the state, and the nation. "Our vote matters. Our voice matters. And it's a sacred right that we have been granted through many difficult years of fighting for that right to vote," she said.
"Voting matters, representation matters, and the fight is not over," said Gov. Lewis, who referred to the recent threat to overturn the Indian Child Welfare Act (ICWA) in the Supreme Court. "Despite our recent gains, Native people and tribal governments are still fighting."
On June 15, ICWA was upheld by the Supreme Court. "Our community members show up on election day; we show up because we know that it matters who sits in those state offices, federal offices, on our state and federal courts, and especially on Supreme Courts," said Gov. Lewis.