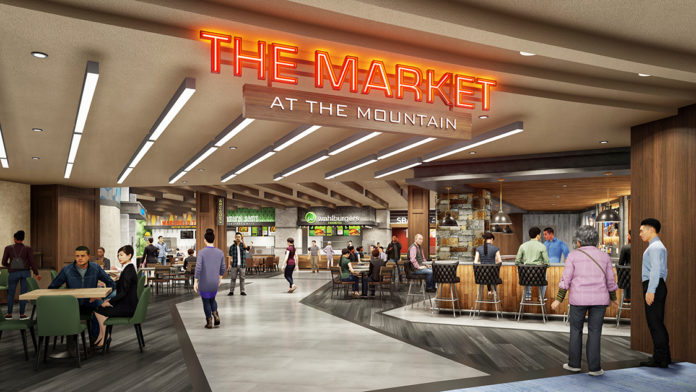 MESCALERO, NM – Inn of the Mountain Gods Resort and Casino will be welcoming a diverse new collection of eateries called The Market at the Mountain, set to open this summer. The new food court will replace the Gathering of Nations Buffet that previously occupied the resort's space.
Within The Market at the Mountain will be several fast-casual options including Samurai Sam's Teriyaki Grill, Sbarro, Warshield Tacos and Wahlburgers, each with their own distinctive menu offerings. The Market at the Mountain will also feature Carrizo Canyon Coffee House, Scout's Corner Bar and the Chipper and Bandit Arcade.
"We are so excited for this new addition," said Frizzell J. Frizzell Jr., Chief Operating Officer of Inn of the Mountain Gods Resort & Casino. "This is a reflection of how the Mescalero Apache Tribe is continually finding ways to invest in the experience we provide to our guests."
New Mexico's first Wahlburgers will be a unique addition to the Inn of the Mountain Gods' dining options. The restaurant chain, founded by brothers Mark, Donnie and Chef Paul Wahlberg, is known for its menu items inspired by the Wahlberg family kitchen. The menu will offer the brand's most popular items including the brothers' favorite burgers, Jenn's Chicken Sandwich, fresh entree salads, and house made chili.
Samurai Sam's will offer affordable, Japanese-inspired cuisine filled with wok-stirred vegetables and marinated, grilled proteins, Sam's Teriyaki Sauce, yakisoba bowls and grilled egg rolls. With 65 years of rich history, Sbarro will offer customers New York-style pizza made with hand-stretched dough and hand-shredded mozzarella cheese, hand-cut toppings and proprietary San Marzano-style tomato sauce. Patrons will also be able visit Scouts Corner Bar while kids can explore the Chipper and Bandit Arcade.
The new market will include 150 seats and feature seven venues.