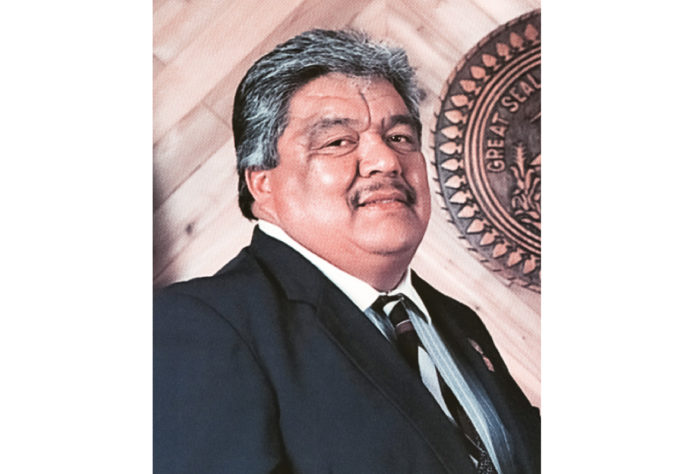 WINDOW ROCK, AZ – The 24th Navajo Nation Council offered condolences to the family and friends of former Speaker of the Navajo Nation Council and Navajo Nation President, Honorable Kelsey Begaye. Begaye was of the Ashiihi (Salt people) clan and born for the Todich'iinii (Bitter water) clan. His maternal grandparents are the Honaghaahnii (One-walks-around) clan and his paternal grandparents are the Kinyaa'aanii (Towering House) clan. In 1991, Begaye began his political career as a council delegate for his respective community of Kaibeto, AZ. He later went on to hold the position of Speaker of the Council before becoming the fifth Navajo Nation President in 1999.
"On behalf of the Navajo Nation Council, we send our deepest condolences to Kelsey Begaye's family at this difficult time," said Speaker Seth Damon (Bááhaalí, Chichiltah, Manuelito, Red Rock, Rock Springs, Tséyatoh). The Nation has lost a great friend, mentor, and colleague who showed the skills of leadership and great determination. He worked tirelessly as Speaker of the Navajo Nation Council and President of the Navajo Nation. The Council mourns with you and celebrates the extraordinary life of this remarkable man, who devoted his life to his family and the people of the Navajo Nation."
In addition to his dedicated leadership, Begaye was a Vietnam Veteran who served in the U.S. Army. After serving, he later became a community abuse counselor, pastor, Navajo Nation Program Manager, Navajo Nation Legislator and then Navajo Nation President. Begaye demonstrated a tremendous level of leadership through his selflessness for his community, the Navajo Nation, and the Navajo people.
Speaker Damon ordered the flags in front of the Navajo Nation Council Chamber in Window Rock be raised at half-staff during this period.