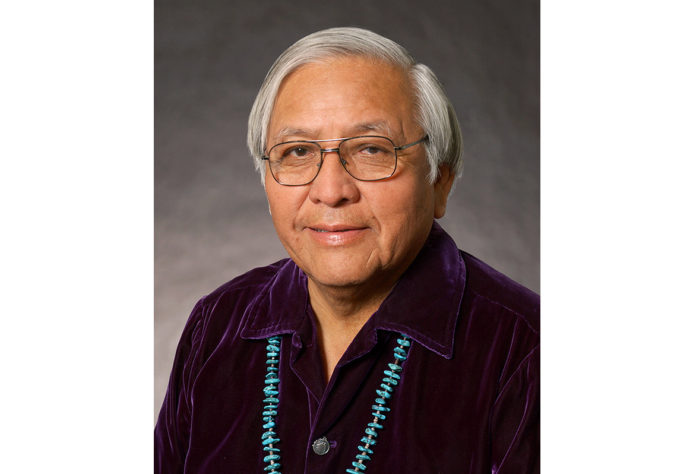 TEMPE, AZ – Dr. Peterson Zah, former President of the Navajo Nation and advocate for Native American rights, passed away on March 7, 2023. He was 85 years old.
Zah was a revered leader and visionary who dedicated his life to improving the lives of Native American people, particularly in the areas of education and economic development. In 1982, Zah was elected Chairman of the Navajo Tribal Council. In 1990, under a new tribal government, he was elected as the first President of the Navajo Nation, leading the movement to restructure and modernize their governmental system from a Council to a Nation.
Throughout his life, Zah has made education a priority. In 1995, Zah was appointed as ASU's Special Advisor to the President on American Indian Initiatives to benefit the growing Native American student population and their respective communities. During his tenure, the university's Native American student population doubled from 672 to over 1,400 students. He is recognized for his efforts to increase retention rates from 43 percent to 78 percent, among the highest of any major college or university in the country.
In 2001, he played a key role in the establishment of the Construction in Indian Country (CIIC) program at the Del E. Webb School of Construction at ASU. CIIC was a passion of Zah's and he worked tirelessly to promote sustainable development, cultural preservation, and economic growth in Indian Country through innovative and collaborative approaches to construction and design. Under his leadership, the program became a nationally recognized leader in the field of construction in Native American communities and provided students with the skills and knowledge needed to successfully navigate the complex cultural, legal, and regulatory issues associated with construction management in Indian Country.
On November 7, 2019, Zah was awarded CIIC's "Lasting Impact Legacy Award" in recognition of his lifetime of achievements.
"Dr. Zah's impact on the Construction in Indian Country program at ASU cannot be overstated," said Kim Kanuho, CIIC Executive Board President. "His commitment to promoting sustainable development and economic growth in tribal communities has inspired countless students and professionals in the construction industry. We are deeply grateful for his vision, leadership, and dedication to this important work."
"Dr. Zah's legacy will continue to inspire and guide the work of the Construction in Indian Country program at ASU, as well as the countless individuals and organizations he touched throughout his life," said Marcus Denetdale, CIIC Program Manager. "He will be deeply missed."