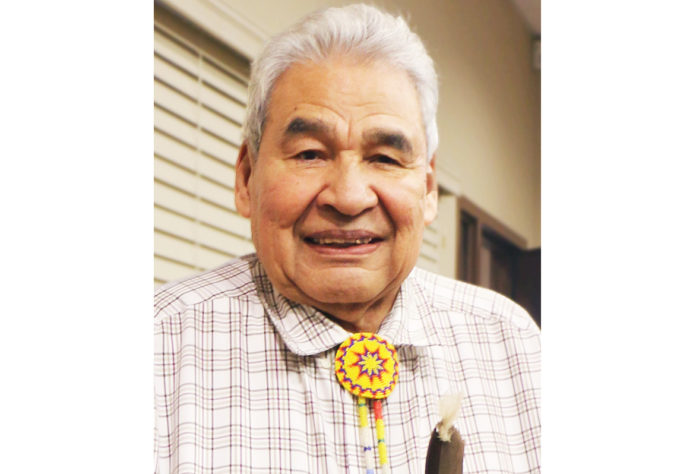 SOUTH BEND, IN – A longtime resident of South Bend, IN, Pokagon Band of Potawatomi elder and citizen Clarence J. White has passed away at the age of 89.
"It is with heavy hearts that we mourn the loss and celebrate the life of Clarence White," said Rebecca Richards, Tribal Chairwoman of the Pokagon Band of Potawatomi. "Not only was Clarence a beloved elder and spiritual leader for our tribe, he also served as a role model for so many of our Pokagon Citizens, including our youth. His warm, gentle presence, wisdom and caring spirit will be greatly missed."
"In addition to being a husband, grandfather, father, uncle, brother, and friend, Clarence was also a teacher of the traditional Pokagon ways, customs, and language," said Gary Morseau, Vice Chairman of the Pokagon Band of Potawatomi. "He was a pillar of our tribal nation and the greater South Bend community, who meant so much to so many. Although Clarence has walked on, his contributions will live on for many generations to come."
White's friends called him "Chief" because he was a member, and in many ways a true "Chief" of the Pokagon Band of Potawatomi Indians. He served as the treasurer of the Pokagon Band of Potawatomi Elders for over 20 years. He was the tribe's designated pipe carrier. He performed thousands of pipe ceremonies and funerals for tribal members over the years as a spiritual guide to the tribe. He taught thousands of people of all ages and races about traditional ways, customs, and language of his people.
White, along with a small group of his fellow Pokagon Natives, helped bring about the final steps of a long, multi-generational effort to receive tribal recognition from the U.S. government in 1994, capped by attendance at the signing ceremony in the White House. He also served on the committee that helped plan and build Four Winds Casino.
In 1973, White built a drum that would eventually become the centerpiece for White Thunder – a drum group that performed nationally at pow wows and even the 1996 Olympics in Atlanta – but most importantly, brought drumming back to the Pokagon Band. His likeness served as part of the design of the Dowagiac High School logo in 1991. He has been the subject of numerous paintings, photographs, and even a billboard along the bypass.
White was awarded lifetime achievement awards by Mno-Bmadsen, the Pokagon Elders Council, and the Pokagon Tribal Council. He served on the Repatriation Committee, which takes in Native remains from museums or excavation sites, and then reinter the remains properly. He participated in the Indiana Bicentennial Torch Relay in 2016 and was a 2013 recipient of the Golden Hoosier Award for outstanding service to the community and the State of Indiana.
White lived a storybook life that touched the heart and spirit of nearly everyone he met. His spirit will live on in the good works and peaceful lives he taught others to live.