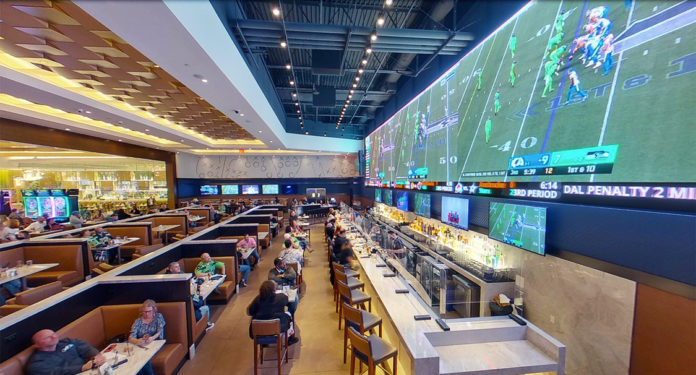 RIDGEFIELD, WA – ilani celebrated the arrival of sports wagering in Southwest Washington with an opening event at The Stadium Sports Bar & Grill. The event featured appearances by NFL legends Drew Bledsoe and Walter Jones, along with former ESPN sportscaster and Portland Trailblazers away-game pre-show host, Neil Everett.  
Everett kicked off the event by hosting a sports wagering Q&A session with Kara Fox-LaRose, ilani President and General Manager; Cowlitz Indian Tribe Chairwoman Patty Kinswa-Gaiser; and Hugh Aufill, ilani Sportbooks Manager. Guests learned about the regulations for sports wagering in Washington and what this new amenity means for the Cowlitz people.
"This new offering is another exciting amenity for our guests, as well as an opportunity to draw in new visitors from the region and beyond," said Fox-LaRose. "We expect this feature will generate greater economic revenue for the region as well as cultural opportunities as a wider audience is introduced to ilani and the Cowlitz people."
After the panel, Everett was joined by Super Bowl champion and former New England Patriots quarterback Drew Bledsoe and former Seattle Seahawks offensive tackle Walter Jones for an exclusive pre-game show.
Guests watched games on the region's largest video wall while partaking in the Stadium's game-day bites. Fans also cheered on the Seattle Seahawks from the adjacent betting lounge.