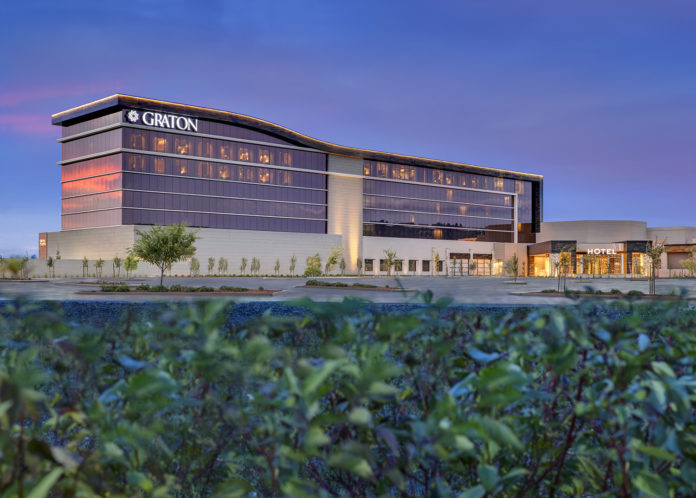 ROHNERT PARK, CA – International Game Technology (IGT) has signed a multi-year agreement with Graton Resort & Casino in Rohnert Park, CA to enable cashless gaming via Resort Wallet™ and IGTPay™ solutions. As modules of the IGT Advantage™ casino management system, Resort Wallet and IGTPay comprise the gaming industry's only fully integrated turnkey cashless solution and will give Graton's guests more choice, convenience and security for funding their play at the property's 3,000-plus slot machines.
"As one of Northern California's premier gaming destinations, Graton Resort & Casino prides itself in offering our players leading-edge technologies that bolster the guest experience and introduce added choice and convenience," said Brian Green, Graton Resort & Casino Vice President/Assistant General Manager. "IGT's proven Resort Wallet and IGTPay cashless technologies will enable us to drive new operational efficiencies and optimize revenue, while offering our customers a future-forward mobile e-wallet option that comes with a variety of benefits."
"Cashless commerce is the way of the future across business sectors and we're finding that slot players who adopt IGT's cashless casino technologies are readily embracing it and reporting high satisfaction with the experience," said Ryan Reddy, IGT SVP Global Video Poker, VLT, Systems and Payments. "We look forward to helping Graton Resort & Casino maximize player convenience and security, accelerate growth and differentiate the guest experience through IGT's Resort Wallet and IGTPay cashless gaming technologies."
With Resort Wallet and IGTPay, Graton can offer its Graton Rewards loyalty club members the option to create a cashless wagering account and then fund that account from their mobile device using a range of sources such as personal checking and credit accounts. To apply available funds to a slot game session, a player taps the smartphone to the game's card reader and via Bluetooth technology, the player's balance and loyalty rewards instantly populate on the game's service screen via IGT's M5 technology. At the conclusion of a play session, the player can transfer the remaining funds back into a personal account or keep them in their cashless wagering account for future play. Additionally, the IGT technologies will fully integrate with Graton's Marker Trax offering, a widely used digital marker solution.