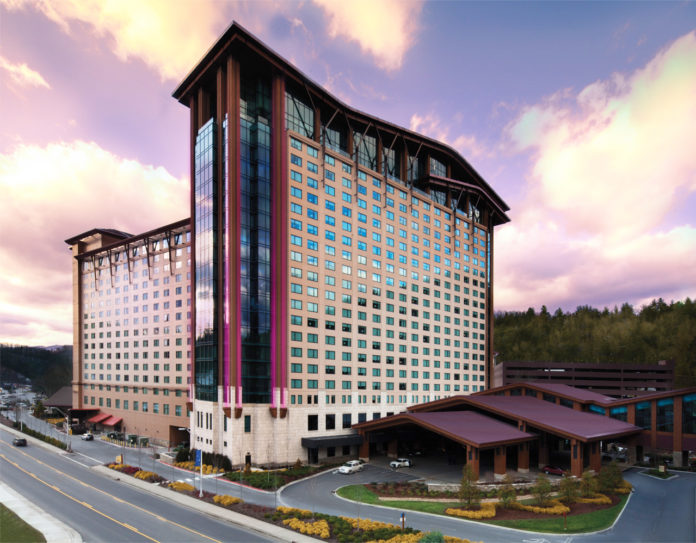 CHEROKEE, NC – In 2021, Harrah's Cherokee Casinos reinforced its commitment to empowering team members and leaving a positive impact on its local communities.
"2021 was a very exciting year for us as we introduced many new amenities and services at each property, however our greatest accomplishments will always be the work that we do to serve others," said Brooks Robinson, Regional Senior Vice President & General Manager of Harrah's Cherokee Casinos. "We are committed to helping build strong North Carolina communities and I could not be prouder of the great work we accomplished this past year."
The company's economic and community impact for 2021 included:
Volunteerism
Harrah's Cherokee Casinos provided volunteer opportunities for team members through its Harrah's Employees Reaching Out program. In 2021, over 29,000 volunteer hours were logged by team members and their families with local non-profit organizations including P.A.W.S Animal Shelter, Valley River Humane Society and MANNA Food Bank.
Sponsorship Donations
Harrah's Cherokee Casinos continued to support local non-profit organizations through sponsorship donations totaling over $270,000 in cash and services for 2021. Notable contributions included a $30,000 donation to NC Beautiful, a $20,000 donation to Helping Haywood and a $10,000 donation to WNC Communities. Also noteworthy, was the $70,000 donation made to Folds of Honor, a non-profit organization that assists military families by providing educational scholarships to spouses and children of America's fallen and disabled service members. 2021 was the fifth year that Harrah's Cherokee Casinos supported Folds of Honor by hosting a beverage fundraising event at its properties.
Economic Impact
In addition to philanthropic work, Harrah's Cherokee Casinos continued to show support to its team members. In May of 2021, the company announced an increase to the starting pay rate for all non-tipped positions to $15 per hour. Other hourly and salaried team members, up to and including managers, who made more than $15 per hour also received a wage increase. For the year, Harrah's Cherokee disbursed over $163 million in salary, wages, and benefits for its 3,700 team members.
Supporting Local Economy
Continuing efforts to support the local economy and local businesses, Harrah's Cherokee Casinos paid over $38 million for contracts and services.