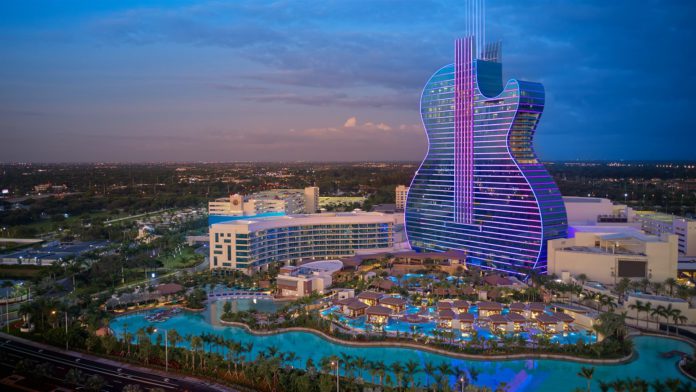 HOLLYWOOD, FL – Hard Rock International and Seminole Gaming have released a 2023 corporate social responsibility report entitled Fifty Years Forward. Social purpose has been a core principle at Hard Rock since its inception in 1971, guided by the founding mottos – "Love All-Serve All, All Is One, Save The Planet, and Take Time To Be Kind."
"Our brand mottos have shaped who we are as a brand for the past 50 years while setting the foundation of our future," said Paul Pellizzari, Vice President of Global Social Responsibility at Hard Rock International. "Today, Hard Rock and Seminole Gaming operate 250-plus cafes, hotels and casinos spanning 67 countries and with that comes a responsibility to support local communities all over the world. We honor this commitment by making strides to benchmark, evaluate and plan a brighter future for all."
This report reflects Hard Rock and Seminole Gaming's progress towards the United Nation's Sustainable Development Goals (SDGs), which call for action to promote prosperity while protecting the planet. They recognize that ending poverty must go hand-in-hand with strategies that build economic growth and address a range of social needs, while tackling climate change and environmental protection.
Hard Rock and Seminole Gaming have established a multi-pronged approach to continue investing in five crucial areas:
Community Impact & Corporate Giving
Hard Rock and Seminole Gaming have invested locally, nationally and globally across causes that matter most to the communities they operate in. Priorities, such as hunger relief, cancer prevention, diversity equity & inclusion, human trafficking prevention, children's hospice care, socioeconomic conditions and inspiring people's connection to music, are championed in a multitude of ways:
The annual PINKTOBER campaign has raised more than $11 million dollars for breast cancer awareness and education to date from its inception in 2000.
In partnership with WhyHunger, Hard Rock has raised $6.8 million to date to combat global hunger and poverty and has provided 9.8 million meals to 120,600 children and their families in 31 countries.
Team members across Seminole Gaming casinos, as well as Hard Rock casinos, hotels, and cafe locations, have raised $9 million to support local community needs.
As part of its philanthropic arm, Hard Rock Heals contributed more than $1.8 million to support music-based programs and partnerships around the world.
Team Members, Culture & DEI
Hard Rock and Seminole Gaming continue a tradition of inclusion by building upon equitable policies, programs and practices aimed at maintaining and attracting diverse talent, cultivating a culture of inclusion, and setting a standard for equitable and responsible practices within the industry.
The Seminole & Hard Rock Women in Leadership program has been working to increase women's representation within leadership roles, currently exceeding the industry standard of 22 percent.
Seminole tribal members are invited to participate in a Tribal Career Development Program designed to build business skills, develop leadership capabilities and give tribal members access to senior leaders.
Team Member Resource Groups, spanning 11 different identifiers such as caregivers, people with disabilities and LGBTQ+, as well as cultural identifiers, foster a sense of belonging and inclusion that can spark innovation and accelerate employee development.
Hard Rock was recognized by Forbes as an employer of choice in the following categories for 2022: World's Best Employers, The Best Employers for New Grads, The Best Employers for Women, The Best Employers for Diversity, America's Best Large Employers, America's Best-in-State Employers and Mexico's Best Employers.
Social Safeguards & Responsible Gambling
Hard Rock and Seminole Gaming are committed to supporting at-risk team members and valued community members by addressing issues that are prevalent within the industry.
Hard Rock's proprietary responsible gaming program, PlayersEdge, educates players on healthy play habits and support resources by training team members to refer at-risk players to professional help. To date, 18,234 team members were trained on PlayersEdge online, with 92 percent reporting an improved knowledge or skill.
One measurable outcome of the introduction of PlayersEdge to casinos: a 10 percent increase in calls to the Florida problem gambling helpline.
The Hard Rock Social Identity Quest education program was adopted and taught by 60,000 teachers in 45 U.S. States, reaching 1.2 million high school students, 8 percent of the student population.
A formal evaluation revealed a 13 percent increase in learning objectives, demonstrating positive outcomes for online safety literacy.
To prevent and raise awareness of human trafficking, Hard Rock International signed the ECPAT Tourism Child-Protection Code of Conduct, the world's first and only voluntary set of business principles to prevent sexual exploitation and trafficking of children. Hard Rock also launched Social Identity Quest (SIQ), an educational program to help prevent the risk of teenagers being lured online.
Economic Development
Hard Rock and Seminole Gaming empower and promote the social, economic and political inclusion of disadvantaged and Indigenous owned businesses.
Since 2011, nearly 30 percent on average of Seminole Gaming's annual purchases have come from tribally owned or affiliated vendors.
On a global scale, more than 15,000 jobs have been created in communities hosting new hotels, casinos and casino-hotels around the world since 2018.
We support local Disadvantaged Business Enterprise (DBE), spending $26 million in annual purchases from Minority Business Enterprise, Women Business Enterprise, Veteran Business Enterprise, and Disabled Business Enterprise, and assist further by helping them grow knowledge, expertise, while further developing products and services.
Environmental Sustainability
Hard Rock and Seminole Gaming are growing efforts to sustainably address waste, energy and water by driving operational improvements, engaging non-profit partners and pursuing best practice collaborations with vendors.
83 percent of properties globally have implemented efficiency technologies, such as auto-sensors, reduced flow faucets, two-flow toilets and efficient laundry machines.
Hard Rock and Seminole Gaming's participation in Clean the World's Hospitality Recycling program diverted 13,660 pounds of plastic waste and distributed approximately 66,370 bars/soap and 10,339 pounds of leftover soap through Hygiene Kits used in shelters, food pantries and disaster recovery organizations in the United States to date.
As part of an ongoing partnership with World Wildlife Fund (WWF) and annual participation in Earth Hour, Hard Rock and Seminole Gaming properties "go dark" by switching off lights to build awareness for climate change action each year. To date, 114 properties have participated and 603,00+KW has been saved.