WAYLAND, MI – Gun Lake Casino has opened the doors to its $100 million expansion highlighted by new restaurants and a larger 131 Sportsbar & Lounge. The 72,000 sq. ft. expansion features more seating for live concerts and sporting events, additional gaming space, outdoor fire-lit entertainment and dining space, enhanced exterior features, and the ability for guests to place wagers on their favorite sporting events. On hand for a ribbon-cutting ceremony was the Gun Lake Tribe's Tribal Council and casino executives who welcomed guests and the media.
"This expansion reinforces Gun Lake Casino's position as a premier entertainment and gaming destination in the Midwest," said Sal Semola, President and Chief Operating Officer of Gun Lake Casino. "Each of these new venues blends the highest quality of dining with a unique entertainment experience that will resonate deeply with each guest. We are very grateful of the Gun Lake Tribe's continued commitment to the property and the team members that make Gun Lake Casino a true standard of excellence in service, hospitality and entertainment."
The newly expanded amenities include:
SHKODÉ Chophouse the Pottawatomi word for fire, honors Gun Lake Casino's heritage through attention to flavor and quality with locally sourced and freshly harvested ingredients. Shkodé offers a vibrant atmosphere, encouraging guests to indulge their senses with flame-grilled steak and seafood, and a fresh take on American Cuisine. Artisan-crafted cocktails and a thoughtfully curated wine list enhance the experience in Shkodé.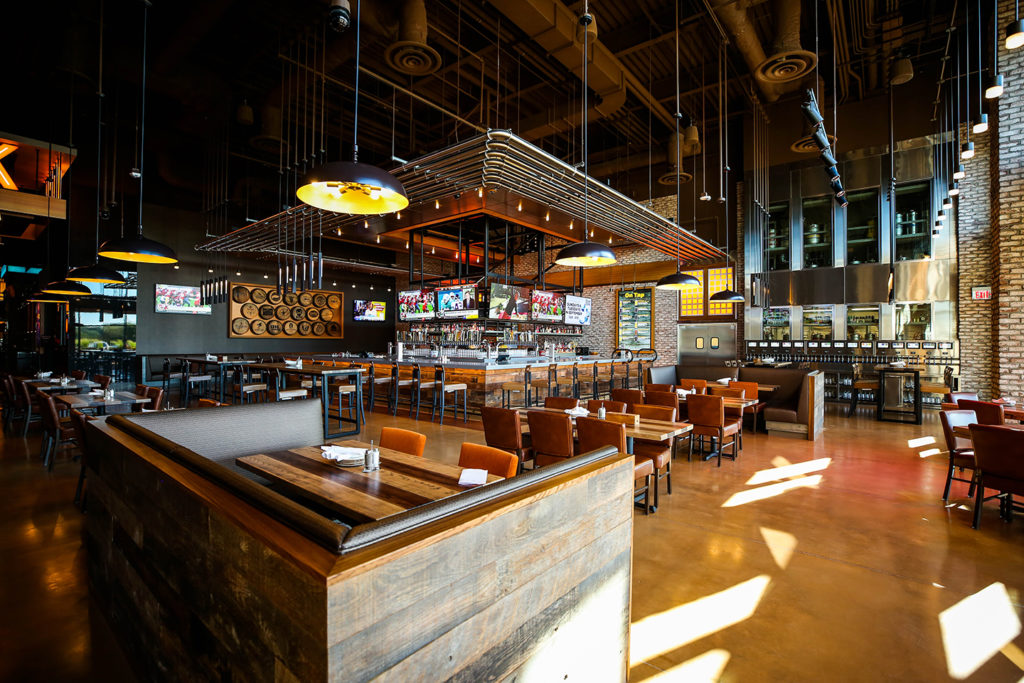 CBK stands for "Craft, Bar, Kitchen" featuring over 100 quality beer offerings in bottles, cans and on draft, Gun Lake Casino's newest tap house provides guests with a blend of malt and hops, and farm-to-table meals.
131 Sportsbar & Lounge offers an exuberant atmosphere for live music, comedy, and sports entertainment. Inside 131 Sportsbar & Lounge, guests will feel as if they are part of the game while watching their favorite sporting events on floor-to-ceiling LED video walls and 180° panoramic views featuring over 28 million pixels and 1,000 sq. ft. of HD viewing surface. 131 Sportsbar & Lounge has an outdoor patio area with additional viewing options to get in on the action. Guests will enjoy a modern twist to bar food and bites with the new 131 Sportsbar & Lounge menu.
"As a Tribal Citizen and a member of this community, I am proud to watch the growth of Gun Lake Casino," said Gun Lake Tribe Chairman Bob Peters. "With each new amenity and expansion, we increase our ability to contribute to the well-being of the community and our Tribal Citizens."
With the latest expansion, Gun Lake Casino, a $415 million property has added 450 additional slot machines and electronic table games. Throughout the 10-year history of the casino, thousands of jobs have been created and millions of dollars has been spent on good and services from Michigan-based companies.
Pursuant to the tribe's gaming compact with the State of Michigan, the tribe has shared a total of $102.6 million with the state and a total of $37.9 million with the local community. The Michigan Economic Development Corporation received over $16.8 million. The revenue shares funds statewide for economic development projects while providing money to local schools, law enforcement, and municipalities.