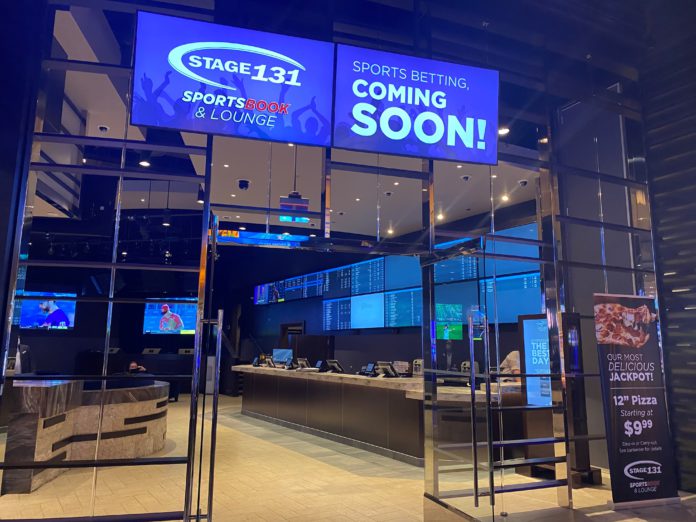 Gun Lake Casino recently announced the official opening of Michigan's newest sportsbook, Stage 131 Sportsbook and Lounge.
A partnership between Gun Lake Casino and Parx Casino® was established in March to provide a superior sports betting experience for West Michigan. Stage 131 Sportsbook and Lounge offers a comfortable atmosphere with uninterrupted views of dozens of full-view televisions allowing for the perfect sports entrainment experience. Delicious food and plenty of drink options for all guests will be available.
"After much planning, we are thrilled to announce the official opening of Gun Lake Casino's sportsbook. Our dedication to provide an exceptional sports betting experience stems from our continued reputation of top quality entertainment," said Jose Flores, vice president and general manager of Gun Lake Casino. "We have worked diligently to create a comfortable and exciting atmosphere within Stage 131 Sportsbook and Lounge for all guests interested in sports betting."
"Parx Casino® is thrilled to partner with Gun Lake Casino to power their retail sports betting business" said Matthew Cullen, senior vice president of interactive gaming and sports for Parx. "We're excited to bring our expertise in exciting sports betting offerings, aggressive lines and intelligent risk management to the vast Michigan customer base."
Inside Gun Lake Casino's Stage 131 Sportsbook and Lounge, guests will place bets on a diverse range of sports, including pro and college football, basketball, baseball, golf, hockey, soccer, boxing, mixed martial arts, tennis and more. Although an array of sports within the United States have been delayed due to the Coronavirus, guests have the option to view and bet on international sporting events as well.
Sports bets may be placed at the new betting counter inside Stage 131 Sportsbook and Lounge or at self-serve kiosks located throughout Gun Lake Casino.
"West Michigan will now have access to the best sports betting experience possible. Stage 131 Sportsbook and Lounge is fully staffed with sportsbook writers to support guests who are new to this entertainment option, welcoming all levels of experience to join in on the fun," concluded Flores.