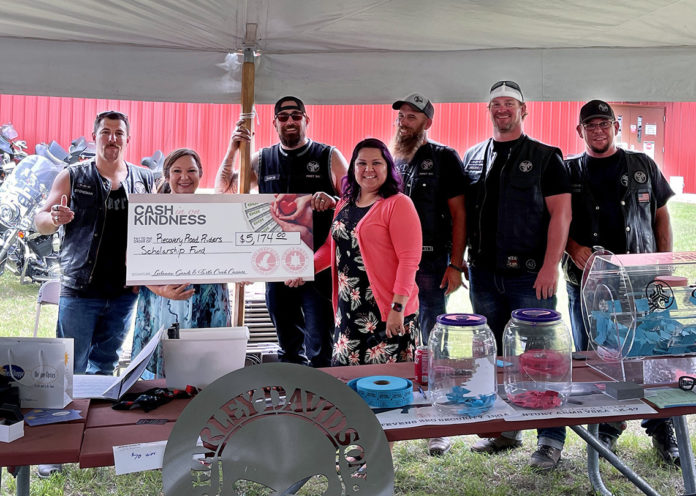 TRAVERSE CITY, MI – Over 100 riders hit the road in Leelanau County in the annual Poker Run to help raise money for the Recovery Road Riders community efforts. The final stop at Leelanau Sands Casino included a check presentation for $5,174 toward the Annual Scholarship Fund for students who have a parent that has lost their battle with addiction.
"Last year, we were able to raise over $20,000 to be dispersed by the Grand Traverse Regional Community Foundation, and this check will go a long way to helping us reach that goal again this year to help us break the cycle of addiction in this area," said Justin Allen, who accepted the check along with several members of the Recovery Road Riders. "We appreciate the generosity of the casino players and everyone who donated to help us to help others."
The Recovery Road Scholarship was created by the Recovery Road Riders RC, whose mission is to provide a clean and sober environment where motorcycle enthusiasts can come together to ride and give back to society. The group is comprised of recovering bikers who enjoy the freedom achieved from being in recovery and riding motorcycles. The Recovery Road Riders support secondary education for young adults so they have a better chance to break the cycle of addiction impacting the region.
The money from the event was raised through the monthly Cash In On Kindness guest collection initiative for August at both Leelanau Sands and Turtle Creek casinos, with guests donating their "change for a change."
The Cash In On Kindness program, which began in February of 2020, has collected over $100,000 for area non-profit organizations including American Heart Association, Groundwork Center for Resilient Communities, Veterans in Crisis, Father Fred Foundation, Grand Traverse Band Food Pantry, Michael's Place, Child & Family Services, For Love of Water, Cherryland Humane Society, Love Thy Neighbor, Reigning Liberty Ranch, TC Track Club's Women's Cancer Fund, 22 2 None, Project Feed the Kids, Big Brothers Big Sisters, NW Michigan Chapter of the American Red Cross, SEEDS Ecology and Education Centers, Watershed Center Grand Traverse Bay, Grand Traverse Conservation District, Skegemog Raptor Center, and the Traverse Bay Childrens Advocacy Center.