This month, Indian Gaming magazine features tribally owned golf properties in Oklahoma, Kansas and Missouri. Beautiful landscapes, challenging course designs and superb hospitality offer golf enthusiasts and beginners alike unique game play.
Cherokee Nation
Cherokee Hills Golf Club
Catoosa, OK
Hard Rock Hotel & Casino Tulsa
hardrockcasinotulsa.com/amenities/golf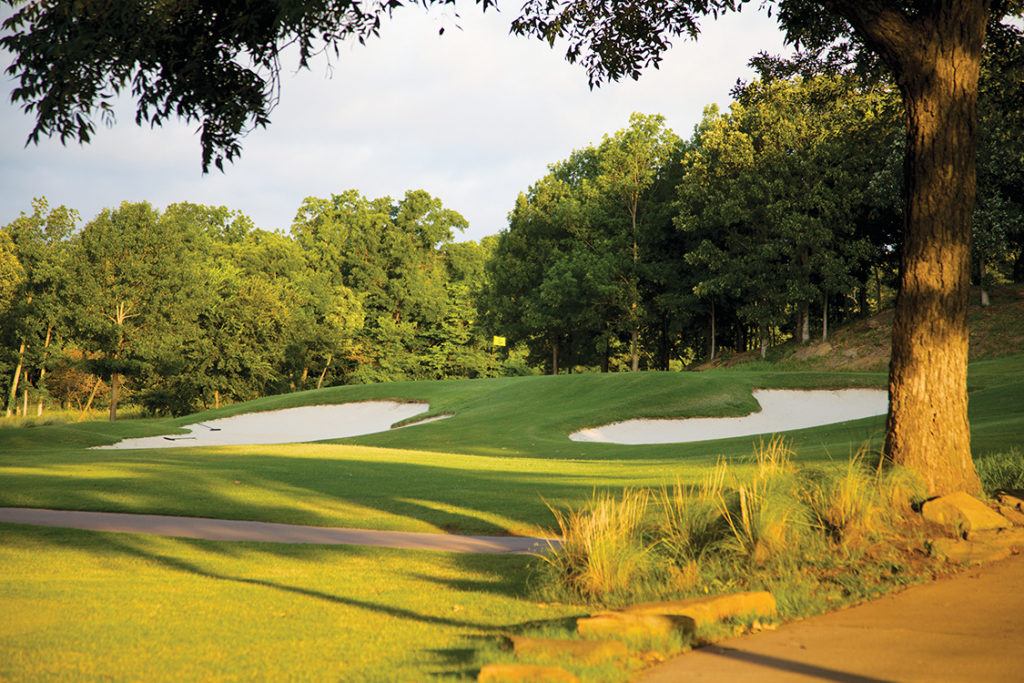 Welcome to golf that truly rocks at Cherokee Hills Golf Club – a public golf course that illustrates the beauty of green country. An 18-hole course designed by renowned architect Perry Maxwell in 1924, the Cherokee Hills course is steeped in rich Oklahoma history. It was redesigned by Tripp Davis in 2004 and is a true challenge for the most accomplished golfer and the weekend player alike. Traverse tree-lined fairways, dramatic elevation changes, demanding bent grass greens, natural rock outcroppings and babbling brooks that offer an exceptional blend of aesthetics. Golf carts are equipped with GPS systems, making the course easy and smooth to navigate.
Ranked as one of Oklahoma's top public courses by Golfweek and Oklahoma Magazine, Cherokee Hills Golf Club is also known for the same exceptional guest service that Hard Rock Hotel & Casino Tulsa is known for. Jeff Jarrett serves as the course General Manager, with Matt Harris serving as Head Golf Professional and John Carothers as Course Superintendent. A variety of award-winning gaming, live music, restaurants and even hotel reservation packages are available to golfers before and after the 18 holes at Hard Rock Tulsa. One Star Rewards members are also eligible to receive special discounted rates.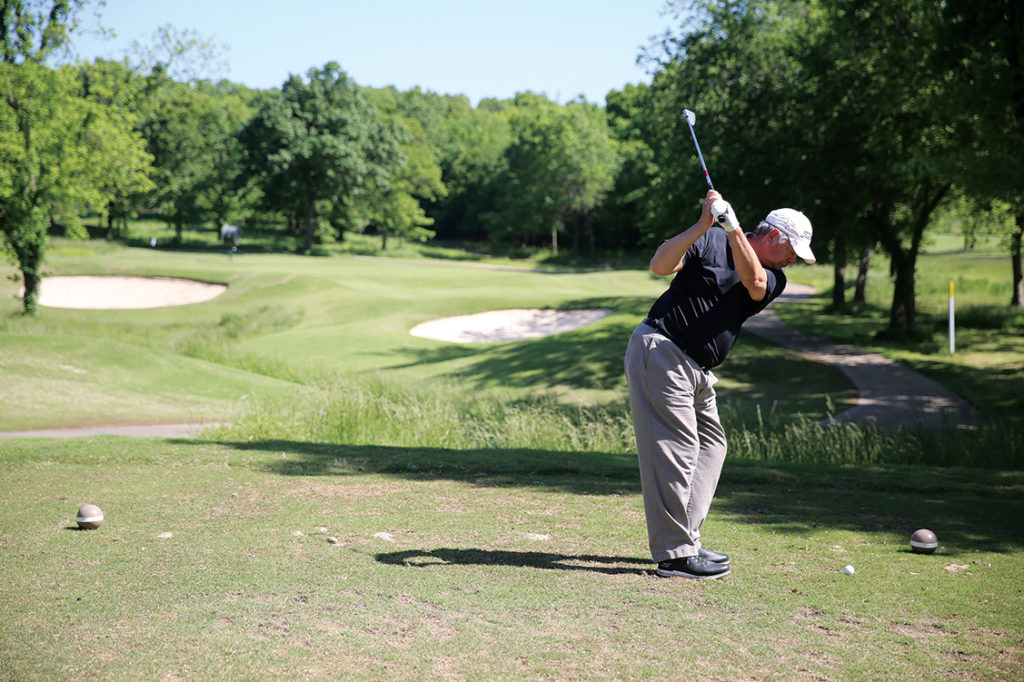 The meeting space and veranda at Cherokee Hills Golf Club overlooks the beautiful course offering picturesque views. It is a perfect space for golf groups, meetings, banquets and wedding receptions. Golfers can also enjoy a scenic bite at the turn at the Champions Grill where a full breakfast, lunch and dinner menu is available. Businesses and organizations even have the opportunity to host their own custom tournament at Cherokee Hills, which includes access to the entire 18-hole green, practice facility, professional scoring of the event, professional cart sign and scorecards, member pricing inside the Pro Shop, return play discount cards and player assistance loading bags. Information on memberships, rates, times and a virtual course tour is available anytime online.
Cherokee Nation
Cherokee Springs Golf Club
Tahlequah, OK
Cherokee Casino Tahlequah
cherokeecasino.com/tahlequah/amenities/golf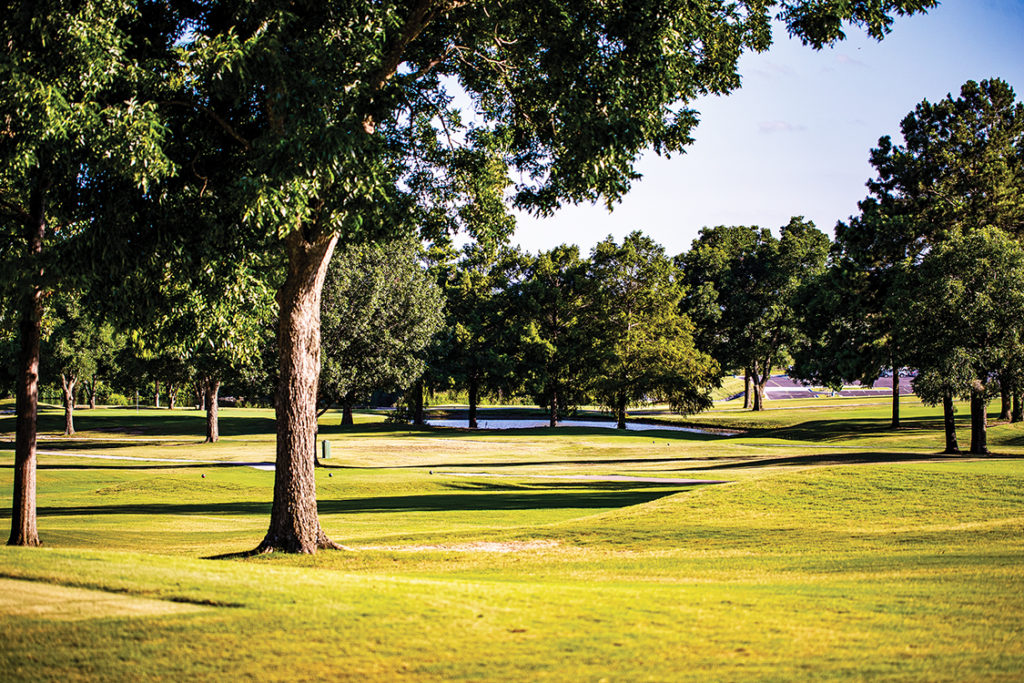 Cherokee Springs Golf Club is nestled in the heart of Cherokee Nation's capital city of Tahlequah, OK. Designed by Burel Berry, the 18-hole championship golf course opened in 1989 and boasts scenic views and tree-lined fairways that draw in thousands of golf enthusiasts each year.
Purchased in 2011 by Cherokee Nation, the course features 6,814 yards of play from the longest tees for a par of 72. The challenging course offers bent grass greens for yearlong play and new electric golf carts were added in 2020 with integrated GPS that enhance the guest experience and provide calculated yardage to each green.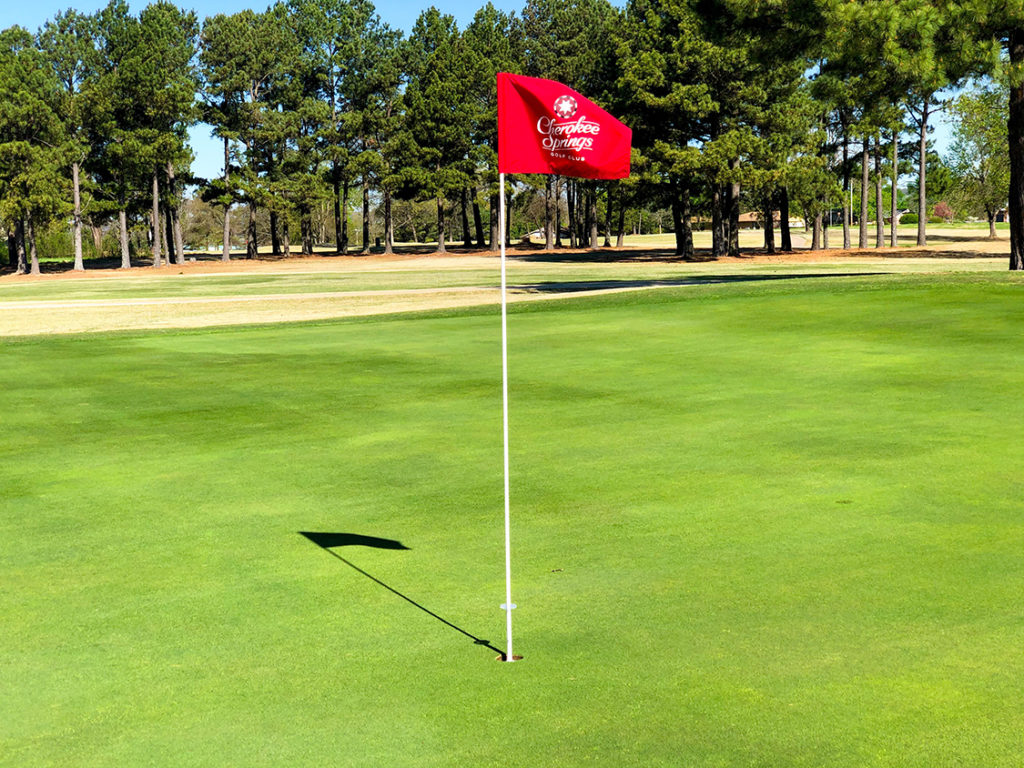 Guests will enjoy top-tier amenities when they play at Cherokee Springs Golf Club, including an on-site restaurant with expanded breakfast and lunch menus, a premier driving range and practice facilities, and a pro-shop offering the latest in golf equipment and unmatched customer service.
Golf enthusiasts won't want to miss the fan-favorite, par-5 on the 14th hole, that boasts a 200-yard, uphill stretch on the second shot to the green, where guests enjoy a scenic view of the city of Tahlequah and the Northeastern State University campus.
Cherokee Springs Golf Club is home to several tournament fundraisers, including the iconic four-day Cherokee National Holiday tournament, Kelly B. Todd Memorial and Cherokee Nation One Fire tournament.
Less than a mile from the course is the Cherokee Springs Plaza, which features additional dining, entertainment and lodging amenities, including the Cherokee Casino Tahlequah. With more than 500 of the latest and exciting e-games, live entertainment at Ancient Oak Tavern and Cherokee County's best steak at the White Wolf Steakhouse, there's something for everyone. The property also includes 33,000 sq. ft. of convention and meeting space at the Chota Conference Center to accommodate large-scale events up to 1,000 guests.
Citizen Potawatomi Nation
FireLake Golf Course
Shawnee, OK
FireLake Casino (.5 miles away), Grand Casino Hotel Resort (10 miles away)
firelakegolf.com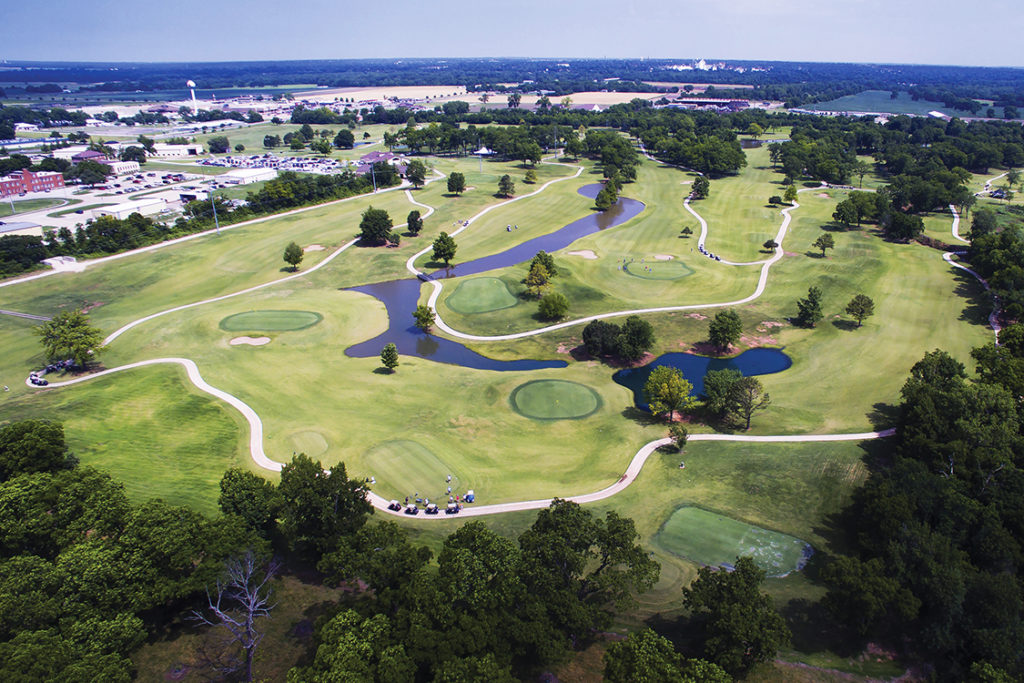 According to the National Golf Foundation, more people played rounds of golf in 2020 than the year before, despite the coronavirus pandemic and the initial decrease it caused in the spring. FireLake Golf Course saw its numbers increase and celebrated its best year ever since opening in 1983. Many new patrons have added FireLake to their list of favorite courses for the value and location near the Grand Casino Hotel & Resort, FireLake Entertainment Center, convenience stores and more.
Compared to 2019, FireLake saw an increase of 4,000 rounds in fiscal year 2020. Following a multiyear renovation in 2015-17 under the direction of Superintendent Derron Day and Course Director Chris Chesser, FireLake's 6,335 yards in length are ready for golfers of all skill levels and experience on its 18-hole public course. Returning customers have commented on the changes and called it a "hidden gem," located 45-minutes from the Oklahoma City metro.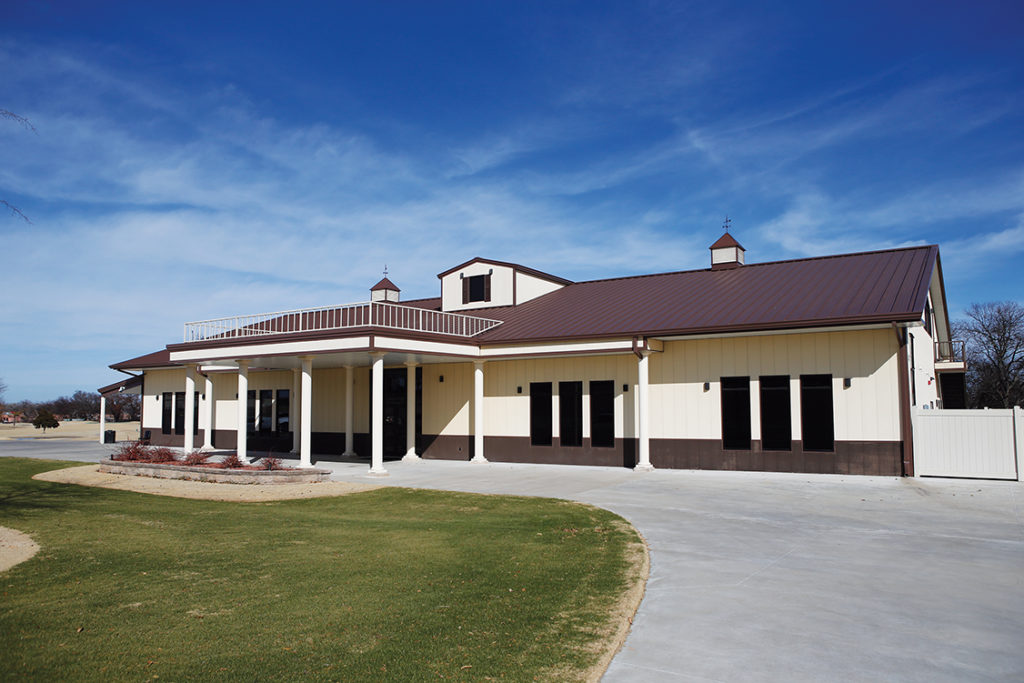 Its tight fairways are lined by native grass and old growth pecan orchards, while water hazards come into play on 14 of the 18 holes. There are eight beautiful lakes and a natural creek that run through the middle of the course, while the Champion Bermuda makes for competitive hole placements on greens that are an average of 5,000 sq. ft. Originally built in 1983, FireLake maintains a 71.1 course rating.
FireLake also boasts a driving range, putting and chipping greens, a fully equipped pro shop, and banquet and dining facilities for customers and events. With plenty of to-go options such as hot dogs, hamburgers and daily lunch specials, patrons can grab a bite to eat at the clubhouse grill before hitting the back nine. The kitchen also hosted several carryout-only dinners for two throughout 2020, serving Italian, German, comfort food and other cuisines, which will continue throughout 2021.
FireLake Golf Course is not only about golf though. The pecan orchards and clubhouse event space are often used for weddings and other large events, such as high school reunions, graduations and even work conferences.
The golf course's website offers the daily weather, contact information to book a tee time, a downloadable course map, digital course tour, grill menu, and directions.
Peoria Tribe of Indians of Oklahoma
Peoria Ridge Golf Course
Miami, OK
Buffalo Run Casino (2.5 miles away)
peoriaridge.com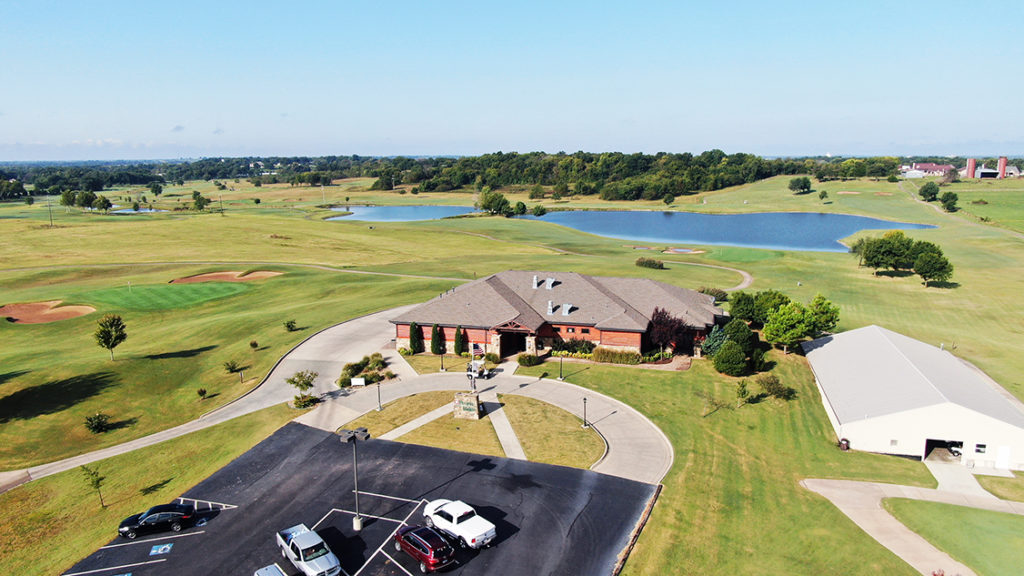 Peoria Ridge Golf Course is an 18-hole championship golf course owned by the Peoria Tribe of Indians of Oklahoma. The course was designed by Bland Pittman who also designed Battle Creek Golf Club and Bailey Ranch Golf Club, both located in the Tulsa Metro area. Construction began in September of 1998, and the course opened all 18 holes in the spring of 2000. The course features five sets of tee boxes ranging from 7,000 yards to 5,000 yards, which accommodates the skill level of any golfer. Course Superintendent, Milton Hale, is appreciated by all guests when they tee it high on Bermuda teeing grounds and look out over Bermuda fairways outlined with Native Fescue grass and approach Bent grass greens.
Austin Shipman the Golf Course Manager and the Pro Shop staff are able to provide each guest with all of the essential equipment, apparel, and knowledge to not only play the part, but look the part as well. Peoria Ridge has a first-class practice facility with a driving range, putting and chipping greens.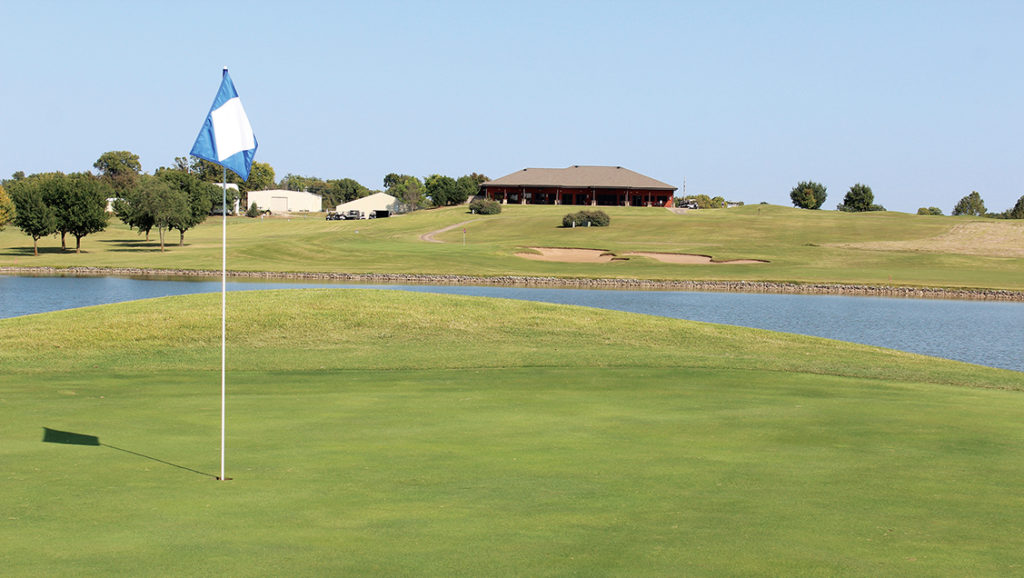 The golf course hosts over 100 events, tournaments, and banquets each year, as well as accommodate the needs of nearly 300 members. Large groups enjoy the 2,500 sq. ft. banquet room where 125 guests can comfortably be seated while they enjoy scoring, birthday parties, weddings, and much more. Meals are prepped for this event by the top of the line Buffalo Run Casino culinary staff. Smaller groups will enjoy the Bar and Grill area where 25 guests can be seated while they wait for the last group to finish. The Bar and Grill is just a step away from the 150 ft. long patio, which overlooks a beautiful sunset view of the 18th green. Peoria Ridge Golf Course is truly a hidden gem of Northeast Oklahoma.
Prairie Band Potawatomi Nation
Firekeeper Golf Course
Mayetta, KS
Prairie Band Casino & Resort (.7 miles away)
firekeepergolf.com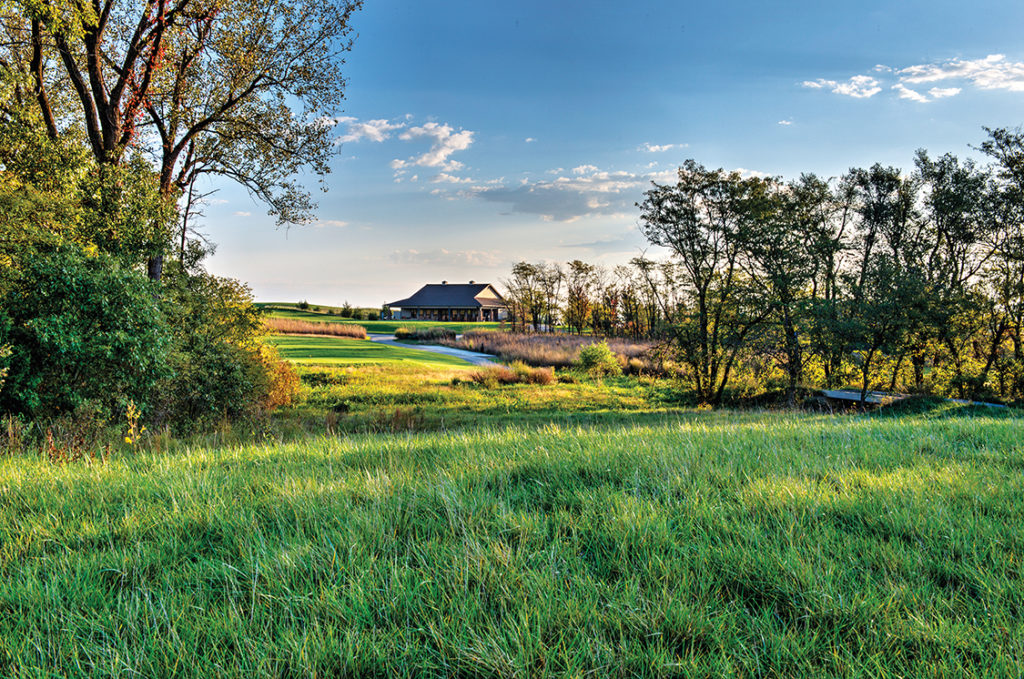 The Firekeeper Golf Course at Prairie Band Casino & Resort, which opened in 2011, was named Kansas' #1 course you can play by Golfweek, and for good reason – 18 holes sprawl across acres of beautiful, rolling plains, with fescue rough and firm, fast greens. There's little doubt that course designers appreciate the land they were given, as they pay homage to it at every turn, with one of the most scenic layouts on the Great Plains.
The signature architect on the venture was Notah Begay III, himself a Native American. But, it was his co-designer, industry veteran Jeff Brauer, who did much of the preliminary work and day-to-day observation and execution. Brauer and Begay allowed the site to speak for itself.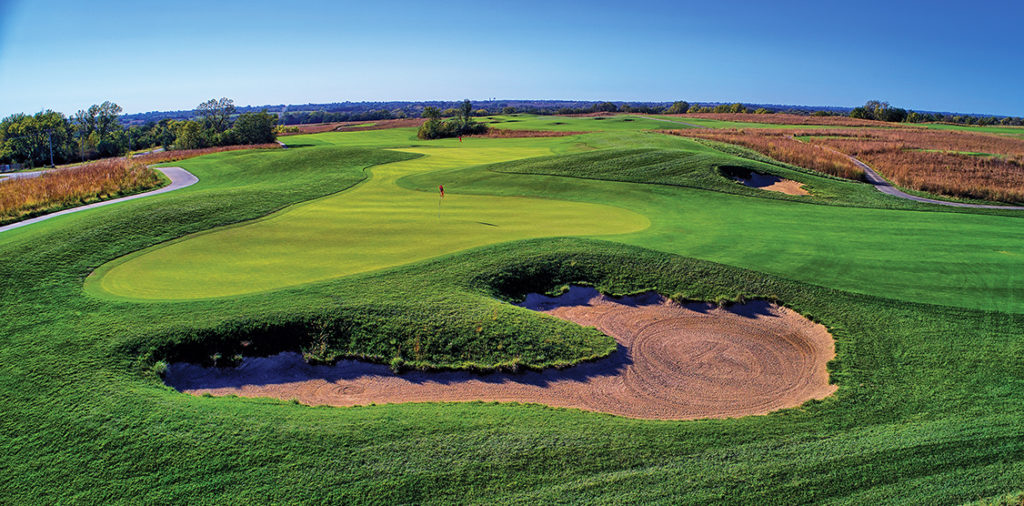 While designing, Brauer found a notch of a tree clearing, which he later learned had been done in 1947, and which had been regretted ever since. Brauer proposed a short par-4 using that notch as a hazard, in an effort to use every natural feature available. The designers moved very little earth and used the surrounding landforms as guides in their shaping, trying to match the rolling hills of Kansas.
The appeal of Firekeeper is that unlike golf courses that are designed to build with houses, it is free of residential bustle. Tees are close to the last green, and the routing is easy to follow. At Firekeeper you hear and see all that nature has to offer. Firekeeper opens with seven holes in the prairie and finishes with eleven holes of natural Kansas creeks, rolling hills, and trees. Firekeeper has no weak holes, and you can comfortably hit a driver off almost every tee. Potential signature holes include the long 5-par fourth hole, which measures six hundred and twenty-five yards and has a huge fairway bunker you must avoid off the tee and a massive mounded green bordered by sand. Hole number nine is a long par-4, which resembles the eighteenth at Augusta National and will play uphill into a south breeze. It's usually easy to pick a signature hole, but there are many candidates at Firekeeper. The eighteenth is a fabulous par-4 that boasts a double fairway and offers a shortcut for the gambler. But players can choose their favorite and debate the topic over a cold beer in a rocking chair on the patio. The clubhouse patio boasts a fire pit and western view, the perfect place to watch a Kansas sunset.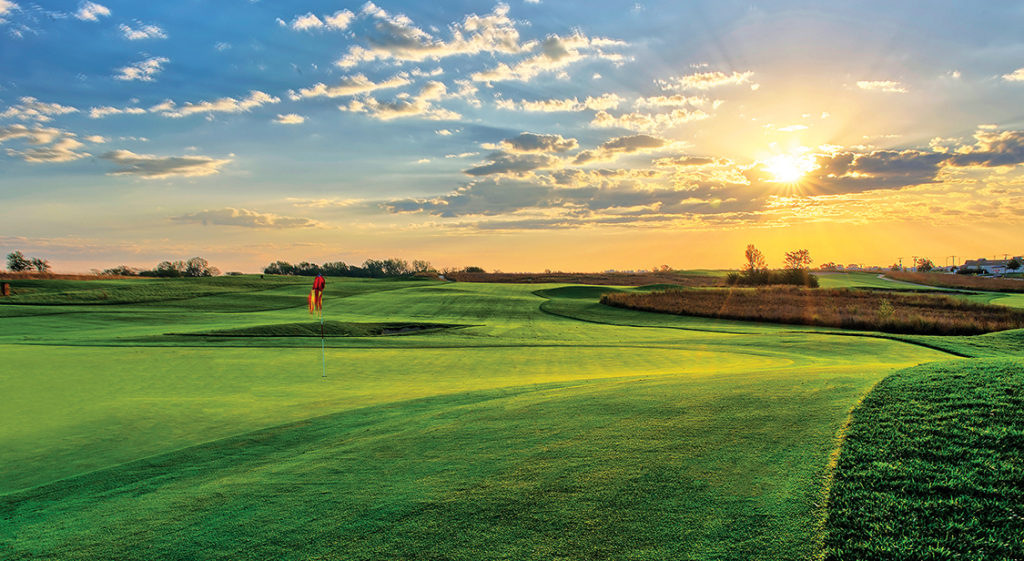 In building the Firekeeper Golf team, the General Manager, Head Professional, Randy Towner has put together one of the most diverse golf staffs. In a sport that largely lacks minority presence, his staff ranges from a military veteran, a Native American PGA Professional from the Osage Tribe, a Korean LPGA woman and an associate golf professional of Native and African American descent. In building his staff, his main objective in mind was to hire happy people.
Firekeeper Golf course is well worth your drive. Firekeeper is the only resort course in the Heartland ranked in the top 100 resort courses in America. Located across the street is the newly remodeled Prairie Band Hotel and Casino, which offers great stay and play packages.
On your next trip to Kansas, be sure to stop by Firekeeper and play the perfect course no matter your skill level. Play 7,500 yards from the longest tees or as short as 4,500 yards from the forward tees. The natural bentgrass, scenic fairways and greens with fescue rough will ignite your spirit.
Quapaw Nation of Oklahoma
Eagle Creek Golf Club
Joplin, MO
Downstream Casino & Resort (2.8 miles away)
downstreamcasino.com/golf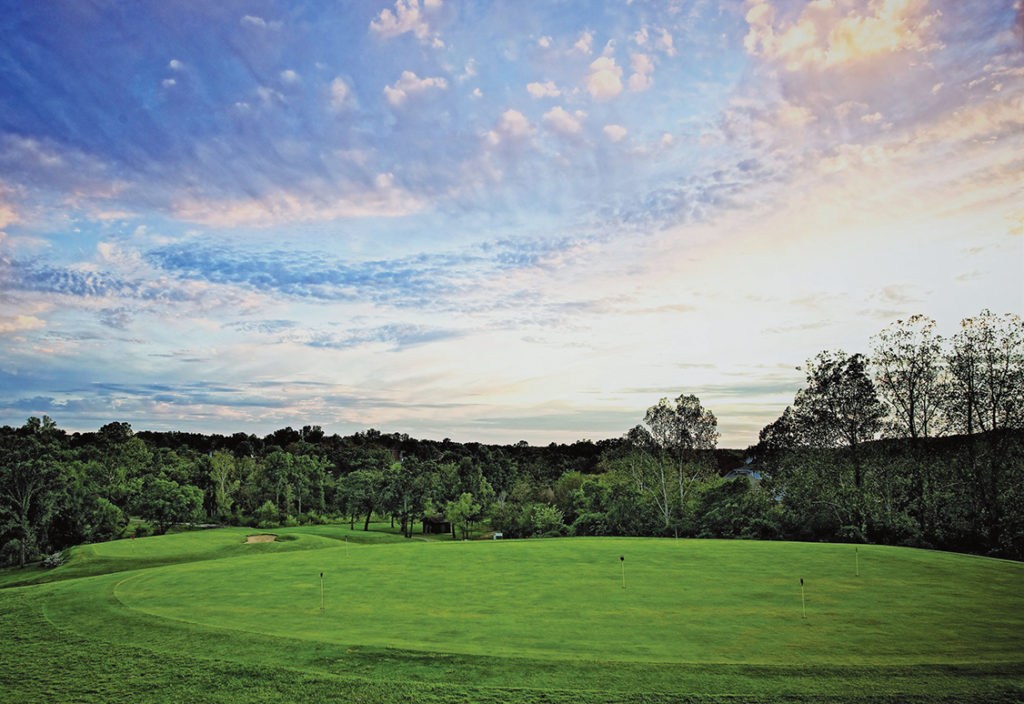 Eagle Creek Golf Club is a public golf course featuring an 18-hole championship course filled with luscious Bermuda fairways, pristine greens and is surrounded by tall trees that give each player the relaxing and peaceful environment to truly enjoy the game. With over 6,700 yards, the par-71 course opened in 1980 and was designed by Donald Sechrest. It is located in the heart of the beautiful community of Loma Linda, right off of Interstate 44. The full pro-shop allows players to rent carts, clubs, purchase apparel and chat with golf professionals to ensure they are getting the most from their game. After enjoying a round of golf, players can have drinks and lunch at the Bar & Grill.
There are shuttle services available from Downstream Casino & Resort, which is conveniently located 7 minutes away. Players can also enjoy "stay and play" packages booked through the resort, which allow for a unique experience for every player. Downstream Casino & Resort "Q-Club" members receive a discounted rate based on their card level, and Quapaw Nation members always receive a discounted rate.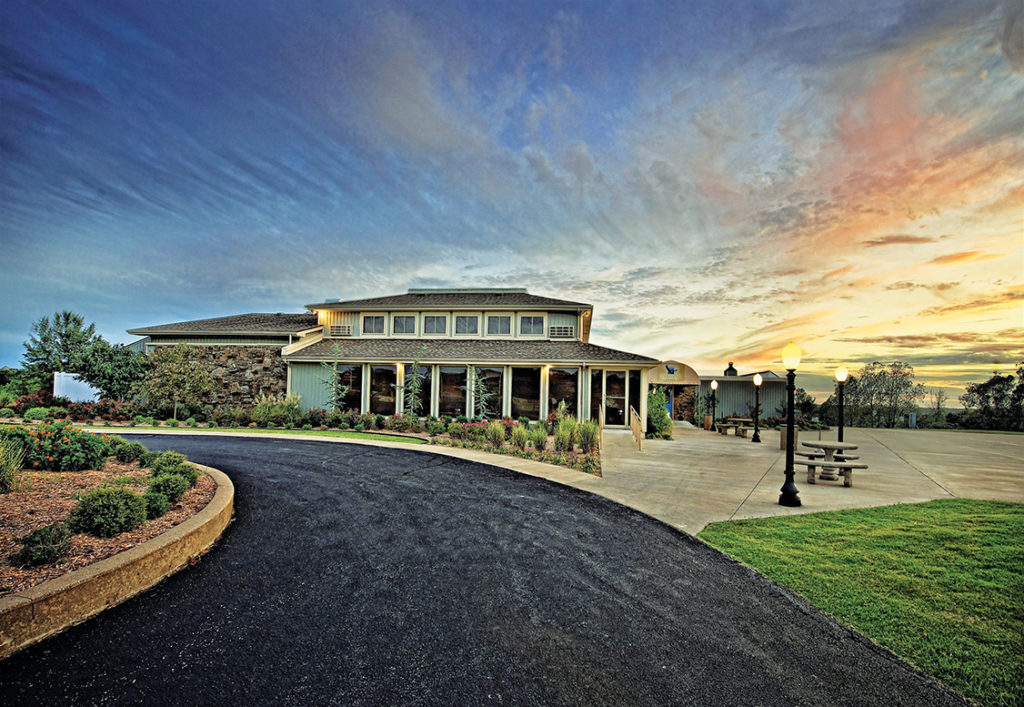 As quoted in Missouri Golf Tour, "Overall, Eagle Creek Golf Club is a resort style and quality course. It is so nice, it could be considered a destination course."
Make Northeast Oklahoma a destination stop and plan a weekend at Downstream Casino & Resort and see the numerous amenities that Eagle Creek Golf Club has to offer and play a round of golf on this sensational course. It's a golf experience like no other.