This month, Indian Gaming magazine features tribally owned golf properties in Minnesota and Michigan. Serene vistas and uniquely challenging course designs will dazzle golfers of all levels while taking in the peace and beauty of the Midwest.
Mille Lacs Band of Ojibwe
Grand National Golf Club
Hinckley, MN
Grand Casino Hinckley
grandcasinomn.com/amenities/grand-national-golf-club

The Grand National Golf Club provides golfing enthusiasts the opportunity to play on one of the most beautiful and challenging 18-hole courses in the State of Minnesota. Rolling hills and deep valleys create a unique setting for even the most experienced golfers.
This 18-hole championship golf course opened to the public in 1995 during the boom of golf development. The course was designed by Joel Goldstrand to fit seamlessly into its beautiful natural environment. The course works its way around some of the area's natural land formations that give this course a sense of personality. It is a 6,894-yard, par-72 course set on gently rolling hills with wide bentgrass fairways and strands of mature trees.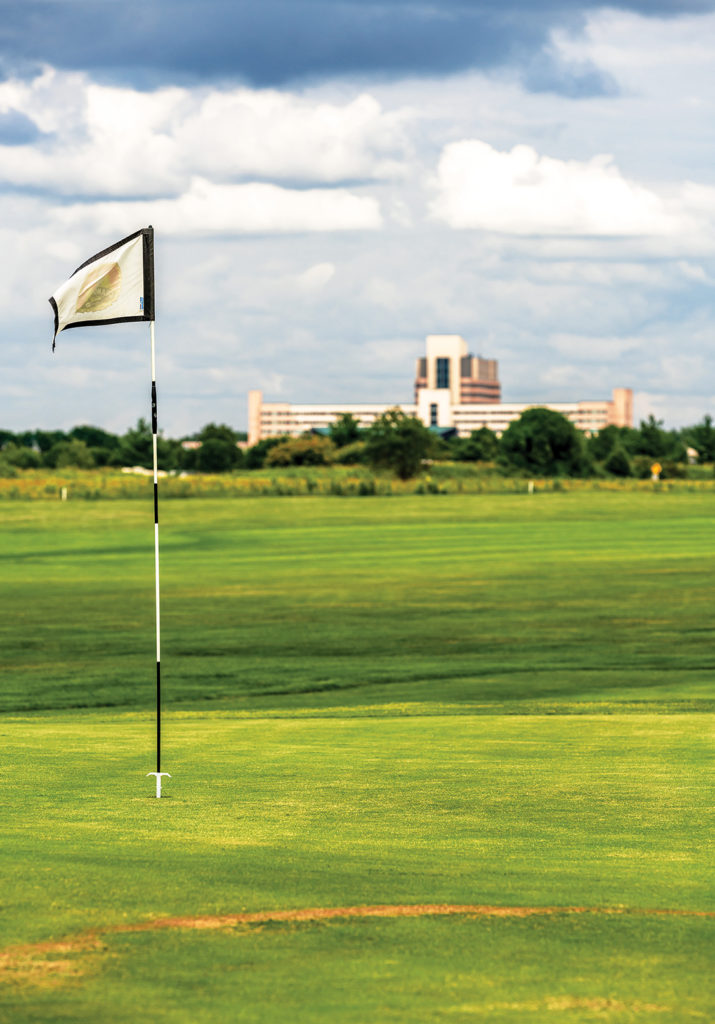 In 2006, it was purchased by the Mille Lacs Band as an added amenity to Grand Casino Hinckley. In 2010, Herfort Norby completed a long-range master plan to maximize the playability of the course, which included a redesign of two holes and regressing of the fairways.
In between holes, players can enjoy the wildlife habitat that has been created for the golf club. While the fairways and greens are manufactured and manicured, parts of the Grand National Golf Club provide shelter for wildlife. More than 20 of the 170 acres features tall native grasses, ponds, marshes, and creeks where ground-nesting birds and animals live.
Located 90 miles north of Minneapolis and St. Paul, and 75 miles south of Duluth, Grand National Golf Club is nestled next to one of the best entertainment destinations in East Central Minnesota. Grand Casino Hinckley has several dining options, the latest and greatest casino games, an outdoor amphitheater, and plenty of hotel rooms right next door. The location is perfect for a day trip, mini vacation, corporate outing, or group event.
Fees include green fees, unlimited range balls, GPS cart and two practice holes.
Prairie Island Indian Community
Mount Frontenac Golf Course
Frontenac, MN
Treasure Island Resort & Casino (22 miles away)
mountfrontenac.com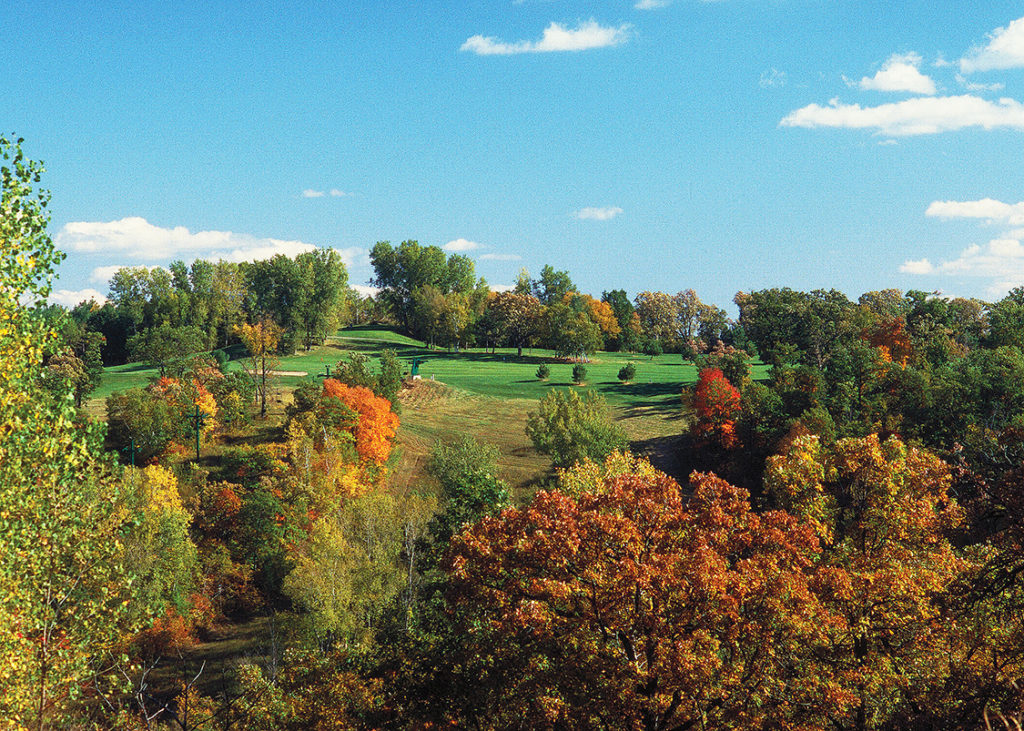 A golfer's paradise, Mount Frontenac Golf Course is a stunning 18-hole golf course that overlooks the beautiful Mississippi River bluffs and Lake Pepin. Surrounded by beautiful, mature trees, rolling terrain and excellent scenery, Mount Frontenac offers a challenging yet playable golf course, spectacular views and friendly service. From the longest tees it features 6,226 yards of golf for a par of 71. The course was designed by Gordon Emerson and opened in 1985.
With a gourmet chef and full bar, the clubhouse is not only perfect for golf tournaments and groups, but also class reunions and weddings. Whether visiting for a day of golf, tournament, wedding or any other event, the clubhouse staff strives to make everyone feel welcomed.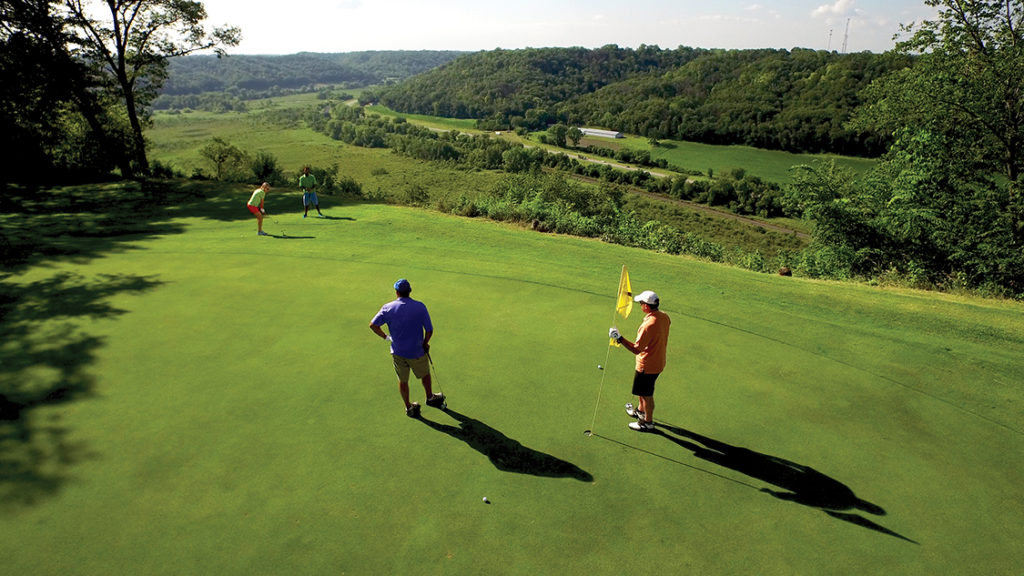 Each summer the course plays host to several charitable and fundraising events, including Minnesota PGA's 100 Holes for HOPE (Helping Our Patriots Everywhere), which involves PGA Professionals, veterans and event partners playing a marathon round of 100 holes of golf.
Bois Forte Band of Chippewa
The Wilderness at Fortune Bay
Tower, MN
Fortune Bay Resort Casino
golfthewilderness.com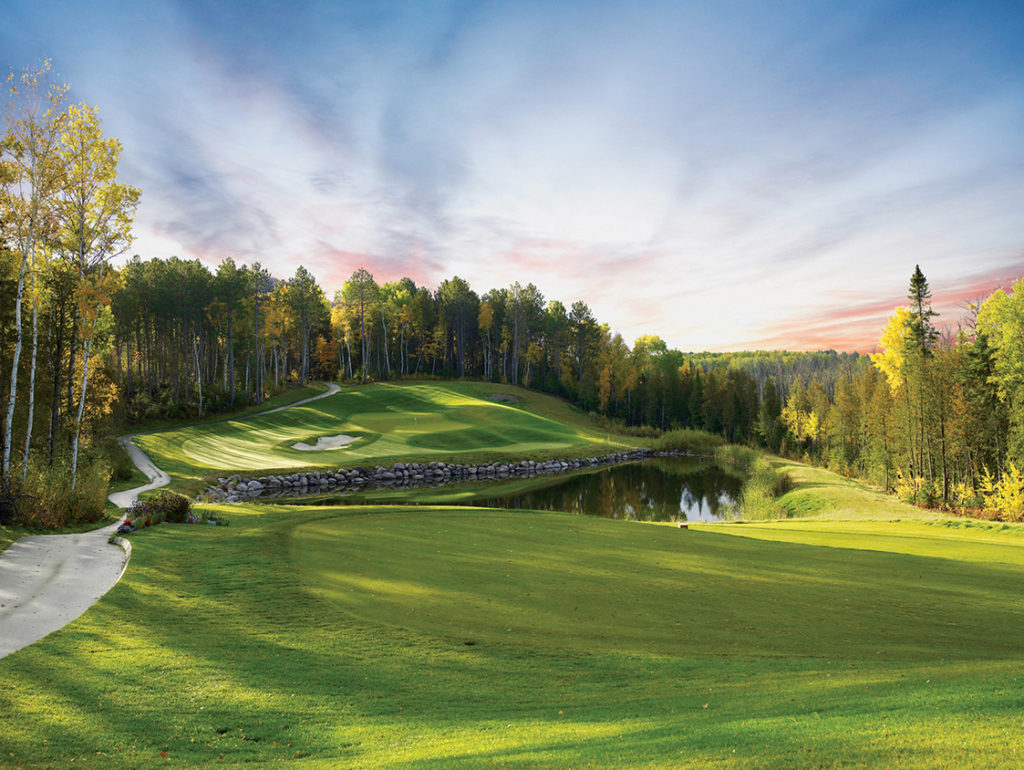 The Wilderness at Fortune Bay is a Jeffrey D. Brauer-designed golf course located on Lake Vermilion in northeastern Minnesota. Since its inception in 2004, the course has garnished several national awards and is known as one of the best courses in Minnesota. It has four sets of tee boxes and plays 7,207 yards from the tips. For those novice golfers, the green set of tees is dialed back to 5,324 yards.
The Wilderness is a challenging course with rolling fairways and water that comes into play on six of the holes, including a tee shot from the tips that brings Lake Vermilion into play on the 13th hole. The Wilderness is also known for its undulating greens that put a premium on accurate putting. The course also has plenty of bunkers that come into play if you aren't on with your drives or approach shots.
While the course continues to earn the praise of golfers from across the country, the amenities are also second to none. They include a large practice area, GPS-equipped electric carts, brand new Finn Cycles, and a pro shop with a large selection of clothing and mementos to commemorate your round. The Wilderness Grill serves up some of the best fare and specialty drinks around. In fact, The Wilderness Grill has been voted as the Best 19th Hole Bar/Restaurant by Golf Advisor.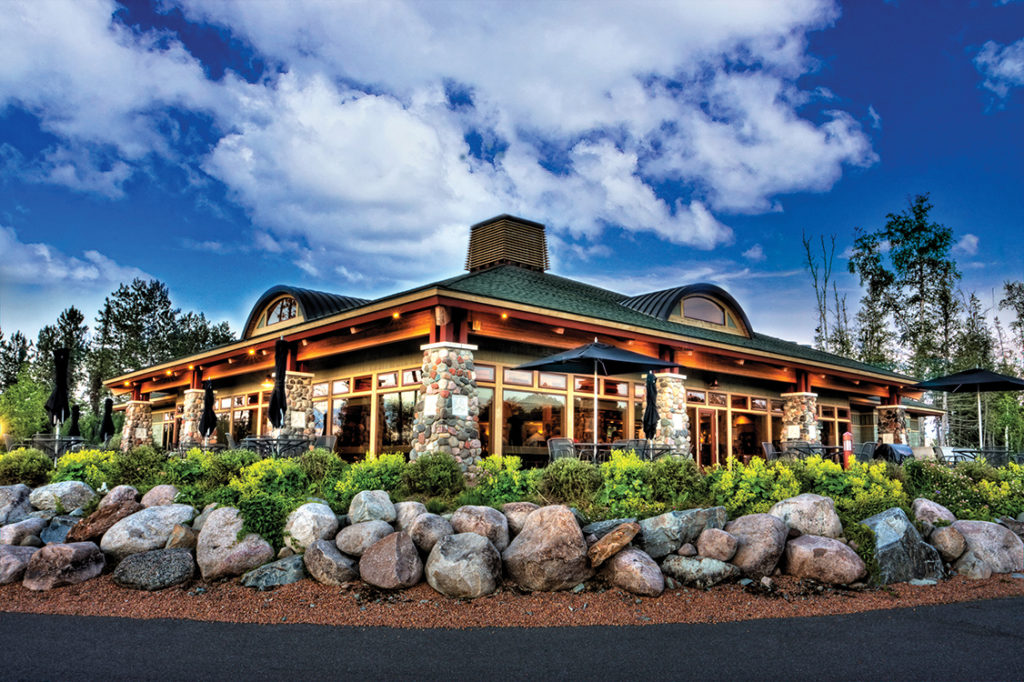 When guests come to dine at The Wilderness, they get more than an excellent meal – they get a dining experience. The staff pays extra attention to details because they want their guests to make the property their home away from home, year after year.
Separating The Wilderness at Fortune Bay from its competitors is the staff that will go out of its way to ensure guests enjoy themselves and experience the best that The Wilderness at Fortune Bay has to offer. That line of thinking comes into play every day as it is not unusual for The Wilderness staff to pick up guests who arrive by boat from neighboring resorts on Lake Vermilion. Whether guests are coming just to have dinner or perhaps a cocktail on the spacious patio with amazing views of the course, the staff is very attentive to providing exceptional guest service. And in the minds of those who work at The Wilderness – that's what it is all about.
Lac Vieux Desert Band of Lake Superior Indians
Lac Vieux Desert Golf Course
Watersmeet, MI
Northern Waters Casino Resort
northernwaterscasino.com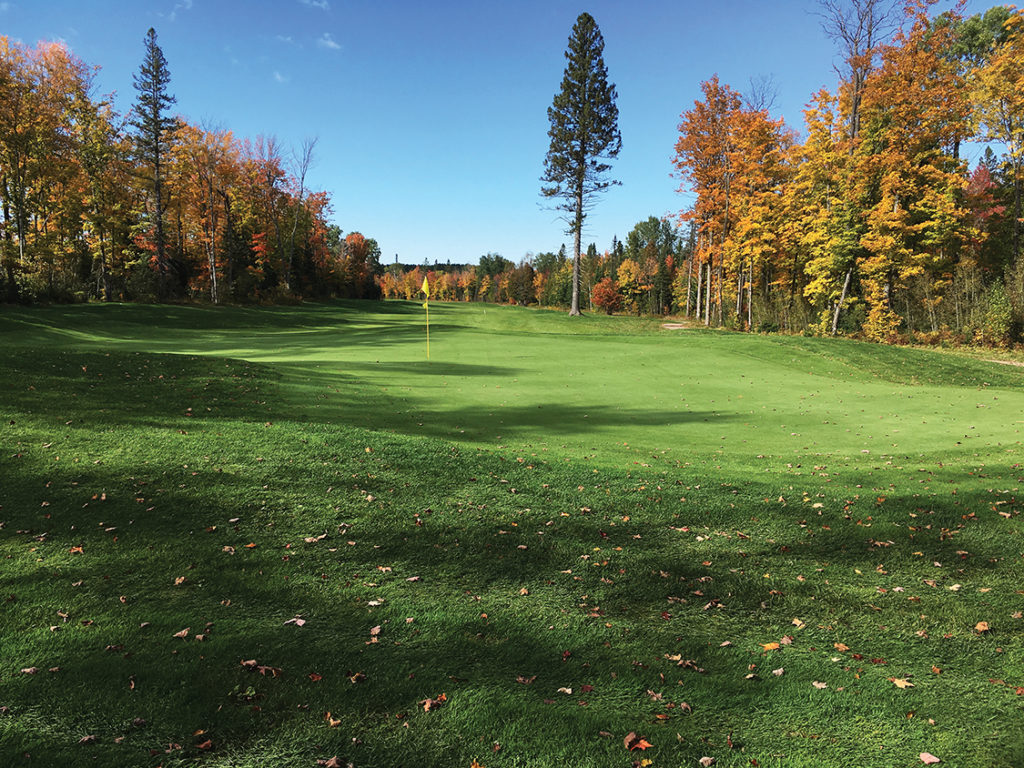 The Lac Vieux Desert Golf Course is an integral part of the Northern Waters Casino Resort in beautiful Watersmeet, MI. The course is sprawled over 220 acres of the Ottawa National Forest in Michigan's Upper Peninsula. This 18-hole course was designed with all levels of golfers in mind.
Constructed with U.S. Golf Association greens averaging 6,200 sq. ft., they are spacious with gentle slopes and contours, allowing for a variety of pin placements. Bentgrass gives the course a glass like smoothness and ball bearing speed, a compliment to the game of golf.
Each hole offers four tees for the convenience and preference of the players, and each tee is perched and elevated with a free-flowing design and over 5,000 sq. ft. of surface to play. The course's fairways are planted in a rich variety of blue grasses, cut to just above a half-inch in length and are generously wide at the landing zones, offering a tight lie for the best shots. The roughs require skill and discipline to overcome their length and density.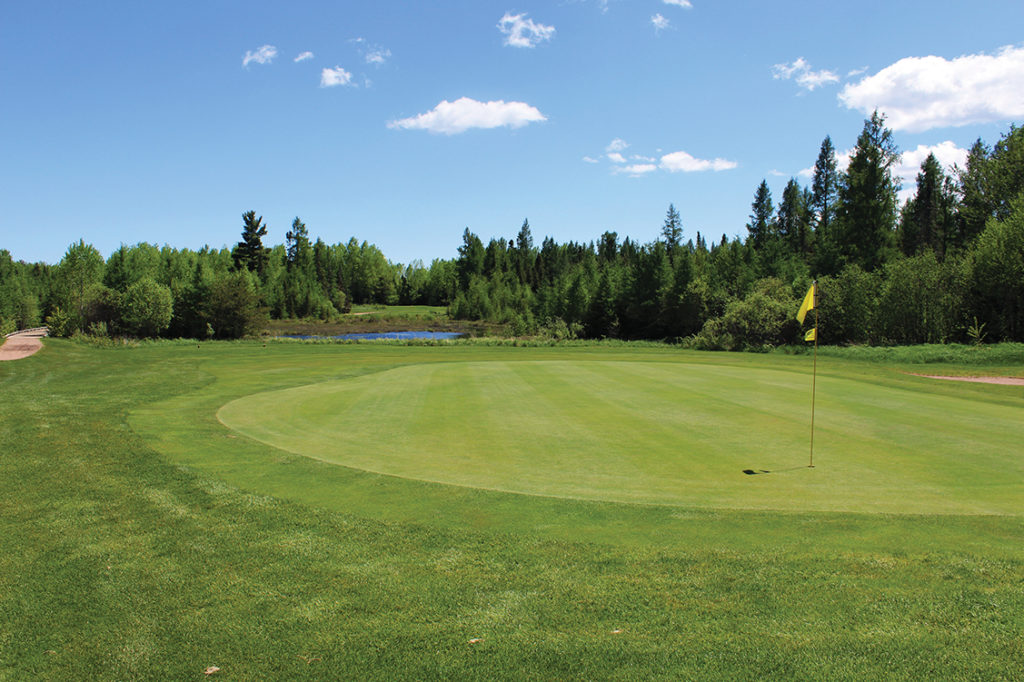 Lac Vieux Desert Golf Course also features one of the more sophisticated irrigation systems, with in ground sprinklers designed for maximum effectiveness and minimal inconvenience to golfers. This system provides for plush playing conditions all season long.
Five ponds spread throughout the course, two of which are involved with area restocking programs for trout and walleye, and further accentuate the course. There is also a seasonal creek system running through four of the fairways. These ponds and streams add beauty and challenge for the pleasure of the golfer. With woodlands throughout and surrounding the course, there is always a possibility of animal visitors, which can include birds, squirrels, deer and bears, reminding any golfer they are in the heart of the northwoods.
Players can also enjoy a beverage in the Clubhouse and visit the adjacent Pro Shop, which carries quality brand name golf equipment and apparel.
Hannahville Indian Community
Sweetgrass Golf Club
Harris, MI
Island Resort and Casino
islandresortgolf.com
Located in Michigan's scenic Upper Peninsula 13 miles west of Escanaba, Island Resort & Casino is one of the Midwest's largest golf, casino and entertainment resort destinations featuring 36 holes of championship golf lead by its Sweetgrass golf course.
Sweetgrass was the Island Resort & Casino's first course, opening in 2007 to rave reviews. Its name refers to an aromatic herb and sacred plant used in Indian peace and healing rituals, and is planted throughout the Paul Albanese-designed course.
Ranked among Golfweek's Best Courses and recognized by Golf Magazine and Golf Digest with a Best in State ranking, it's located adjacent to the hotel – making getting to the first tee convenient for golfers. Rooms high up in the hotel tower have a scenic panoramic view of the spectacular par-5 9th and 18th holes that share a strategic pond.
The course layout opens with a playable, short par-4 measuring at just over 300 yards. A wide landing area leaves various shot angles over a strategic bunker with railroad ties to a well-contoured green.
The prairie links-style course then meanders to a wide-open vista where many greens and flags can be seen in the distance. Golfers will also experience some of the game's most fun greens to putt (Redan, Biarritz, Island, and Double-green).
The first is at the 450-yard 4th – a reverse redan green that runs from the top to back right and away from the golfer. After playing the long and challenging 6th, a 600-yard par-5, golfers will encounter the next redan green, a more traditional type that runs from the top right to back left. The 9th makes its way back up toward the hotel and shares a massive pond, waterfalls and double green with the 18th.
The back nine starts out with a fun, playable and inviting straightaway par-4 before heading back out into the open vista area where the par-5 11th provides a great opportunity to score. On this nine, you'll find arguably two of the best par-3 holes anywhere that co-exist on one nine. The first is the 12th that features one of the coolest Biarritz holes. It features a massive green complex with a large 5-6-foot-deep swale in the middle – demanding an approach shot with long-iron accuracy. After two enjoyable par-4 holes, the par-3 15th requires anaccurate shot with a short iron to an island green. The home stretch includes long and short par-4 holes, and a great finishing par-5 playing uphill along a beautiful pond and waterfall to the massive double-green shared with the ninth hole.
Throughout the course, golfers will also come across a rich history of the Hannahville Indian Community, with holes named after traditional Potawatomi clans, villages, allies, medicines and symbols. The dedication to nature and the area's heritage makes for a unique golf experience for any skill level. Sweetgrass is also part of the "Road to the LPGA" with its Symetra Tour stop, the Island Resort Championship, featuring the future of women's golf.
Hannahville Indian Community
Sage Run Golf Club
Harris, MI
Island Resort and Casino (8 miles away)
islandresortgolf.com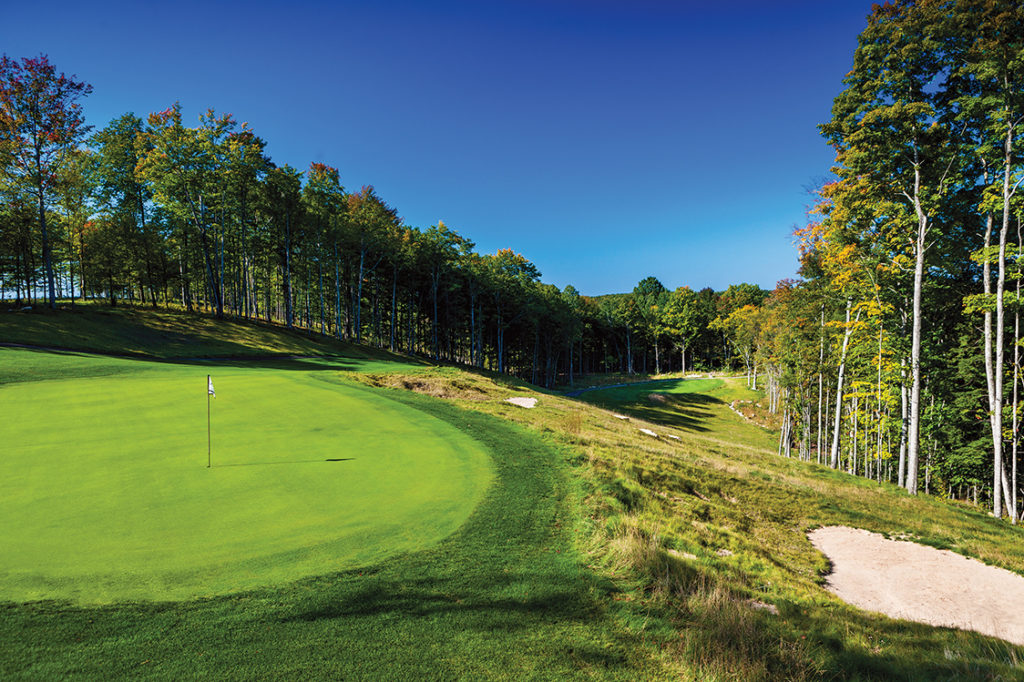 In 2018, Island Resort & Casino opened its second golf course, Sage Run, which was also designed by Paul Albanese and is a bold contrast to its sister course, Sweetgrass. Selected by Golf Digest as one of the "Best New" courses in the country, the course features a more rugged terrain with hardwoods, open areas and a massive ridge/drumlin and bunkers that Albanese likened to Royal County Down, a Northern Ireland golf club rated among the world's finest.
Sage Run starts off on top of the ridge with scenic views and plays down to an open area with wide fairways and rugged fescue grasses set off by earth tones, browns and tans. The 3rd, a strategic par-5 with rugged bunkers, sand areas, and a small-elevated green, places a premium on accuracy and has a Pine Valley feel. The par-3 5th is the first experience with the drumlin ridge. Although a short hole, it requires a blind uphill shot to a large green.
Golfers then play downhill on the 6th from an elevated tee box, then back up along the ridge at the short and drivable par-4 8th to a well-bunkered green. The 9th goes back to the clubhouse and features a strategic, rugged cross bunker that comes into play on the second shot, as well as a large bunker-less green.
The back nine starts out open on 10, followed by a dogleg left par-4 at the 11th – playing to one of the course's most-challenging greens.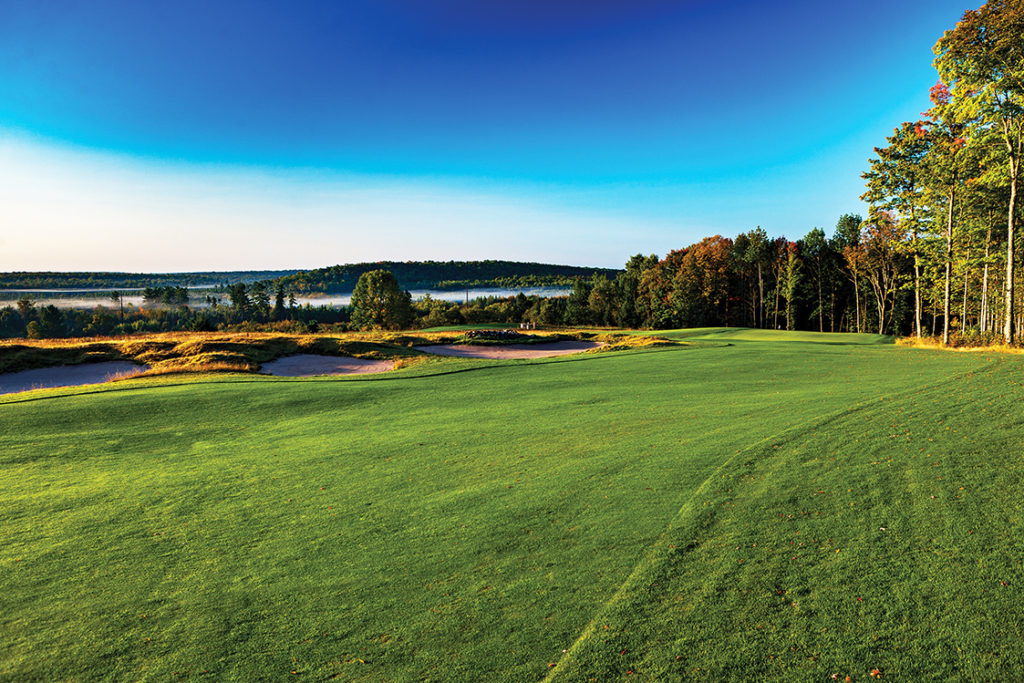 Sage Run's short par-4 holes bring a variety of fun driving holes, leaving strategic second shots into greens that will determine success or failure. On the back nine, the first short hole – the 13th – is an uphill par-4 with strategic fairway bunkers that golfers can take on for a better angle to the elevated green that's guarded by rugged bunkering to the left. After playing the long uphill par-3 14th to the top of the ridge, then back downhill to the scenic and lengthy 15th, golfers stand on the 16th tee ready to attack the ridge uphill to a large blind green. A straight drive up the right side will leave a short pitch to a large and undulating green.
The finish at Sage Run, including the short 16th, offers a great chance to make some birdies. The par-3 17th is a great short hole measuring 125 yards to a small green complex that rests on the ridge's edge with a rugged bunker guarding the right side. The par-5 18th plays into the setting sun and scenic 30-mile views from an elevated tee downhill to a wide fairway. The second shot leaves a short iron into a small green that's replete with ridges and hollows.
Sage Run is a wonderful complement to Sweetgrass and a completely different golf experience.The course is also host of the Island Resort Collegiate Championship, a two-day, 54-hole stroke-play invitational featuring some of the top college teams and players in the country.