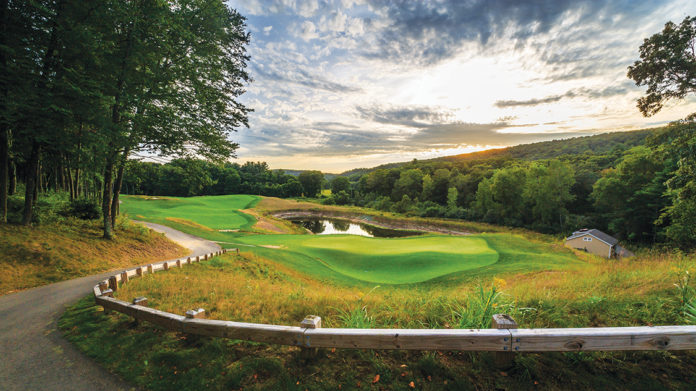 This month Indian Gaming magazine completes its golf tour of Indian Country in Connecticut and New York. With course designs that embrace the lush trees and natural rolling grasslands of the region, these courses embody the true splendor of the Northeast and offer players an impressive top-tier golfing experience they won't forget.
Mashantucket Pequot Tribal Nation
Lake of Isles
North Stonington, CT
Foxwoods Resort Casino
lakeofisles.com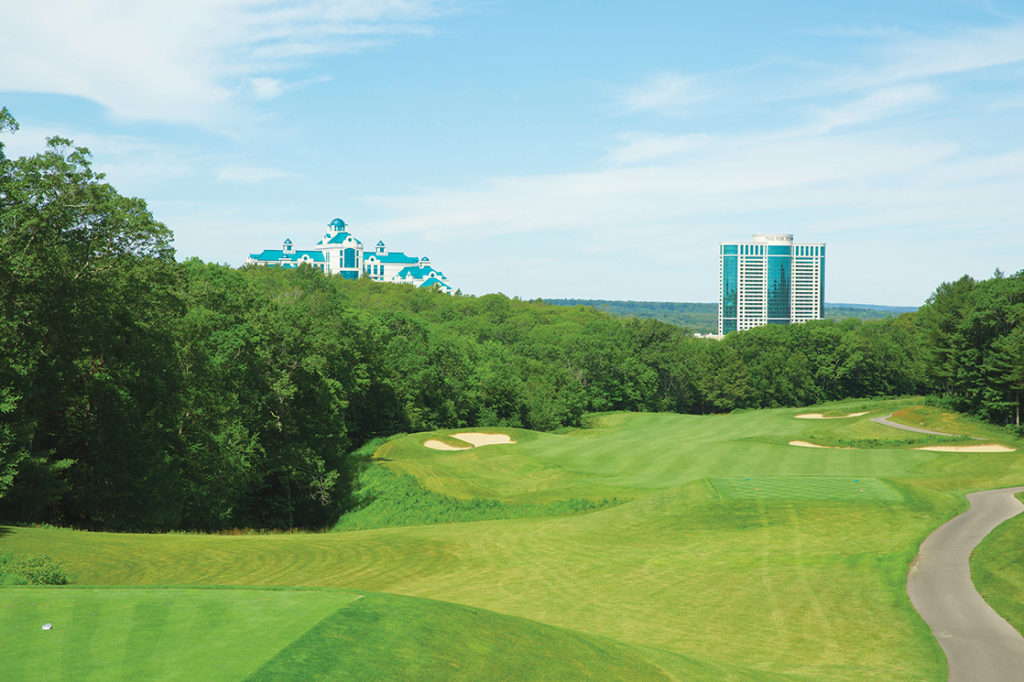 The Mashantucket Pequot Tribal Nation's Lake of Isles is a 36-hole Rees Jones designed golf club in North Stonington, CT. Located across the street from Foxwoods Resort Casino, the two courses wind their way through 900 acres of wooded Connecticut countryside and around a 90-acre lake. The North Course is open to resort guests and daily-fee play, while the South Course is exclusive to club members and accompanied guests. Managed by Troon, the worldwide leader in upscale golf course management, development and marketing, Lake of Isles offers the ultimate golf experience.
Consistently rated at the top of the list of New England's best courses, playing Lake of Isles is like taking a peaceful journey into the woods. Every hole is a work of art as it melds seamlessly into the natural structure of the landscape. With considerable elevation changes, generous fairways and extraordinary views, Lake of Isles features a winning mix of challenge and scenery to provide an exciting round for golfers of all levels.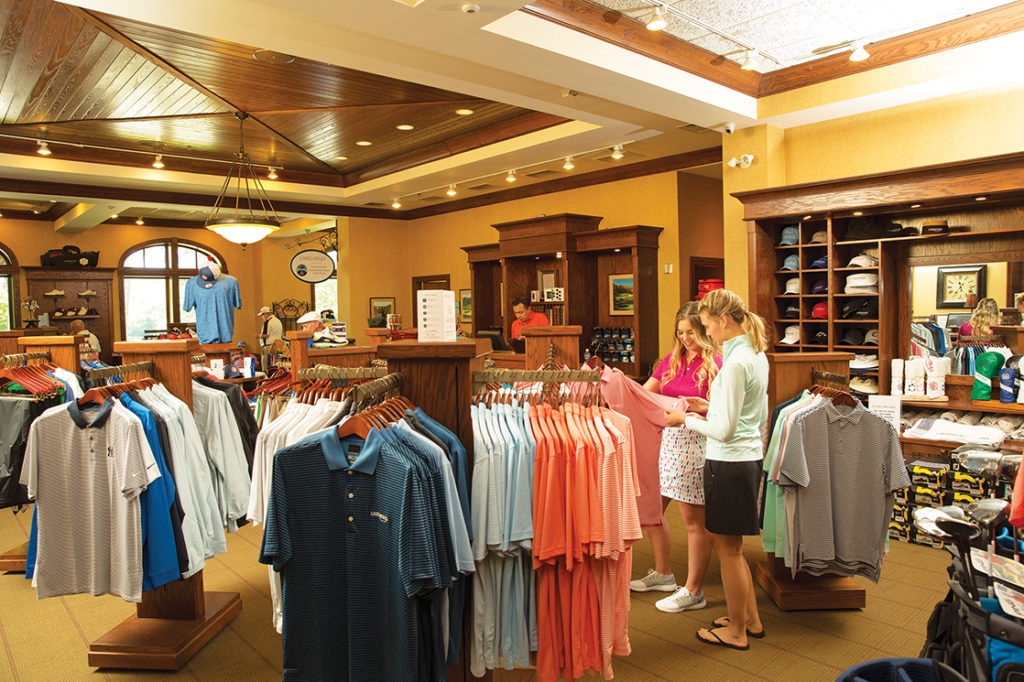 The South Course offers members and accompanied guests the opportunity to test their golf skills over a challenging 7,300-yard layout. Winding closely around the lake, the South Course requires accuracy off the tee especially when playing two of the difficult island green par-3's on the back nine.

The North Course offers daily-fee golfers and Foxwoods Resort Casino guests the ultimate upscale golf experience. While the championship tees stretch more than 7,300 yards, multiple tee locations offer a fair and varied test for golfers of every skill level. The all-inclusive golf fee includes 18 holes with a cart, range balls, yardage card, and bottle of water.
The Lake of Isles Golf Academy features a practice facility that includes 60,000 sq. ft. of teeing space, as well as large putting, chipping and bunker practice areas. Three indoor teaching studios are open year-round and are fit with state-of-the art technology, including TrackMan and SkyTrack with a fourth golf simulator room.
In addition to superior service and impeccable course conditions, Lake of Isles boasts a 50,000 sq. ft. craftsman-style clubhouse that features amenities that include an award winning 1,800 sq. ft. golf shop, the 4,532 sq. ft. Pequot Village Ballroom, a private dining room for members only and Matches Tavern, which is available for public dining. Large windows, patio dining and a lakeside deck offer stunning views of the lake, forest and golf course.
Mohegan Tribe
Mohegan Sun Golf Club
Baltic, CT
Mohegan Sun (14 miles away)
mohegansun.com/golf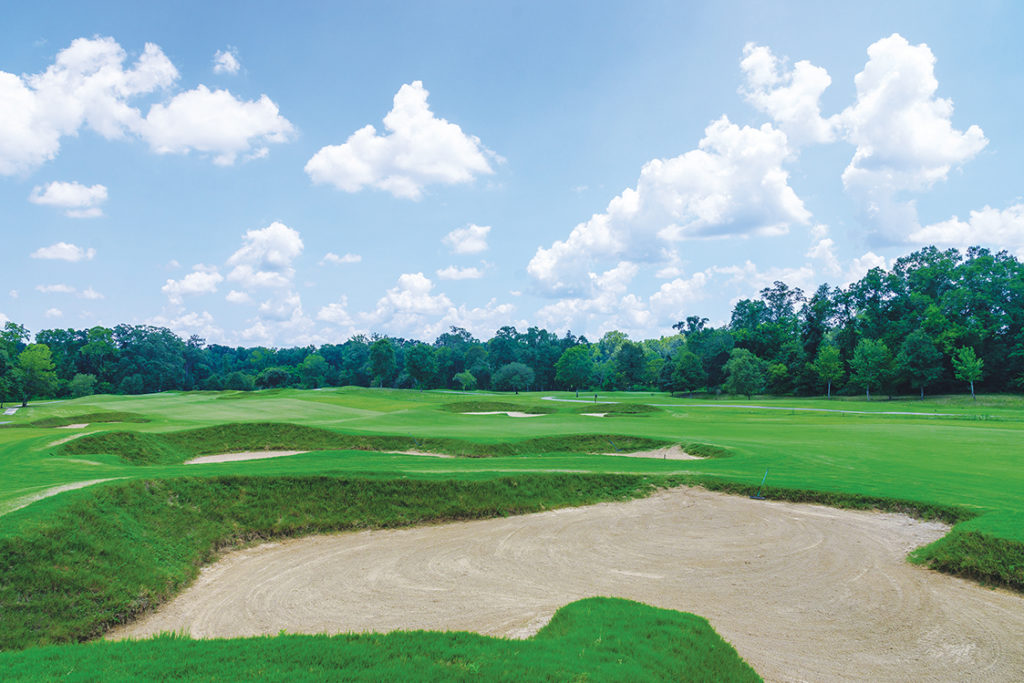 Mohegan Sun Golf Club (MSGC), a 72-par course led by VP & Director of Golf Operations, Phil Krick Jr., MSGC is located at 7 Dows Lane in Baltic, CT, and is one of the premier golf destinations in the Northeast. The 156-acre course is kept in top-shape by a dedicated grounds team and upgrades to various holes have been made since Mohegan Sun took ownership of the course in 2007. The original designer of Mohegan Sun Golf Club, previously known as Pautipaug Country Club, was legendary architect Geoffrey Cornish. The course is recognized in the region and beyond for its impeccable playing conditions that roll through the picturesque hills of southeastern Connecticut. MSGC was also recently recognized as one of the top 50 Casino Golf Courses by Golfweek.
Mohegan Sun Golf Club has also hosted high-profile tournaments and events, some of which have brought the likes of Michael Jordan, Aaron Rodgers, Charles Barkley, Chris Paul, Joe Pesci, Ahmad Rashad, Larry Fitzgerald and Ray Allen to the championship course.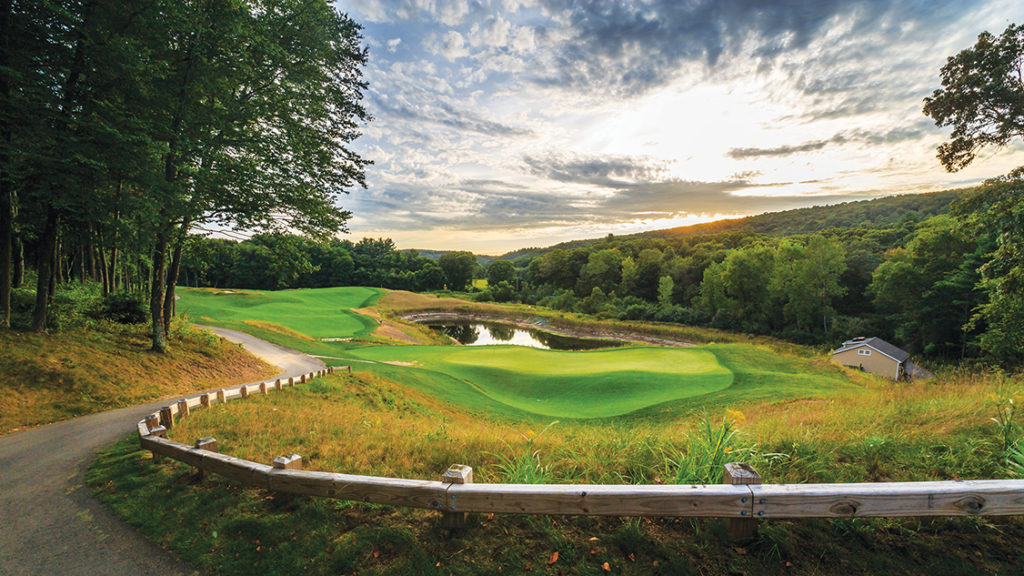 MSGC's clubhouse, stretching 20,000 sq. ft., has been significantly updated in recent years, including enhancements to the Pautipaug Pub and lounge areas. The clubhouse features a second-floor banquet room, which can be customized for various private parties, receptions, and group events.
Mohegan Sun Golf Club is also home to a one-of-a-kind Golf Academy program where guests can improve their techniques while taking advantage of a comprehensive training facility equipped with the latest in video and shot tracking technologies. Professionals at MSGC will also provide outdoor training, with a coaching model that is based on asking the right questions, actively listening and empowering students with focused, fact-based feedback.
Mohegan Sun Golf Club is open to the public and offers perks to hotel guests and Momentum loyalty members.
Oneida Indian Nation
Atunyote Golf Course
Vernon, NY
Turning Stone Resort Casino (3.6 miles away)
turningstone.com/golf/atunyote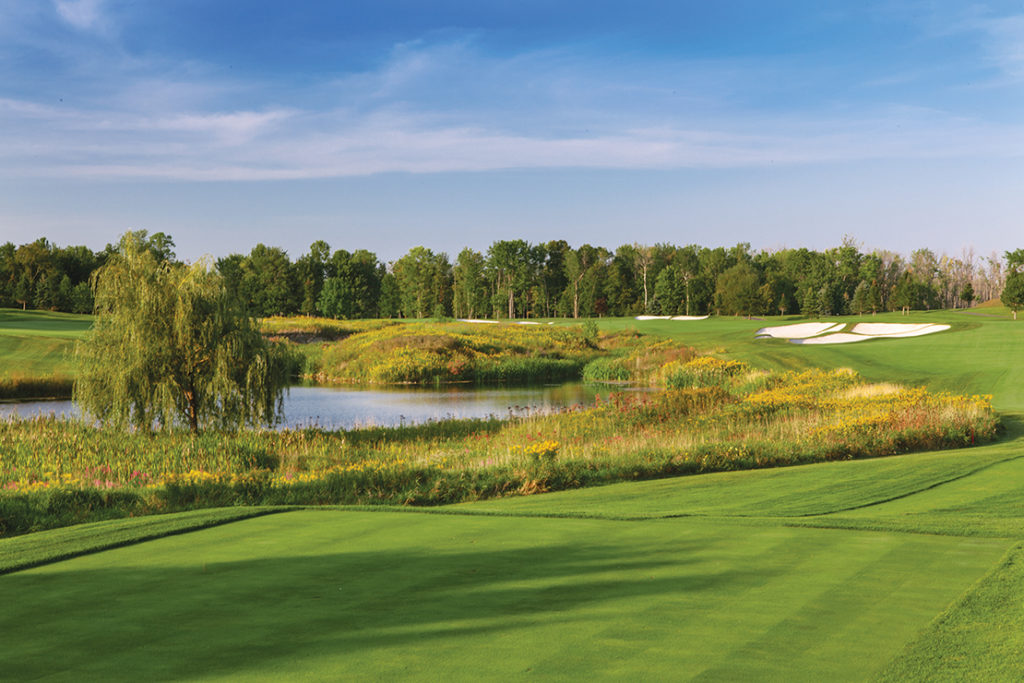 Situated in a secluded setting just a few miles from the main resort, Atunyote is the most acclaimed of Turning Stone's championship level courses. This Tom Fazio designed course was home to the Turning Stone Resort Championship from 2007 – 2010, which counts Steve Flesch, Matt Kuchar and Dustin Johnson among its champions. In 2006, it was the site of both the PGA Professional National Championship and the BC Open. The course has also drawn the likes of Vijay Singh, Lexi Thompson and Tiger Woods to its fairways for the Notah Begay III Foundation Challenge.
Guests enter the property through a breathtaking custom designed and crafted iron gate where they then traverse a winding two-mile entryway passing along portions of the course, wetlands and forested areas. Spacious fairways, large undulating greens and steep-faced bunkers are hallmarks of the Fazio designed parkland course. Other notable features include a preserved deadwood marsh, a rock formation, and several lakes, streams, and waterfalls. The largest body of water, measuring 13 acres, runs along three fairways including the dramatic finishing hole.
The memorable golfing experience begins and ends at the New England-style clubhouse, which is meticulously appointed to provide both luxury and comfort. It houses the players' lounge, locker facilities, pro shop, a restaurant with indoor and outdoor seating overlooking the course, and a private dining/meeting area. A wrap-around porch offers spectacular views of the surrounding countryside.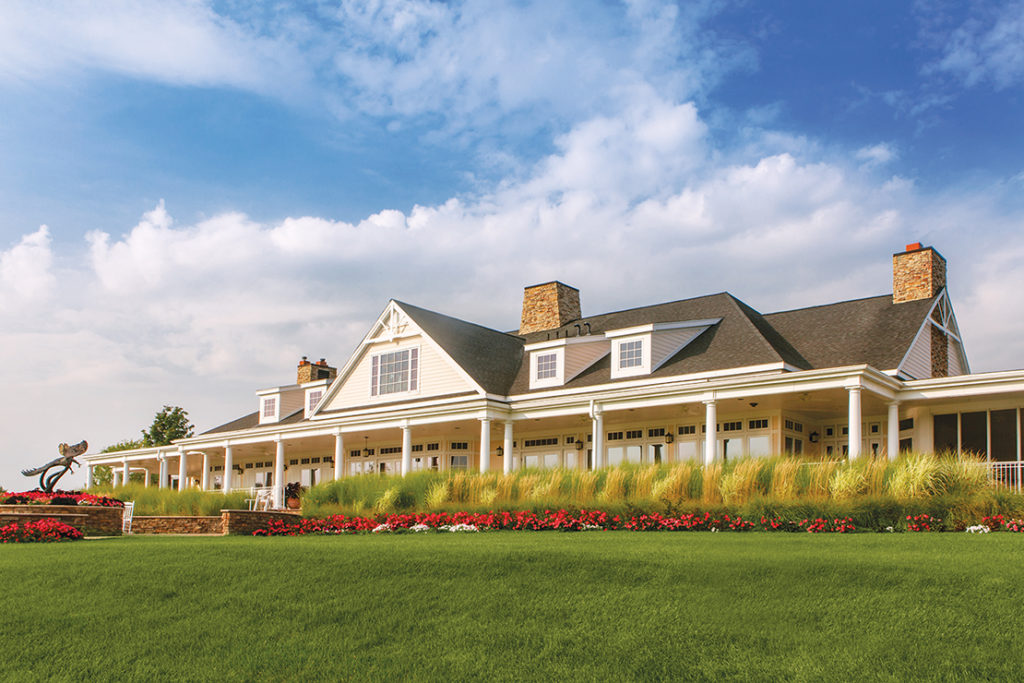 The players' lounge is warmed by a large fireplace and outfitted with rich wood and leather furniture. The spacious room is enhanced by a cathedral ceiling and chandelier, while natural light shines through a stunning stained-glass window depicting an eagle in flight (Atunyote is the Oneida word for "eagle").
The course has five tee options, ranging from approximately 5,100 yards to more than 7,300 yards. A day on the course includes golf bag service and personal attention from the professional staff. Guests are pampered with an unsurpassed level of customer service and quality course conditions that ensue every golfer is treated like a PGA Tour player – an experience few players ever experience.
The wetlands and the natural grasslands are important elements of this golf course and Atunyote is an officially certified Signature Sanctuary by Audubon International for demonstrating continued commitment to the environment. The course meets extensive standards for protecting water quality and conserving natural resources and was designed to safeguard existing wetlands, native plant life and animal habitats.
Recent awards for the Atunyote course include a #3 ranking in the 2021 Golfer's Choice by Golf Advisor – Best Golf Courses in New York, a #9 ranking in Golfweek's Top 50 Casino Courses 2021, and inclusion in Golfweek's Top 100 Resort Golf Courses in the U.S. 2020.
Oneida Indian Nation
Kaluhyat Golf Course
Verona, NY
Turning Stone Resort Casino
turningstone.com/golf/kalahyat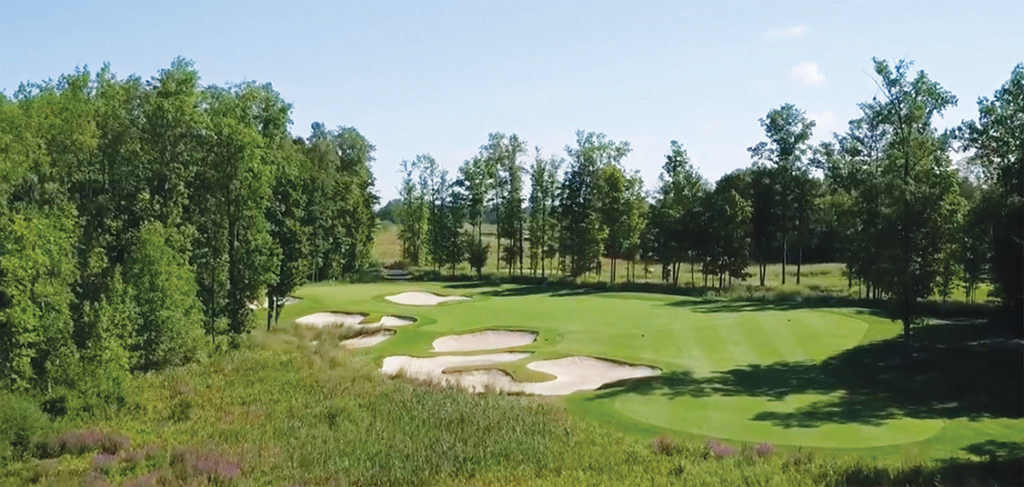 Named as one of the Top 50 Best Casino Courses by Golfweek, Kaluhyat (pronounced "ga-LU-ya") is the Oneida word for the "Other Side of the Sky" – and it truly lives up to its name. The course features 18 holes in an out-and-back routing that is designed to test players' accuracy and strategy, with rolling greens that change in elevation and reach up to 50 ft. in some areas.
Opened in 2003, the course's natural beauty is captured in a picture-perfect frame as soon as you approach the first tee box. Designed by world-renowned architect, Robert Trent Jones, Jr., Kaluhyat's pristine conditions and challenging layout deliver a golf experience that is unrivaled in the region. Kaluhyat demands accuracy on every shot from tee to green, as lush marshlands surround the course on every hole while beautiful waters and strategically placed bunkers demand your best shot as you make your approach to the green. It also features the highest slope rating of the three courses at Turning Stone, which will surely challenge even the best players.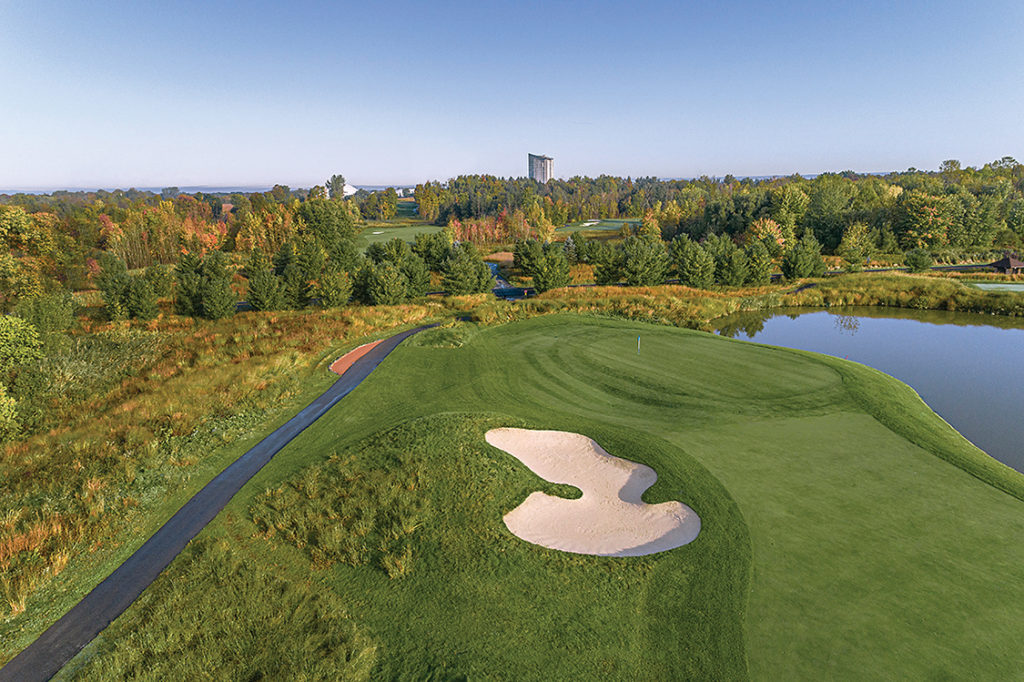 Measuring in at just over 7,100 yards, Kaluhyat's signature plateaus and rolling hills offer seemingly endless, spectacular views of the surrounding terrain. Six lakes throughout the course add to the picturesque setting. Kaluhyat is a classic shot-maker's course, where accuracy and strategy are rewarded as much as length.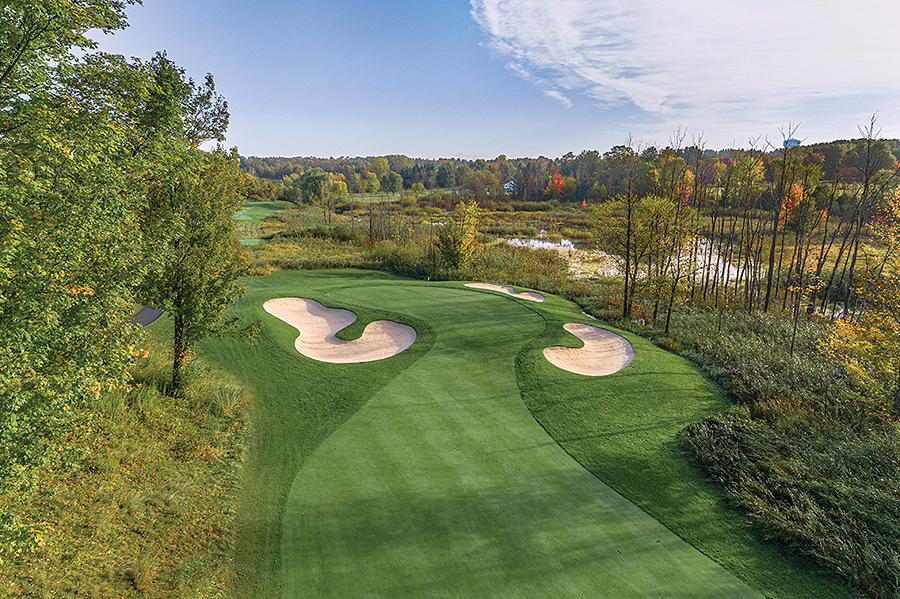 Kaluhyat has hosted the PGA Professional National Championship, the New York State PGA Championship and top-tier Amateur/Collegiate Tournaments as well, including the NCAA's Division I Golf Tournament. As much of a mental challenge as a physical one, Kaluhyat is the perfect location to make champions. It has a natural beauty on every hole that cannot be matched, making it a golf experience rather than just a round of golf.
Oneida Indian Nation
Sandstone Hollow and Pleasant Knolls
Verona and Vernon, NY
Turning Stone Resort Casino (Pleasant Knolls 2 miles away)
turningstone.com/golf/sandstone-hollow
turningstone.com/golf/pleasant-knolls
Turning Stone has great options for every level golfer, whether you are a beginner or a club professional. Among its world-class offerings are two 9-hole courses – Sandstone Hollow and Pleasant Knolls. Sandstone Hollow is an executive par-3 course that winds through woods and wetlands with greens surrounded by wild fescue grasses and rock outcroppings. Designed by Rick Smith, who also designed highly touted Shenendoah Golf Course just across the street, Sandstone Hollow offers similar picturesque settings with every hole showcasing its own unique characteristics.
Sandstone Hollow was rated among the top 25 par-3 courses in the U.S. by Golf Event magazine. It's not your typical pitch-and-putt par-3 course and demands skilled shots to its undulated greens to score. It is considered a first-class golf experience and a top par-3 course by reviewers. The nine holes play from 118 to 234 yards. Many of the holes have forced carries and every hole has a tournament-quality green with multiple bunkers. Sandstone Hollow will challenge players but offers an opportunity to work on your short game in a fun and attractive setting.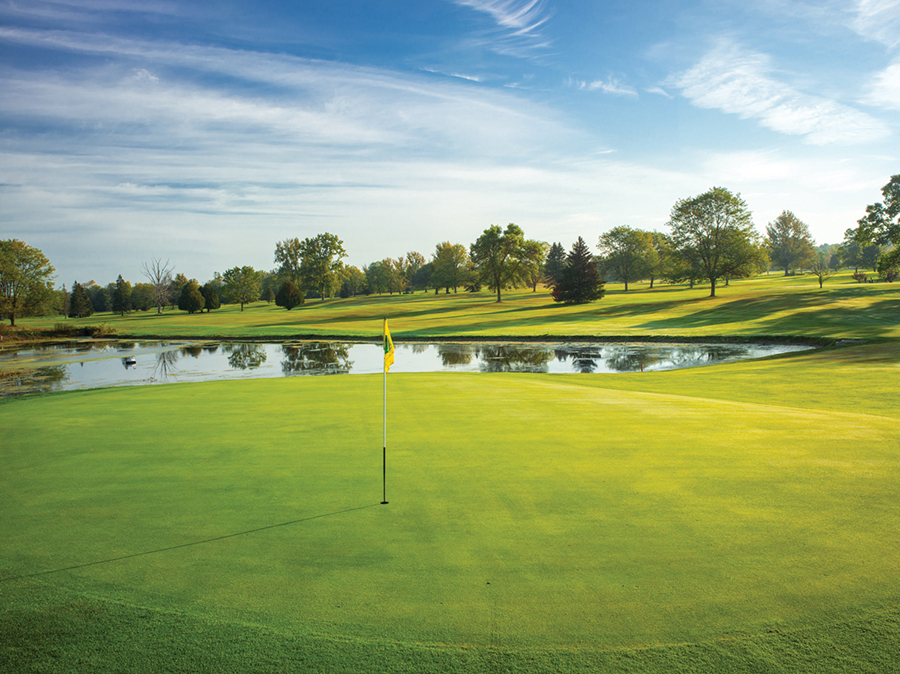 Pleasant Knolls is a player-friendly recreational course in Vernon just down the road from the premier Atunyote Golf Course, offering a relaxing nine holes of par-36 golf. Sprawled over 70 acres, Pleasant Knolls features wide-open fairways, fast greens, challenging water hazards and gently rolling terrain. If you're learning to play, or just want to warm up before your rounds at Turning Stone's three award-winning 18-hole courses, Pleasant Knolls is the perfect choice to tune up and build on your skills.
Oneida Indian Nation
Shenendoah Golf Course
Verona, NY
Turning Stone Resort Casino
turningstone.com/golf/shenendoah
The Rick Smith designed Shenendoah Golf Course at Turning Stone Resort Casino offers 18 holes of championship-level golf in a spectacular natural setting, just steps from the amenity-filled resort. Already an exceptional course, Shenendoah recently underwent a nearly year-long redesign aimed to add more character and elevate the overall golf experience by refining routing and enhancing the design variety, shot variety and memorability.
Previously awarded as one of the top courses by Golfweek, Golf Advisor, Golf Magazine, Golf Digest and others, the vision for Shenendoah – Turning Stone's original 18-hole course – has been one of evolution and growth. The course's already favorable charm, aesthetics and outstanding guest experience served as the foundation for new aesthetic features, unique layout tweaks and exciting tests of skill.
The updated course features seven new holes: #3 and 4 on the front nine, and #12, 13, 14, 16 and 17 on the back nine. Shenendoah's spectacular natural setting offers guests a truly unique round of golf. With its range of open pastures and wooded parkland holes, the course's redesign maintains all its original charm and character of a links course while also allowing players more variety in shots and superior aesthetics.
Welcoming golf enthusiasts since it first opened in 2000, Shenendoah was built and is maintained to comply with stringent Audubon International standards for environmental protection and preservation. At more than 7,000 yards, the course offers conditions normally reserved for Tour professionals. In 2006, Turning Stone Resort's Shenendoah Golf Club hosted the PGA National Club Professional Championship and has previously hosted events featuring PGA Tour pros Fred Couples and Phil Mickelson.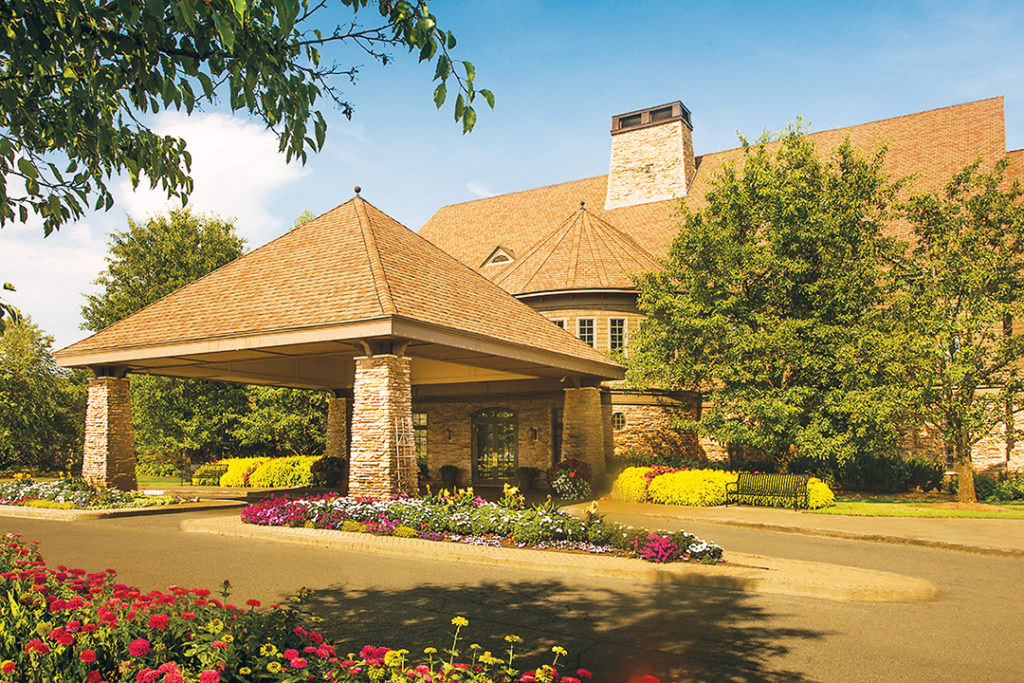 The course Clubhouse is a grand, yet unobtrusive, 28,000 sq. ft. Tudor-style mansion that blends perfectly into its surroundings. A fine ceramic tile entryway welcomes guests as they step inside. An antique-finished chandelier gently illuminates the cherry accented woodwork and floor-to-ceiling columns and an artistically etched railing surrounds the foyer's circular staircase. Carved stone fireplaces in the entry hall and ballroom add flares of elegant warmth. A balcony oversees the first and eighteenth holes.
Recent refurbishment to one of upstate New York's signature wedding destination venues have included décor and guest amenities. Several room options are available for seating up to 400 guests at the Clubhouse, which also features a restaurant with indoor or patio seating.
Seneca Nation
Seneca Hickory Stick Golf Course
Lewiston, NY
Seneca Resort and Casino (8.7 miles away)
senecahickorystick.com
Seneca Hickory Stick Golf Course, a Robert Trent Jones II design, provides golfers with a world-class golf experience unmatched in the western New York market. It was rated #12 Best Public Golf Course in New York by Golf Magazine and #33 Best Casino Course in the U.S. by Golfweek.
Located in a picturesque setting just minutes from the U.S.-Canada border, all-encompassing views of the Niagara escarpment and native hickory and pine trees abound as golfers play through this parkland routing. The 257 acres of challenging terrain presents guests with tall heather grass, fairway and green-side bunkers, and PGA Tour caliber greens. With five sets of tees, golfers can select their desired yardage and challenge at this western New York site.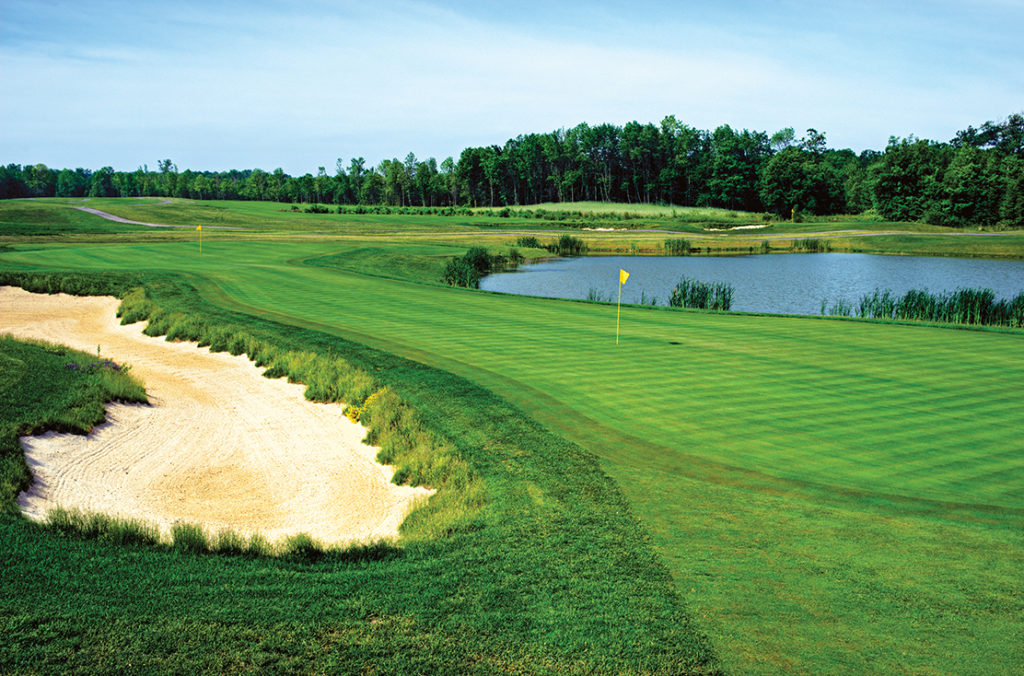 Seneca Hickory Stick has been constructed with some of the most realistic and oversized practice facilities in all of western New York. The facilities include a natural grass driving range, a vast putting green along with designated grass, and sand chipping areas. The clubhouse provides a relaxing, comfortable spot to gather and enjoy breakfast, lunch or dinner and a cold beverage following a great round of golf.
With national rankings and accolades, combined with exceptional service standards, guests will not find a better product in western New York and the surrounding areas. Seneca Hickory Stick is a focal point for casino guests drawing them in from all over the U.S. and Canada as it redefines premium daily-fee golf in the region.