This month, Indian Gaming magazine features tribally owned golf properties in sunny California. Spectacular vistas and compelling courses offer golf enthusiasts the promise of challenging play and memorable experiences.
Cabazon Band of Mission Indians
Eagle Falls Golf Course
Indio, CA
Fantasy Springs Resort Casino
fantasyspringsresort.com/golf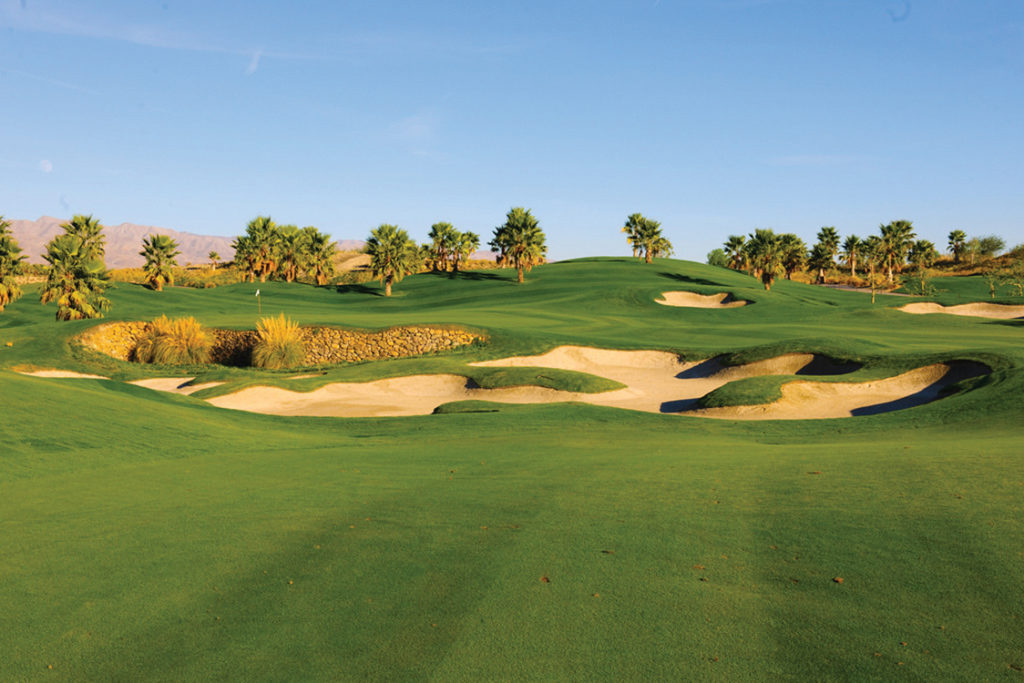 Located in the Palm Springs region, the legendary playground of Hollywood stars, Fantasy Springs Resort Casino offers everything one might need for a fun-filled getaway or a total destination vacation. That includes a luxurious hotel, exciting Las Vegas-style gaming, decadent dining options for all palettes, nightly world-class live entertainment, a state-of-the-art fitness center, sun-splashed poolside lounging, and lastly, the crown jewel, Eagle Falls Golf Course.
Nestled against the backdrop of two breathtaking mountain ranges, this 18-hole championship course is within walking distance of the property and can easily be accessed by visitors coming from either direction on Interstate 10. But once you cross its signature curved bridge, you enter another world entirely. Designed by renowned architect Clive Clark, this sprawling achievement in design and function has taken a parcel of pristine desert landscape and carved it into a modern masterpiece.
It's no wonder that Eagle Falls was recently named the best public golf course in the Coachella Valley by Palm Springs Life magazine. It boasts multiple elevation changes and water features not commonly found in the Coachella Valley – or anywhere else for that matter. It employs native foliage and eye-popping wildflowers to enhance the experience, along with a running creek that traverses holes 10 and 8, plus a majestic waterfall that greets players on the 18th green.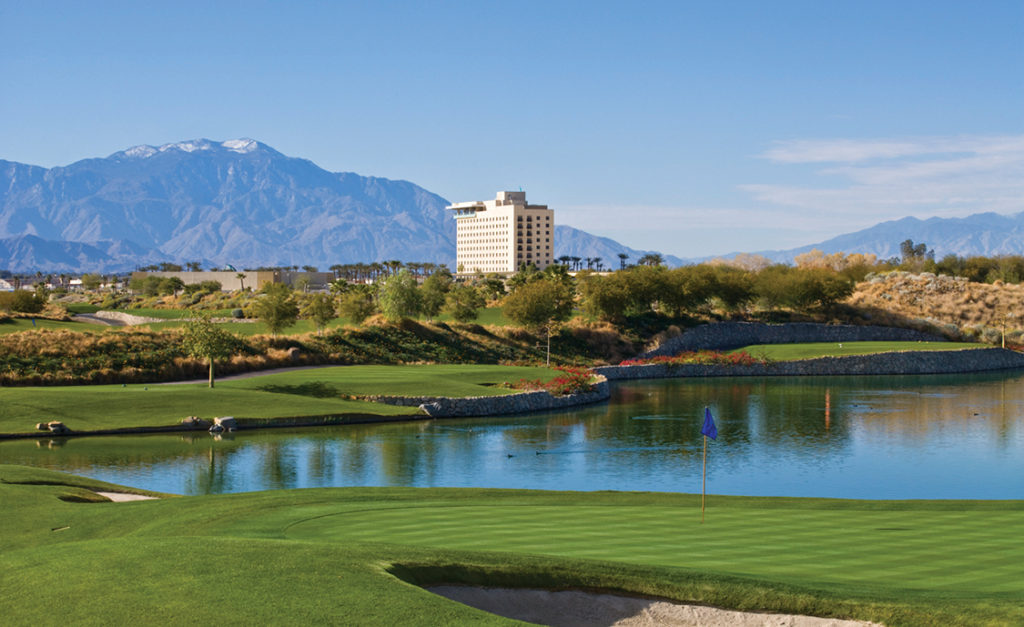 This 6,715-yard, par-72 marvel is challenging enough to test even the low-handicapper, while still providing an enjoyable experience for amateurs. Unlike many cookie-cutter courses, Eagle Falls has 18 signature holes that never cease to amaze with unfiltered views of palm trees, mountains and endless blue skies. One of the most unique is the par-3 hole 6, with its uncanny replica of the famous "postage stamp" on the eighth hole at Royal Troon in Scotland.
Players have the opportunity to stay and play at Fantasy Springs's 12-story resort for the ultimate golf getaway. The 250-room hotel offers four-star caliber accommodations with numerous amenities for both leisure and adventure.
Whether you're looking for the latest in golf fashion and equipment, or just a few new balls, the Eagle Falls Pro Shop has exactly what you're looking for. A knowledgeable and friendly staff helps players choose from a selection of top brand apparel, logo wear, clubs, balls, shoes and pretty much any accessory you can think of. From an amazing golf experience to a luxurious stay, Fantasy Springs has everything a golf lover desires.
Table Mountain Rancheria
Eagle Springs Golf & Country Club
Friant, CA
Table Mountain Casino (less than 1 mile away)
eaglespringsgcc.com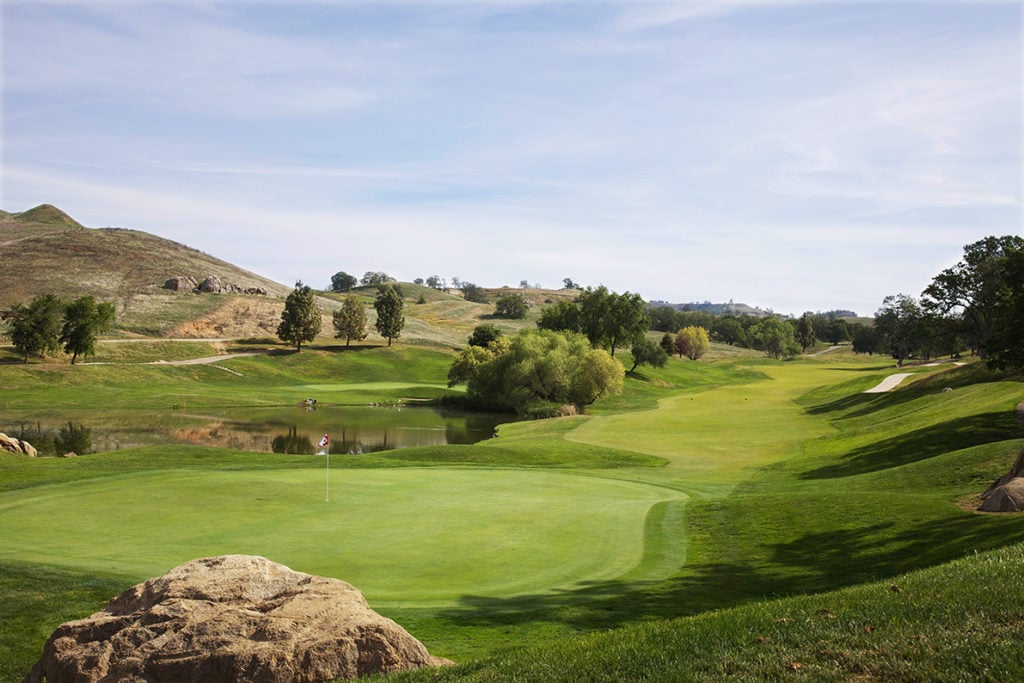 From its very inception, the Johnny Miller Signature Golf Course at Eagle Springs Golf & Country Club was designed to rival the finest golf courses in the world. PGA Tour Winner and internationally renowned golf course designer Johnny Miller personally designed every facet of the astounding course, from concept to completion.
This 18- hole championship course takes full advantage of its spectacular Millerton Lake and Sierra Foothill setting, offering the perfect challenge to spark the interest of any caliber player, while winding among virtual forests of blue oak trees and granite rock croppings. It has been hailed as one of the most spectacular courses in California. This award-winning golf course quickly grabbed the attention and respect of valley golfers with its top ten ranking by California Golf. The natural surroundings of the masterpiece attract golfers near and far.
In the oak-studded foothills adjoining the Sierra Foothills, the intense beauty of Eagle Springs will inspire every player. The 18-hole championship course was meticulously designed to incorporate the existing movement of land, natural water features, spectacular views and, of course, a challenge for players of varying skills.
Eagle Springs Golf and Country Club is owned and operated by Table Mountain Rancheria. This 18-hole par-72, Johnny Miller Designed course was purchased by Table Mountain Rancheria in 2010. After the purchase, many improvements have been made to bring this gem of a course back to its original stature offering many challenges and pristine playing conditions.
The golf course is spread over 100 acres and utilizes the undulating terrain of the Sierra Foothills. There are many spectacular views of the Sierra Nevada Mountains, Millerton Lake and the San Joaquin valley. This links style course is laid between the native grassland, granite rock croppings and valley blue oak trees. There are several water features that move through the property that add a great deal of charm and distinction to the golf course.
Eagle Springs Golf and Country Club offers excellent playing conditions throughout the golf course. That, paired with the challenging Johnny Miller course design, makes this one of the premier golf facilities to play in Central California. The golf course features Hybrid Bermuda fairways, which offer excellent turf quality throughout the year. The rye and fescue roughs play tough, so it is rewarding to hit the fairway from the tee. The bentgrass putting greens have a great deal of undulation and require hitting your approach into the correct quadrant of the green to have an opportunity to score. If not, it takes great skill and imagination to navigate your ball to the hole.
The first nine holes of the golf course run through the housing community of Brighton Crest. The beautiful architecture of these homes complements the picturesque beauty of the golf course. The front nine is set with many challenges.
The 1st hole is a short 341-yard par-4. Don't let the yardage fool you, this little hole has teeth. A precise tee shot avoiding the oak tree in the center of the fairway is a must. This will leave you a manageable approach up the hill to an undulating green. There is a large mound in the center of the green that splits the putting surface. If your approach gets on the wrong side of the mound, it makes for a difficult par.
The 4th hole is a 436-yard par-4 that offers an elevated tee shot down to the fairway at the valley floor. The views from this hole are spectacular and it is one of the prettiest tee shots in the entire San Joaquin Valley. Once down to the fairway, players must cross a stream to get to the green. Judging the distance on this approach is important and consideration must be taken for the northeast wind. Once you are on the green, you have a good opportunity to two-putt for par.
The 5th hole is a 496-yard par-5. This hole was reconstructed in 2020 with a new lake, green complex and bunkering in the fairway and greenside. What was formerly a mediocre par-5, is now a hole that will stay in your memory of playing Eagle Spring Golf and Country Club. Three fairway bunkers with white Monterey Sand were added to frame the landing area for the tee shot. The green is reachable for the longer hitters, but the newly added lake makes this a risk reward shot. Players must now carry over the water to get to the green, which is slightly elevated with a rock border. The new green complex is 7,000 sq. ft. and features water on three sides. This picturesque hole is the first thing you see when entering into the property and is a spectacular new feature for the facility.
The 9th hole is a 533-yard par-5 that has an open area for the drive but narrows for the second shot. This hole shows some of the native history of the property. There are grinding holes on both sides of the fairway on this hole. They are evidence of the Wa-Cush-Mow Village that was on this site hundreds of years ago, which homed the Table Mountain forefathers. Ancestors would grind acorns and wild grain, which created these markings in the granite.
The back nine of the golf course has a much different setting of rolling hills, native grasslands and oak trees. It is the Sierra Foothills in the purest form as you wander through the pristine fairways and take in all the natural beauty of the San Joaquin Valley. It is very common to witness bobcats, deer, coyote, foxes, quails, eagles and many other forms of wildlife that have made their home here for hundreds of years.
The 10th hole is a 322-yard par-4. The elevated teeing area makes this a drivable par-4. The risk reward can pay off with an accurate tee shot, however an errant drive can turn this easy hole into a bogey. The green is well protected with oak trees and sand traps. The small undulating putting green requires that you are in the right spot to have a chance to make the putt.
The 12th hole is a 511-yard par-5. This dogleg right par-5 is a three-shot hole. It plays a little more uphill than it looks and often has wind in your face. There is a seasonal creek that crosses in front of the green. It is paramount to have your approach on the right level as there is a large swale in the front of the green, which collects balls that do not make it onto the upper levels.
The 15th hole is a 393-yard par-4. This uphill dogleg left hole requires a good drive to set up for the approach shot to a small but elevated green complex. The green has some slope from back to front, but due to its smaller nature, a ball on the green offers a good opportunity to make the putt.
Eagle Springs Golf and Country Club is a fine golf facility with many strong attributes. There are several holes that are distinct and memorable, requiring a full range of shot-making skills. The course design flows with the natural terrain and offers enjoyment for players of all skill levels.
Agua Caliente Band of Cahuilla Indians
Indian Canyons Golf Resort
Palm Springs, CA
Agua Caliente Casinos Palm Springs (3.9 miles away), Rancho Mirage (9.8 miles away), Cathedral City (6.2 miles away)
indiancanyonsgolf.com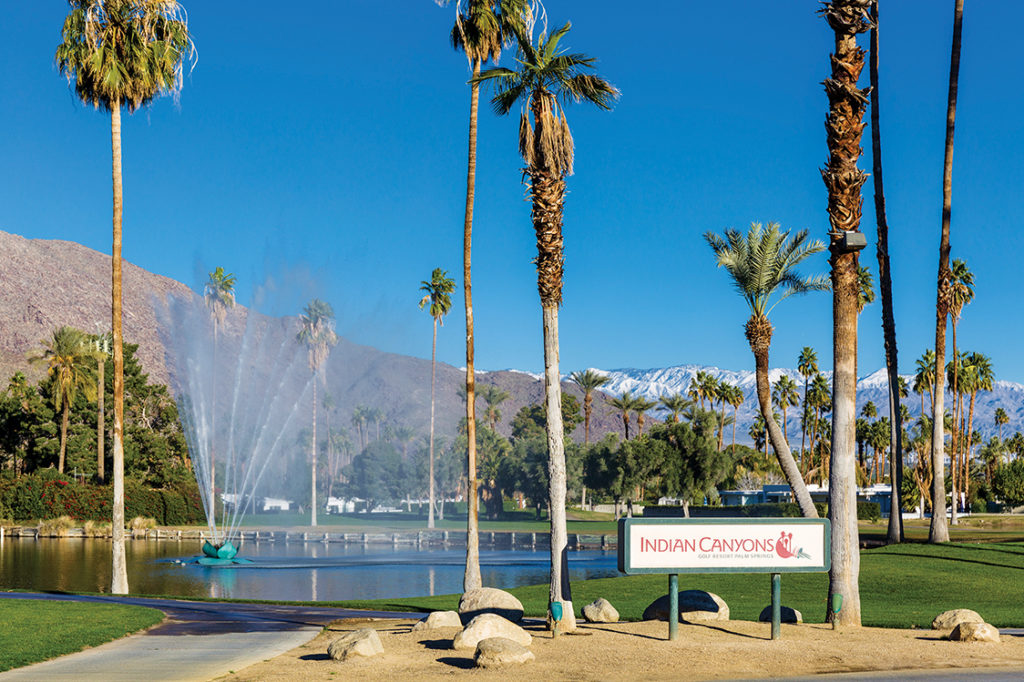 The Indian Canyons Golf Resort has been a golfer's paradise in Palm Springs and the Coachella Valley since 1961. Once a private club named Canyon Country Club, this 36-hole facility was a favorite hangout of Hollywood celebrities such as Frank Sinatra, Bob Hope, and Jackie Gleason. Former U.S. Presidents Dwight D. Eisenhower, Lyndon B. Johnson and Ronald Reagan also walked these fairways. The course is set on 550 acres on the Agua Caliente Indian Reservation.
Once considered a hidden gem off the beaten path of Coachella Valley visitors, today, the Indian Canyons Golf Resort is center to all of the action in Palm Springs. Indian Canyons Golf Resort is a quick drive from Palm Springs International Airport and only a 10-minute drive south of downtown Palm Springs. Following a round at either course, golfers can enjoy dinner and drinks in the south clubhouse while enjoying panoramic views of the surrounding San Jacinto mountains.
In 2004, the south course's 6,582-yard layout was redesigned by Casey O'Callaghan who brought on consultant and LPGA hall-of-famer, Amy Alcott. The south course is known for its natural beauty as well as for its design that includes five par-5s, par-4s, and par-3s. This course has four ponds and nearly 100 palm trees, many of those being Washingtonia filifera palm trees, which are the only native palm tree to the California desert and are cherished by the Agua Caliente Band of Cahuilla Indians.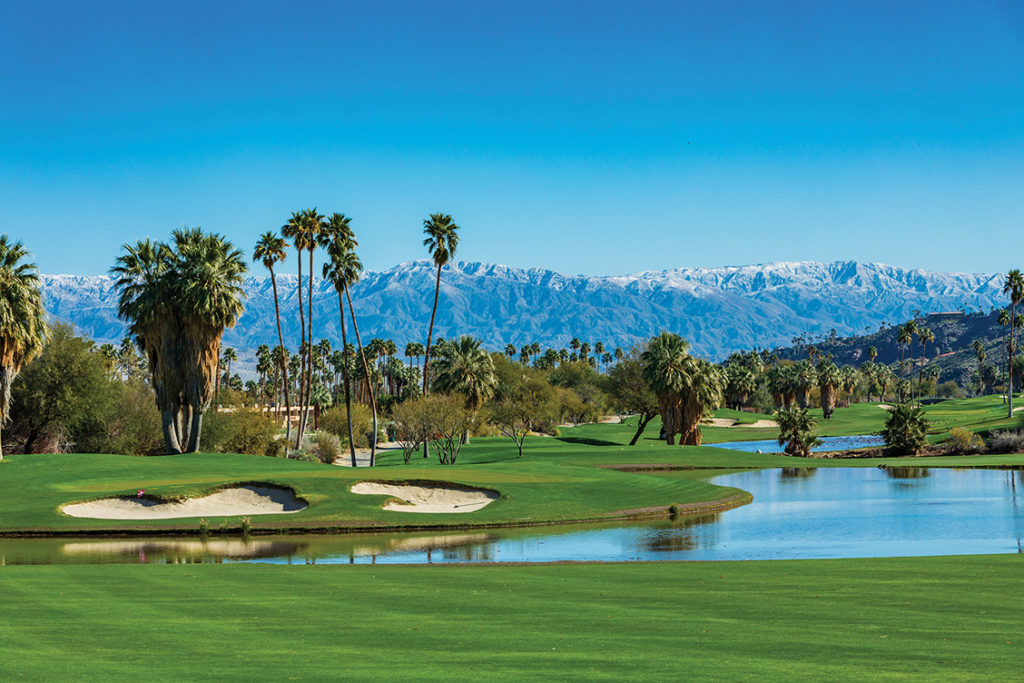 The north course was designed by William F. Bell. This is the longer of the two courses. The par-72 north plays 6,943 yards with six water hazards on the course. Years ago, Walt Disney bought multiple homes along the second fairway at the north course. He even donated the green-patina copper lily pad fountain to the course in 1962, which is still located in the lake between the 9th and 18th holes and shoots water more than 100 ft. into the air.
When golfing at the Indian Canyons Golf Resort, golfers enjoy the amenities of championship golf, PGA and LPGA golf instruction, golf shop, restaurant, tournaments and special events.
Pechanga Band of Luiseño Indians
Journey at Pechanga
Temecula, CA
Pechanga Resort Casino
pechanga.com/indulge/journey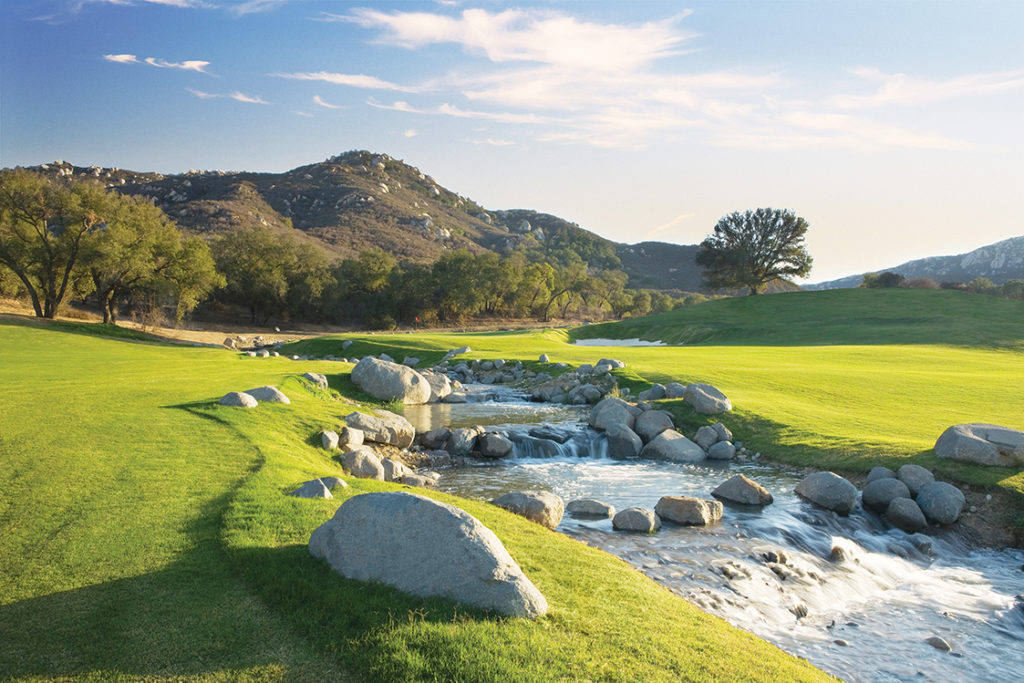 Golfers of any level are in for an amazing experience when they set out to play the 7,219-yard, par-72 Journey at Pechanga. The 18-hole championship course lies just steps from the Pechanga Resort Casino. While one does not have to be a hotel guest to play the course, it's an extra treat to stay in one of Pechanga's Resort Tower corner suites with a floor to ceiling view of the course.
Journey at Pechanga winds in and around the rolling hills and native lands at the foot of the Pechanga Resort Casino building. Open to resort guests as well as the public every day, the impressive, Arthur Hills/Steve Forrest-designed course ushers you across the dry ravine of the Pechanga River, over rustic wooden bridges and takes full advantage of the simply awe-inspiring terrain, which rises and falls a breathtaking 300 ft. – often with majestic views of the Temecula Valley and beyond on clear days.
The course provides its share of challenges, though rewards risk takers. With a choice of five tee boxes, golfers of all levels can play from the distance they feel most comfortable. Each hole offers unique terrain, vistas, water features, hazards and more. The first few holes get players used to the course, and throw in a few would-be whimsical obstacles in the form of towering oak trees in the fairway. It's not whimsy at play, but it's the Pechanga people's sacred reverence for the land and oak trees that causes golfers to have to think hard about what would otherwise be a straight-ahead shot to the fairway and the green.
Winding around to the 5th hole, the optics of the course change again to reveal a tee shot across a large lake often dotted with migrating birds. If your swing is powerful enough to bypass the lake, you must also get the ball up and over a babbling stream and then onto the green.
Going onto hole 6 takes players up the mountain where they find they must tee off and land their ball on the fairway (or the green) several hundred feet below.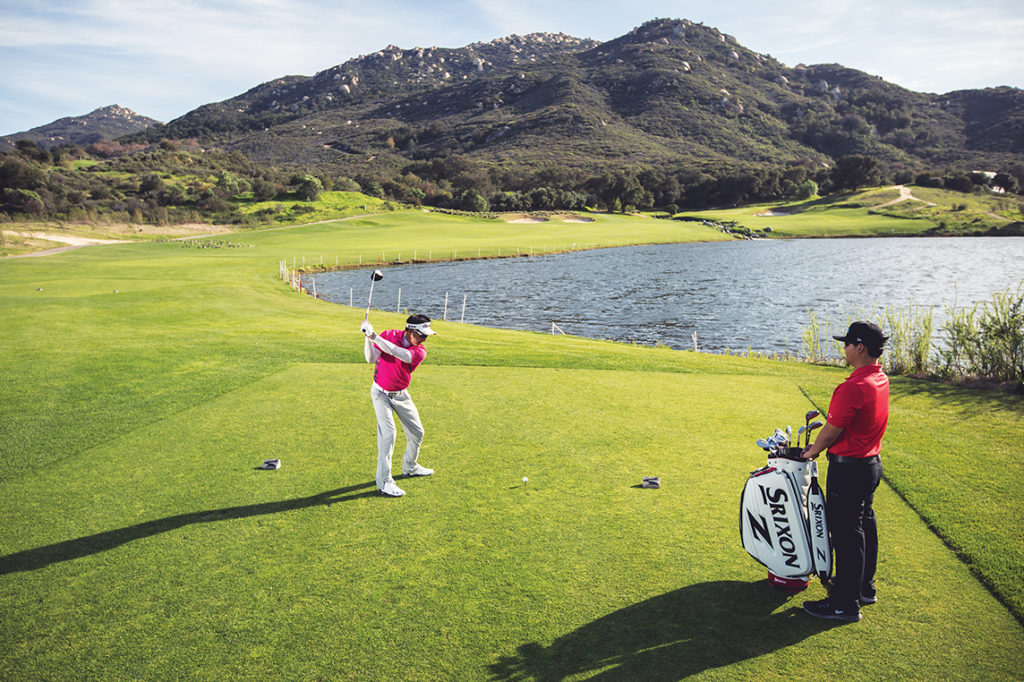 The figure eight styled course continues offering sights of native terrain, historical Native American artifacts, replica Kiicha (homes) at many holes and more Instagram-worthy vistas. Maintained with a high degree of precision and care, golfers find the course green and lush year around. It's rated one of the best public courses in the state and is one of the most ecologically and culturally sensitive in the country.
Inside the Journey's End Clubhouse, golfers find high-end golf amenities. These include the large pro shop with a variety of items at many price points, comfortable men's and women's locker rooms, club repair service, as well as the casually gourmet Journey's End restaurant featuring breakfast and lunch. The restaurant continually wins awards for having the best weekend brunch in the region.
Morongo Band of Mission Indians
Morongo Golf Club at Tukwet Canyon
Beaumont, CA
Morongo Casino Resort & Spa (14 miles away)
tukwetcanyon.com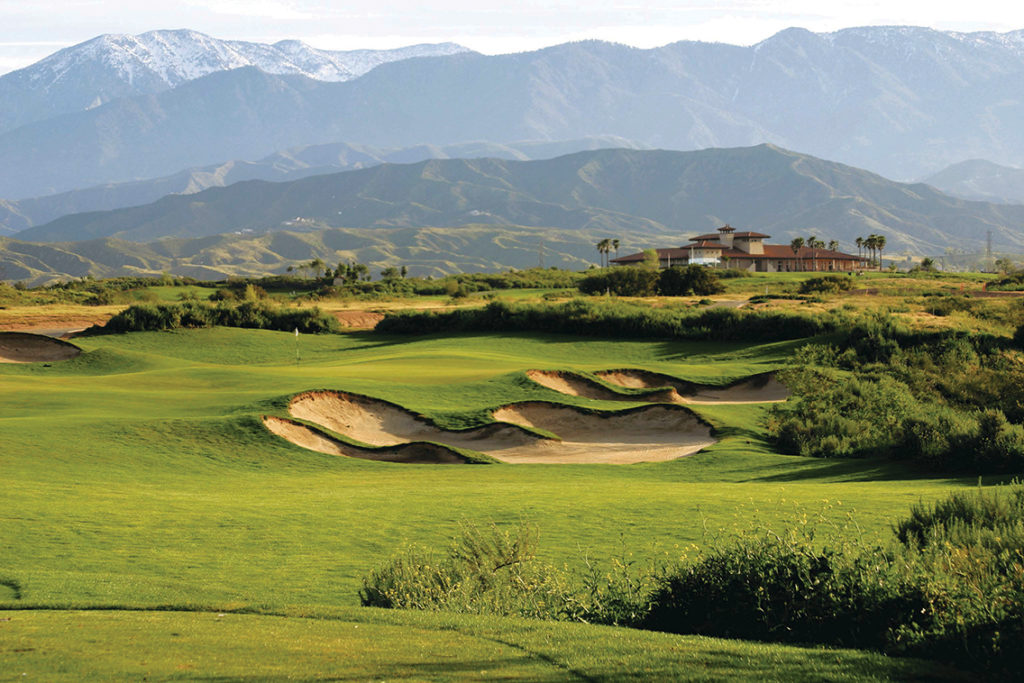 In the traditional Cahuilla language of the Morongo Band of Mission Indians, the word tukwet translates as cougar, the proud and powerful big cats that have roamed the wild foothills and mountains of Southern California for centuries. Like its namesake, the Morongo Golf Club at Tukwet Canyon radiates power and precision as it prowls among the unspoiled rolling hills of the majestic San Gorgonio Pass, just a few miles west of Palm Springs, CA.
Set against breathtaking mountain views, Tukwet Canyon offers 36 world-class holes of championship golf spread across two stunning championship courses. The combination of beauty and strength led Tukwet Canyon to become the local home of the Southern California PGA, and the course annually hosts the Symetra Tour, the official qualifying tour of the LPGA.
In March 2021, the premier course hosted its sixth annual Symetra Tour, IOA Champion- ship presented by Morongo Casino Resort & Spa, where it welcomed 120 up-and-coming players pursuing a total purse of $150,000.
Tukwet Canyon's 18-hole Champions Course provides golfers with 7,377 yards of pristine terrain. The 7,442-yard Legends Course stretches across 18 lush fairways and greens. Both courses are nestled among some of the most amazing landscapes in Southern California, flanked by the infinite gaze of the San Gorgonio and San Jacinto mountains. Golfers will revel in creek-crossing fairways, framed by oak trees, and encounter dramatic bunkers and countered greens. Deep doglegs dominate a couple of holes, while generous fairways dotted with challenging hazards await on others. Ranked among the best courses of Southern California, Tukwet Canyon was designed by the award-winning team of Lee Schmidt and Brian Curley, whose collective vision has guided the development of more than 150 courses in over 25 countries.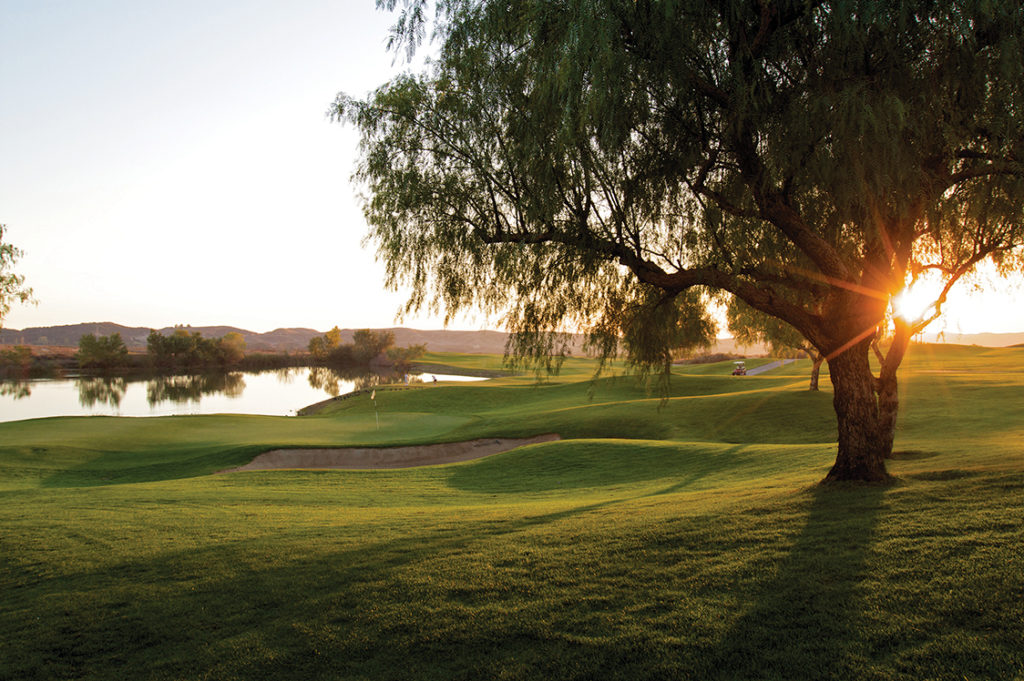 Tukwet Canyon is located a short distance from the towering 27-story Morongo Casino Resort & Spa, a AAA Four Diamond resort featuring one of the largest tribal gaming floors in the nation, five top-rated restaurants, a world-class spa, and legendary live entertainment. Special stay-and-play golf packages with complimentary shuttle services to and from the course provide for a truly immersive resort experience.
The Morongo Band of Mission Indians purchased the golf course in 2010 and quickly reinvented the course and its amenities. From the elegant clubhouse to the well-appointed pro shop, a refined sports grill with a mouth-watering menu and the championship courses, the tribe made significant investments and improvements to the entire property to ensure Tukwet lived up to Morongo's standards for offering the very best in guest experiences.
The course is open to the public and provides membership opportunities to choose from with a wide range of benefits. Packages range from full family memberships to the very popular snowbird couples membership.
Sycuan Band of the Kumeyaay Nation
Singing Hills Golf Resort – Oak Glen,
Willow Glen and Pine Glen
El Cajon, CA
Sycuan Casino Resort (4 miles away)
singinghillsgolfresort.com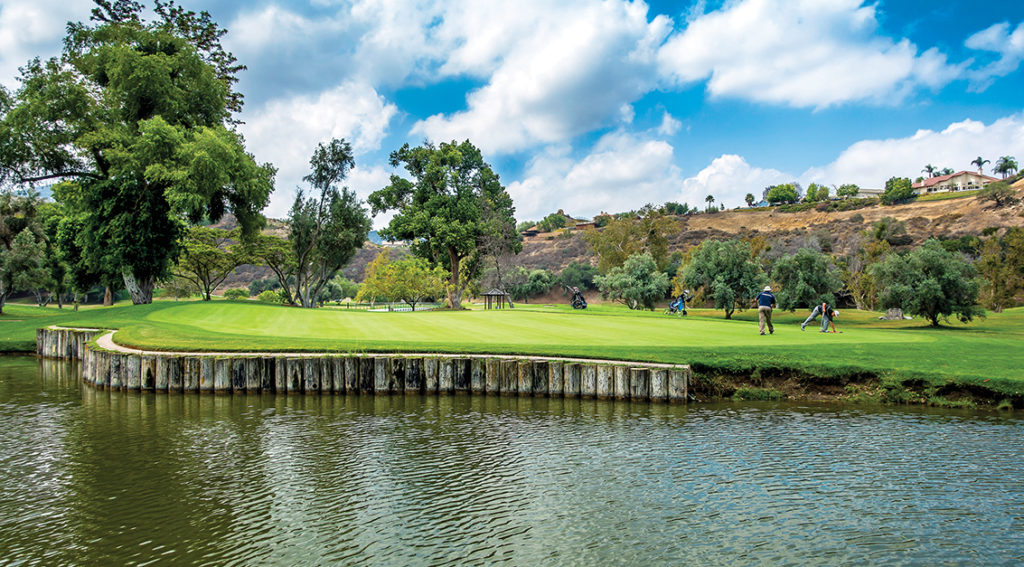 Singing Hills Golf Resort at Sycuan is located in the serene Dehesa Valley, just 20 minutes east of San Diego. The picturesque golf resort is comprised of 54 holes, which includes two challenging 18-hole championship golf courses and a fun 18-hole par-3 course.
Willow Glen, a challenging par-72 course, boasts demanding narrow fairways and strategically placed bunkers. Sweetwater River runs along the course and comes into play on many holes, providing dramatic scenery and difficult shots. The layout contains several dogleg holes, elevation changes and water crossings that create an incomparable day of golf for enthusiasts.

Another gorgeous par-72 course, Oak Glen features tight fairways, tricky rolling greens and difficult hazards all set among mature, landscaped surroundings. Sweetwater River runs through the course so golfers are required to cross the river with an accurate drive on the beautiful yet treacherous 5th hole, which is one of the best golf holes in all of San Diego.
Singing Hills also offers a fun 18-hole par-3 golf course, Pine Glen. This course will surely help golfers fine tune and perfect their game, after they experience every voyage on Southern California's most challenging par-3 golf course.
Throughout the golf resort, Bermuda grass is used on the tee boxes, fairways and rough and a combination of poa and bent grass is used on the greens. The fairways are wide and the greens are small and receptive to golf shots. Golfers will often be able to find their ball within a few yards from where it landed.
To help get a golfer's game on par with the pros, Singing Hills offers specialized golf academies for people of all ages and skill levels. Each class is specifically catered to an individual's needs and taught by PGA and LPGA professionals that have been giving lessons at the resort for over 40 years.
Golfers can also enjoy a wide range of onsite resort amenities including luxury hotel accommodations, a full-service restaurant and bar, Red Tail Bar & Grill, and a relaxing spa, Primrose. Each of the 100 guest rooms and suites features a stunning view of the golf courses or swimming pools.
For those interested in gaming and additional entertainment, Sycuan Casino Resort is only a short four miles away and is accessible by a complimentary shuttle.
As San Diego's only 3-course golf resort, Singing Hills Golf Resort offers golfers a one-of-a-kind experience in a beautiful, tranquil location.
Soboba Band of Luiseño Indians
Soboba Springs Golf Course
San Jacinto, CA
Soboba Casino Resort
soboba.com/golf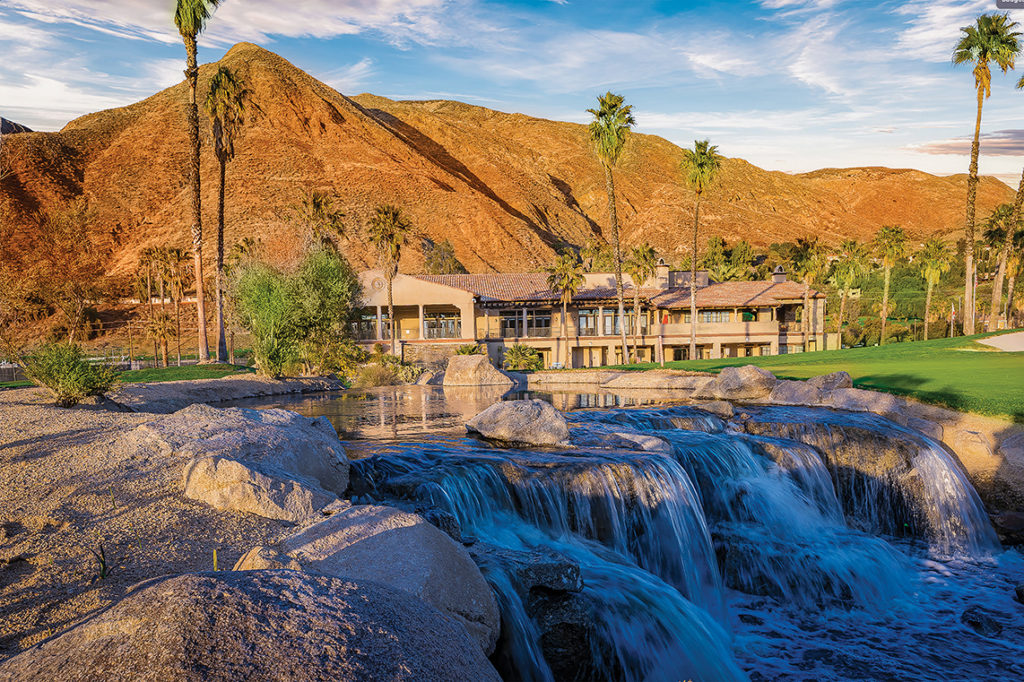 Nestled in the foothills of Southern California's San Jacinto Mountains, the Soboba Springs Golf Course is perfectly situated with picturesque mountain views, mild temperatures year-around, and an ideal location between the Los Angeles basin and the desert regions of the Coachella Valley.
Owned and operated by the Soboba Band of Luiseño Indians, the Soboba Springs golf course was originally designed in 1966 by Desmond Muirhead and redesigned in 2006 and 2018 by Cary Bickler, and also has a connection to the PGA Tour.
The redesign of holes 13, 14, 15 and 16 by Bickler just a few years ago and the classic elements make this one of the best golf experiences in Southern California. A classic design that has been beautifully updated is very playable but can be challenging for even the best players. It measures 7,339 yards from the back "tour" tees with a rating of 75.3 and a 140 slope, but most vacationers will want to play from the blue or black tees that check in at 5,970 and 6,497 yards.
The Soboba Springs Golf Course is kept in great shape with finely manicured greens, and with five sets of tees, this par-72 layout is a great test for just about any ability. Not long after its first redesign in 2006, it served as the host of the Soboba Golf Classic on the (then) Web.com Tour as part of the PGA Tour's developmental circuit for four years (2009-2012).
The newly designed holes were altered in part to accommodate the building of the casino resort. The signature 13th hole is a fantastic par-4 that runs along the hotel and its pool complex and features an island green that is surrounded by water, arched bridges and multiple water falls that make it a true scene stealer.
The new par-5 15th hole is said to be the fourth longest ever played on the PGA Tour at 641 yards from the back tees. It is even a hefty 542 yards from the blue tees. Of the four redesigned holes, there are two very demanding par-3's from the tour tees at the 14th hole (206 yards) and 16th hole (235 yards). Holes 13 through 16 are a strong test in the golfer's finishing portion of the round.
Of all the choices in Southern California, the Soboba Springs Golf Course stands high above the rest, offering the kind of golf experience and amenities that players seek the world over.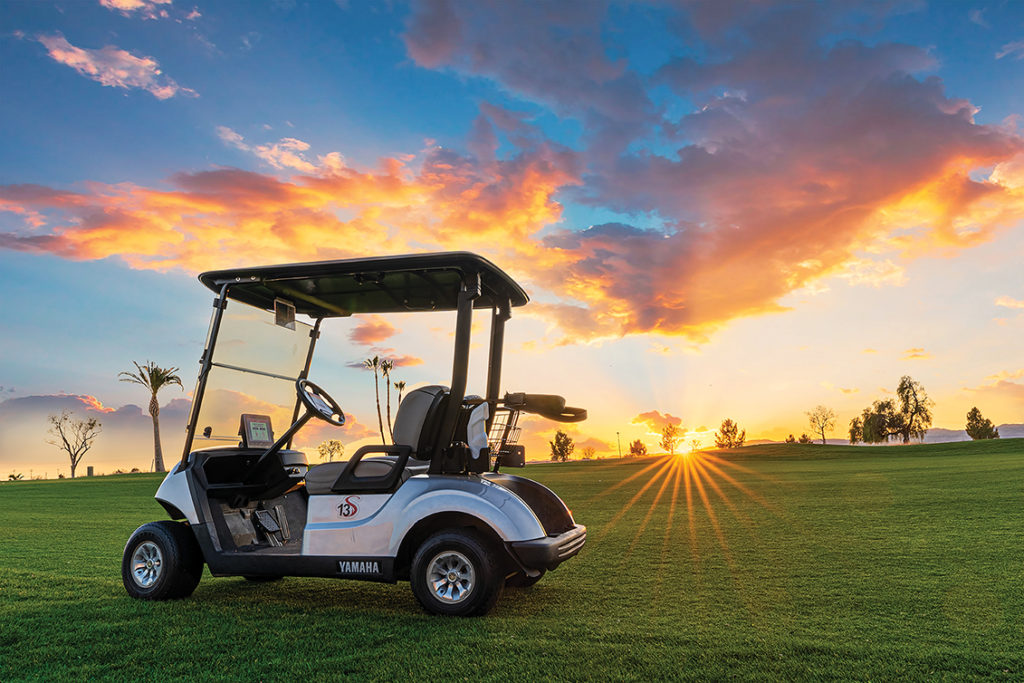 After golf, enjoy dining and entertainment at Soboba Casino Resort. The casino features 2,000 slot machines and 38 table games such as poker, baccarat, blackjack and roulette, while the Cabaret Lounge is lined with televisions showing all the latest sporting events.
Stay in any category room including a luxurious 1,800 sq. ft. presidential suite with breathtaking views of the San Jacinto Mountains and relax beside a beautiful 180,000-gallon pool that looks onto the golf course and is ringed by ten cabanas that feature TV's, refrigerators, ceiling fans and sitting areas. Special stay-and-play packages are available for the perfect holiday escape.
Tuolumne Band of Me-Wuk Indians
Teleli Golf Club
Tuolumne, CA
Black Oak Casino Resort (11 miles away)
teleligolfclub.com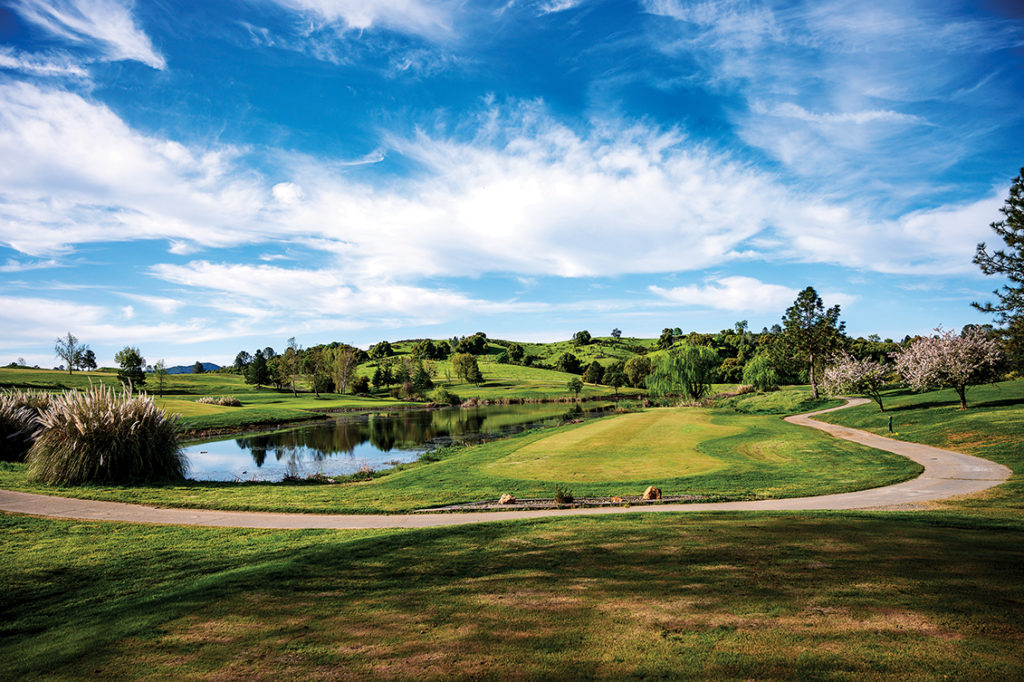 Teleli Golf Club is located in the historic gold rush town of Sonora, CA. Opened in 1990 as Mountain Springs Golf & Country Club, this scenic 18-hole course was purchased by the Tuolumne Band of Me-Wuk Indians in 2019 and renamed Teleli Golf Club. The Me-Wuk word Teleli translates to "black oak."
This championship links-rated course was designed by renowned landscape and golf course architect Robert Muir Graves to reflect the rugged, natural beauty of the Sierra Nevada foothills. Featuring a mix of wide-open fairways with tight lines into the greens, the course contains rolling foothills at elevation, which can be very challenging to beginners. In addition, several blind-approach shots with uneven lines make proper club selection crucial. Overall, Teleli is known for having the best rolling greens in the Sierras and the Central Valley.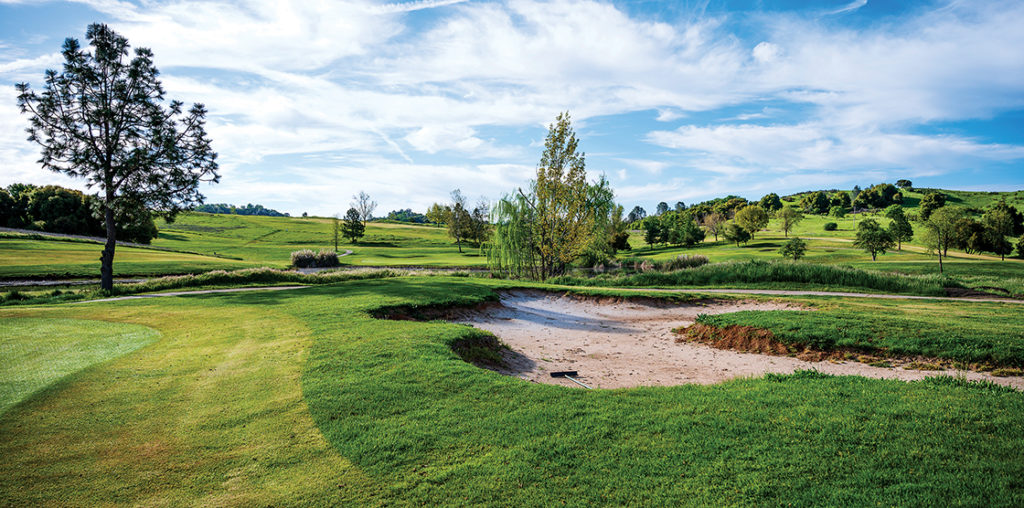 Open to the public and also offering memberships, Teleli Golf Club is one of the most popular facilities in Gold Country. Its relaxed, family-friendly environment is welcoming to players of all ages. The property features putting greens, a driving range, and four sets of tees to accommodate golfers at any level.
The pro shop is stocked with favorite brands covering a wide variety of clothing, equipment and accessories for both men and women. Resident golf pros are also on hand for group and private lessons, as well as expert tips on improving your game.
Before or after hitting the links, stop by the West Wind Bar & Grill for great food, cold beer and cocktails. Former Seven Sisters Chef de Cuisine James Vela has created a new menu featuring artisan sandwiches and burgers, unique appetizers, hearty breakfasts and more. Dine indoors or enjoy the view from the heated patio.
With onsite catering, a full bar and event planning services, Teleli Golf Club is also an ideal place to hold parties, weddings, corporate events and fundraisers. Golf events for groups of 12 or more have access to practice facilities with a short-game area, rental equipment, and professional tournament preparations, including scoring service.
After a nice round or two, take a short drive to nearby Tuolumne to enjoy gaming and family fun at Black Oak Casino Resort. Better yet, plan a weekend trip and stay at the resort's 148-room luxury hotel or first-rate RV park.
Pechanga Band of Luiseño Indians
Temecula Creek Golf Club
Temecula, CA
Pechanga Resort Casino (2.7 miles away)
temeculacreekinn.com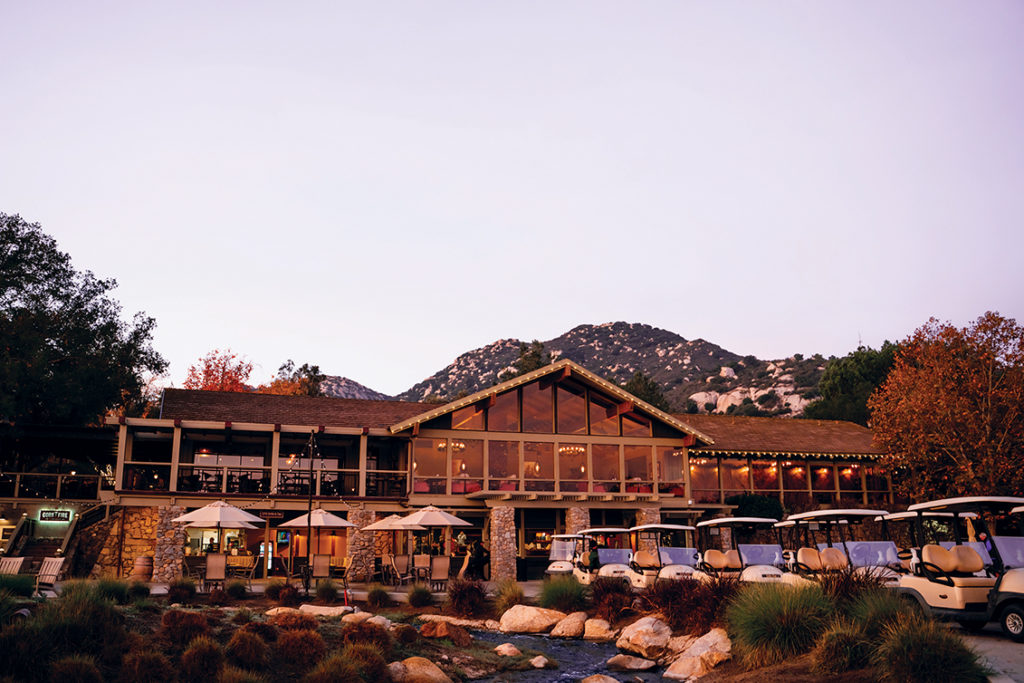 The Pechanga Tribe purchased the nearby Temecula Creek Inn in late 2018. Only a five-minute drive from the expansive Pechanga Resort Casino, Temecula Creek Inn features the Cork Fire Kitchen farm-to-table restaurant, Porter's 19 walk-up restaurant, a boutique 127-room hotel and a 27-hole golf course. Soon after Pechanga's purchase, the tribe injected more than one million dollars into the property's golf tracks alone. The tee boxes, greens, bunkers, irrigation and more were seeing the first upgrades and renovations in 20 years.
Built in 1969, Temecula Creek Golf Club and its management offer friendly, approachable play that has recently attracted more players, and more returning ones, than ever before. With 300 acres of rustic on-course beauty, golfers get the dramatics of elevation changes, sweeping mountain views and nearly year-round sunny weather. Temecula Creek Golf Club players also now find new and laser-leveled tee boxes, full bunker renovations, greens upgrades, more frequent pin changes and ongoing irrigation updates. Pechanga continues its investment into the storied course with a fleet of new golf carts complete with heat-resistant seats, GPS, surround-sound speakers and more.
The course also elongated the time between players from 10 to 15-minute intervals. Amateur players can easily handle 18 holes in three hours, and most appreciate the extra time to avoid crowding. Twilight green fees run as low as $25 for 18 holes. With an annual membership to the four-star facility as rated by Golf Digest, rates set one back just $35 for morning play.
Each par-36, nine-hole track offers something different, and guests can combine them any way they choose based on availability. The Creek course offers friendly fairways and an open layout with direct approaches giving players the best chance to score. The more traditional Oaks course provides golfers fun, memorable shots on friendly, oak-lined fairways. Set alongside the historic Stone House cottage, the nine holes of the Stone House course are the most challenging at the club, demanding precise tee shots and featuring dramatic changes in elevation and bends requiring accurate shot shaping and distance control.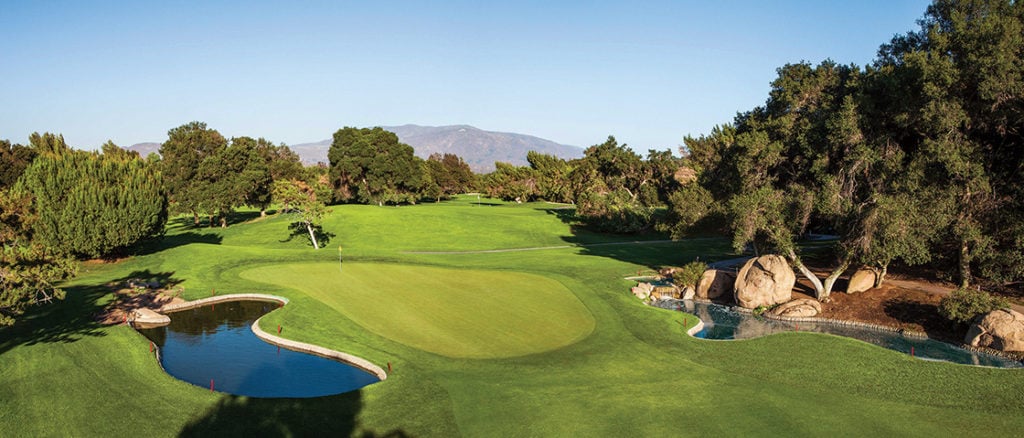 Many Temecula Creek Inn visitors also appreciate the golf Stay & Play packages, including the Unlimited Play Weekday Getaway starting at $239 per night. This package is available Sunday through Wednesday based on availability. Guests may golf any time after 11:00 a.m. on their day of arrival and any time on the day of departure.
Newly remodeled, pet friendly hotel rooms and the inviting Cork Fire Kitchen round out visitors' experience at Temecula Creek Inn. A free shuttle runs between Temecula Creek Inn and Pechanga Resort Casino for golfers' and other guests' convenience.
United Auburn Indian Community
Whitney Oaks Golf Club
Rocklin, CA
Thunder Valley Casino Resort (7.1 miles away)
whitneyoaksgolf.com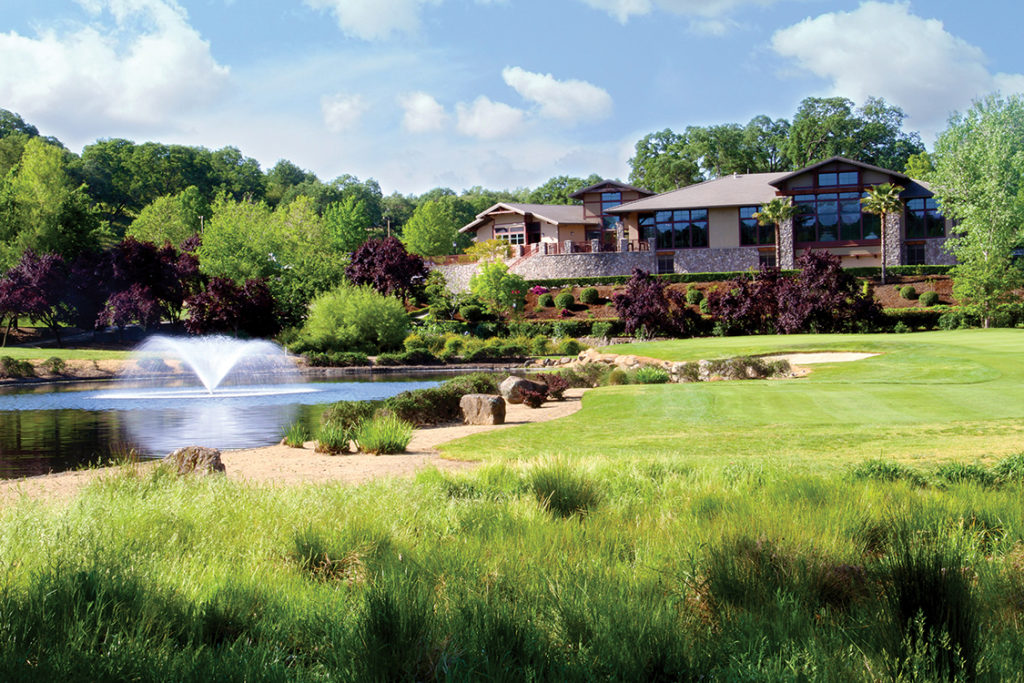 Whitney Oaks Golf Club, owned and operated by the United Auburn Indian Community and located 30 minutes from Sacramento, prides itself on providing world-class service and features, including an immaculate 18-hole course, driving range, clubhouse with bar & grill, and a well-stocked pro shop.
Whitney Oaks is a true Northern California gem and a dream course for any golfer. Professional golf legend Johnny Miller and Santa Rosa architect Fred Bliss designed the challenging 6,800-yard course where water or wetlands come into play on every hole. These natural surroundings play host to various indigenous animals such as mallards, geese, raccoons, beavers, wild turkeys, coyotes and deer.
While the wildlife help add to the splendor of any golf experience, the course itself is what makes Whitney Oaks truly unique. Thousands of majestic live oaks, an abundance of well-placed bunkers, enormous granite outcroppings and an ever-changing topography highlight this championship layout with bentgrass greens full of subtle and sometimes striking contours to challenge even the most seasoned golfers. To accommodate players of all levels, every tee box features a choice of five separate, strategically placed markers of various distances, based on skill level.
Pyramid Bar & Grill is an elegant, yet comfortable restaurant located within the Whitney Oaks clubhouse. The restaurant's menu features delicious cuisine made fresh daily, the full-service bar offers unique cocktails and craft beers, plus, from any seat you can view the 9th and 18th holes snuggled between the surrounding scenic hillsides.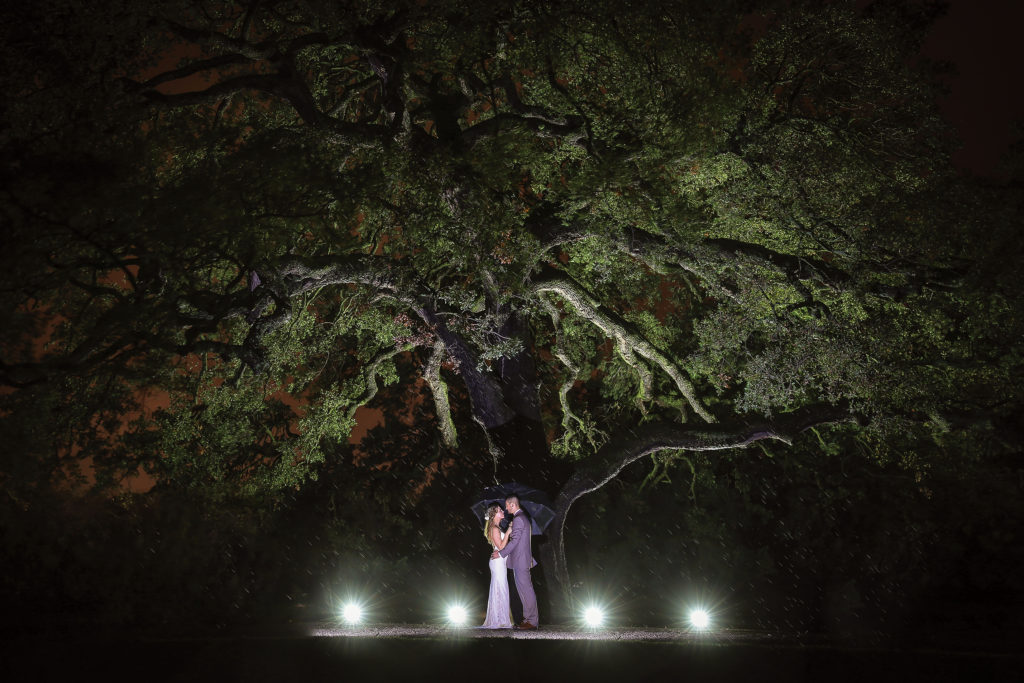 Whitney Oaks also offers state-of-the-art facilities large enough to accommodate weddings and banquets. Together, the clubhouse's two banquet rooms can comfortably seat up to 200 guests, along with a fully stocked bar and lounge.
An expansive terrace with seating also overlooks an outdoor event space near the foot of the 18th green.
Like its highly successful sister property, Thunder Valley Casino Resort, AAA Four Diamond award-winning hospitality is the order of the day for a round of golf or a special event.
Yocha Dehe Wintun Nation
Yocha Dehe Golf Club
Brooks, CA
Cache Creek Casino Resort (1.3 miles away)
yochadehegolfclub.com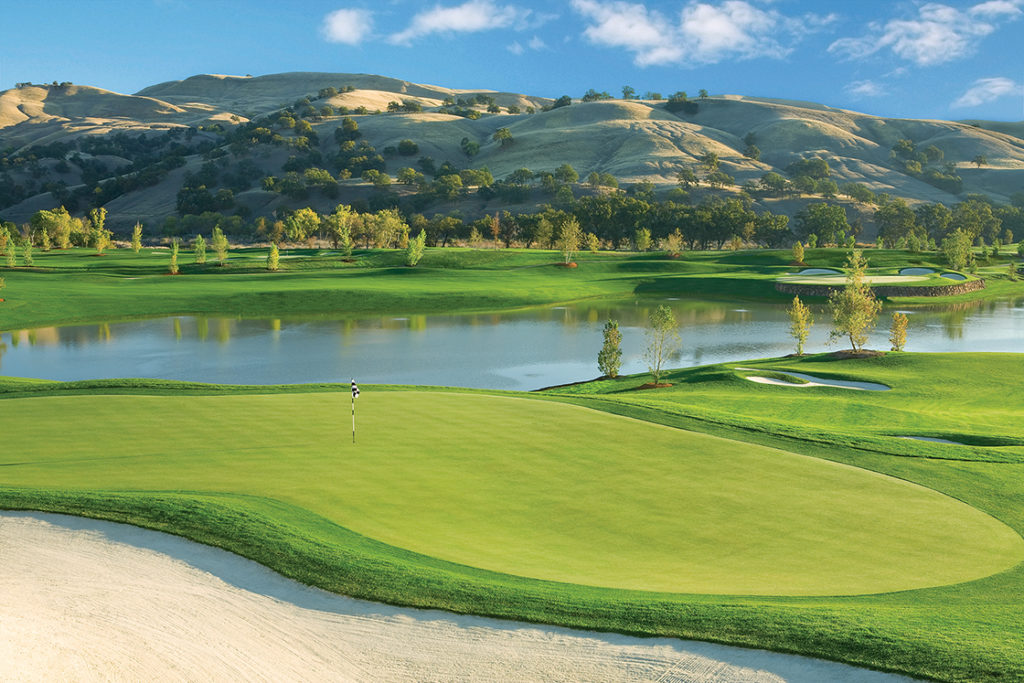 Yocha Dehe Golf Club is nestled in the Capay Valley of Northern California, conveniently located within 90 minutes of San Francisco and 60 minutes of Sacramento. Owned by the Yocha Dehe Wintun Nation, Yocha Dehe Golf Club opened in 2008 as an addition to Cache Creek Casino Resort. Yocha Dehe means "home by the spring water" in the native Patwin language, outlining its location by Cache Creek on ancestral lands.
The golf course was designed by PGA Tour veteran and Sacramento native, Brad Bell. Measuring 7,337 yards from the tips to 5,426 yards from the forward tees, every level of golfer can play and enjoy themselves. Yocha Dehe really highlights the land that it sits on, with every hole uniquely utilizing the land and backdrop for a breathtaking experience. No hole is more unique than the first hole, where the tee box is 160 ft. above the fairway. This has become one of the most talked about tee shots in Northern California.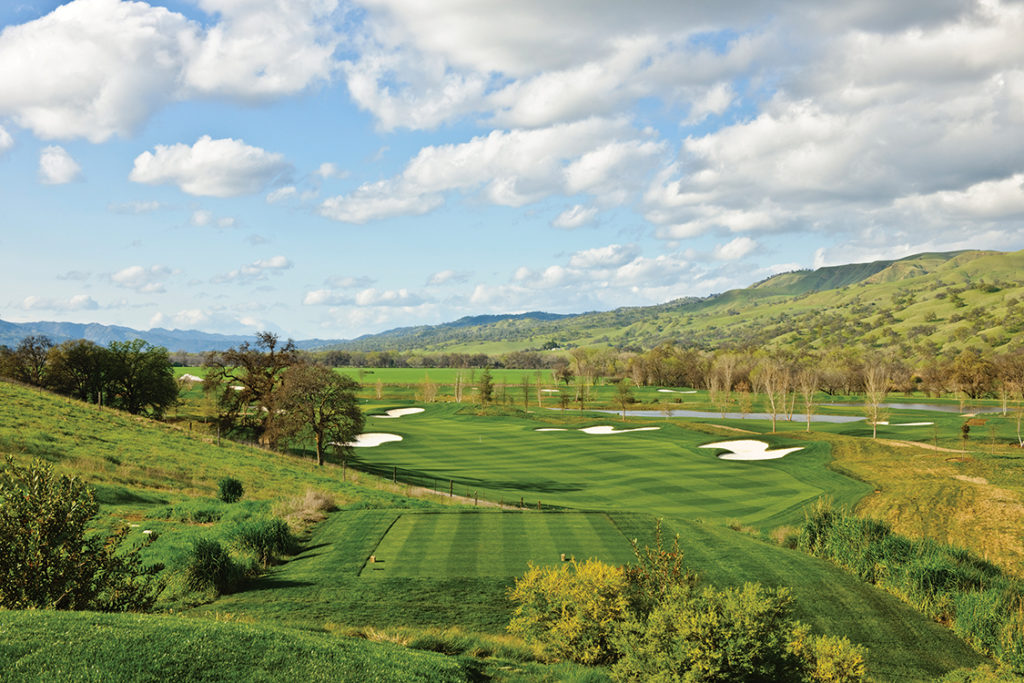 Without any surrounding developments or highways, Yocha Dehe Golf Club is a one-of-a-kind experience that highlights nature and allows for an escape from the busy city life. Garnering several top rankings from leading national publications only verifies the level of golf course that Yocha Dehe has become.
Being a part of Cache Creek Casino Resort really elevates the experience for guests who come to play at Yocha Dehe. For those golfers looking to continue the excitement off the links, Cache Creek offers thousands of exclusive slot machines, hundreds of table games, two resort pool areas, ten incredible dining experiences, and a 10,000 sq. ft. world-class spa. Afterwards, guests can recharge and refresh in Cache Creek's 659-room luxury hotel.
For those who are just playing golf, Yocha Dehe features a spacious clubhouse that overlooks the entire golf course and valley. Featuring a full-service golf shop and restaurant, golfers have plenty to enjoy before or after their round of golf. Golfers and non-golfers can enjoy lunch and drinks on the expansive patio that features the best views on the property. It is really the icing on the cake at the end of a spectacular day of golf.