This month, Indian Gaming magazine features tribally owned golf properties in Arizona and New Mexico. Spectacular landscapes, challenging play and arid beauty offer golf enthusiasts truly unique experiences.
San Carlos Apache Tribe
Apache Stronghold Golf Club
San Carlos, AZ
Apache Gold Casino Resort
apache-gold-casino.com/golf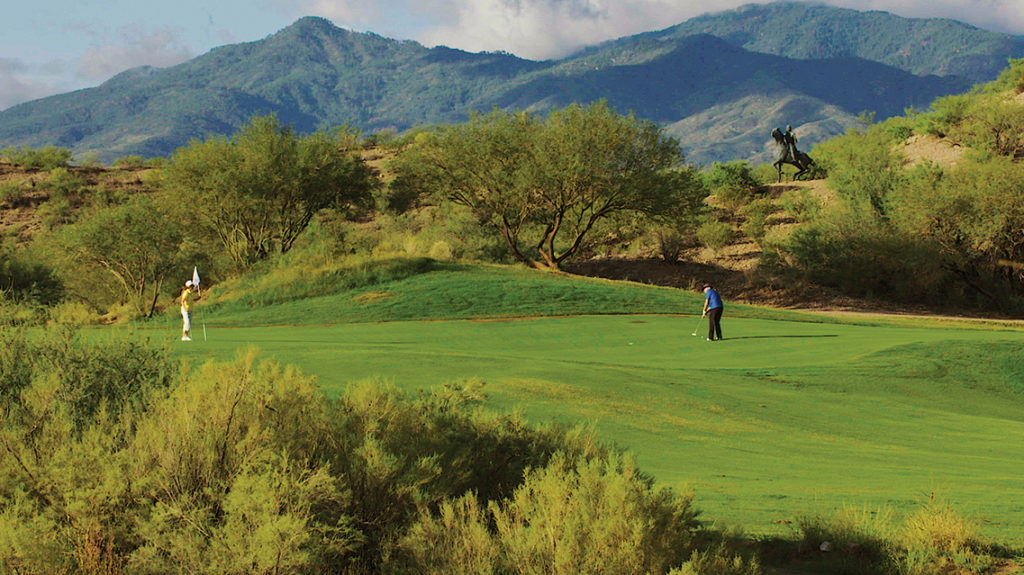 Apache Stronghold Golf Course, part of the Apache Gold Casino Resort, is an 18-hole golf course located in San Carlos, AZ, five miles east of Globe. This public course first opened for play in 1999 and was built as part of Apache Gold – the San Carlos Apache Tribe casino and resort development.
Designed by course architect Tom Doak, Apache Stronghold maximizes the natural features of the land creating both a challenging and visually pleasing golf course. Shortly after opening, it was named one of the top 10 public golf courses in the nation by Golf Digest magazine. Apache Stronghold currently ranks #14 in Golf Week's 2021 Best Courses in Arizona.
Apache Stronghold has views of the Chiricahua, Aravaipa, Superstition and White Mountains, with vistas unspoiled by condominiums, subdivisions or shopping centers. This is the high desert in all its glory, the west as it used to be. At 3,200 ft., it can be several degrees cooler than Phoenix in the summertime. Golf balls will also carry farther in San Carlos than back in the Valley of the Sun. Players will experience desert-style golf, but on a course that is more playable than many others located in Arizona.
All 18 holes are beautiful at Apache Stronghold, and each hole has its own story depending on the time and day you play, who you're with and what the weather is like. Players start their round on this 7,500-yard, par-72 course following the lay of the land on an intriguing par-5 that measures 661 yards from the back, 503 from the forward. This No. 1 hole moves straightaway uphill and has a green that is hidden from view by a mound on the right side of the fairway.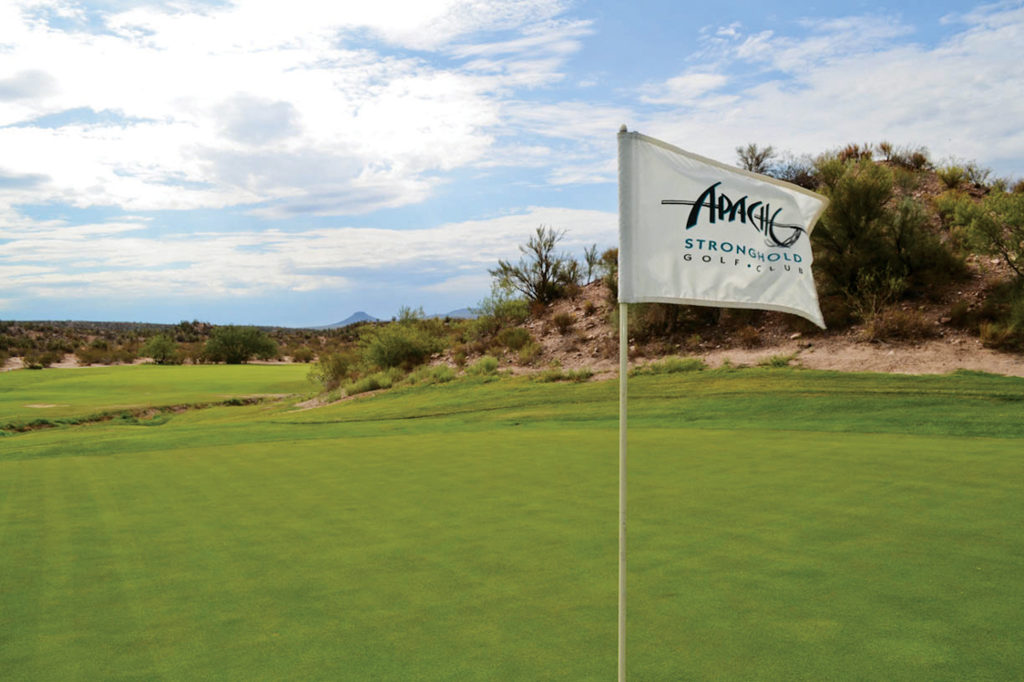 As on most of the holes, the landing area is generous and the fairways are huge. With many interesting par-4s, No. 4 is known as "Twin Peaks" because of the twin sandhills spotted with mesquite and sage standing like sentinels around the green. On this dogleg left that measures 398 yards from the back and 284 from the forward, players must make a blind shot off the tee. If you go too far left, you could end up in a fairway bunker and have another blind shot to the green. Go to the right instead and players will make an approach shot over a small ravine to the putting surface. On the front nine, the drivable par-4 No. 6, dubbed "Javelina's Back" (325 yards from the back tee and 260 from the front), is one of the architect's favorite holes. Big hitters can get home here, but a miss could be punishing. Go for the right-center on the fairway as this offers the best approach to the green.
Although the back nine on this course is from 400 to 500 yards shorter than the front, depending on a player's tee, the back offers plenty of challenges to compensate for the difference in length. Most of the elevation changes and the views are on the back. Extraordinary holes on the back nine make use of the natural arroyos on the property to test a player's strategic golf skills. One is No. 10, a par-4 dogleg left that plays 472 yards from the back tees and 345 from the forward and is a challenging driving hole. Here a long, narrow sandy waste area splits the fairway lengthwise into two long strips.
Distances, ratings and slopes at Apache Stronghold: 7,519 yards (74.9/138); 7,007 (72.3/131); 6,524 (69.9/127); 6,077 (73.1/124); and 5,535 (70.5/117).
Mescalero Apache Tribe
Inn of the Mountain Gods Championship Golf Course
Mescalero, NM
Inn of the Mountain Gods Resort & Casino
innofthemountaingods.com/activities/championship-golf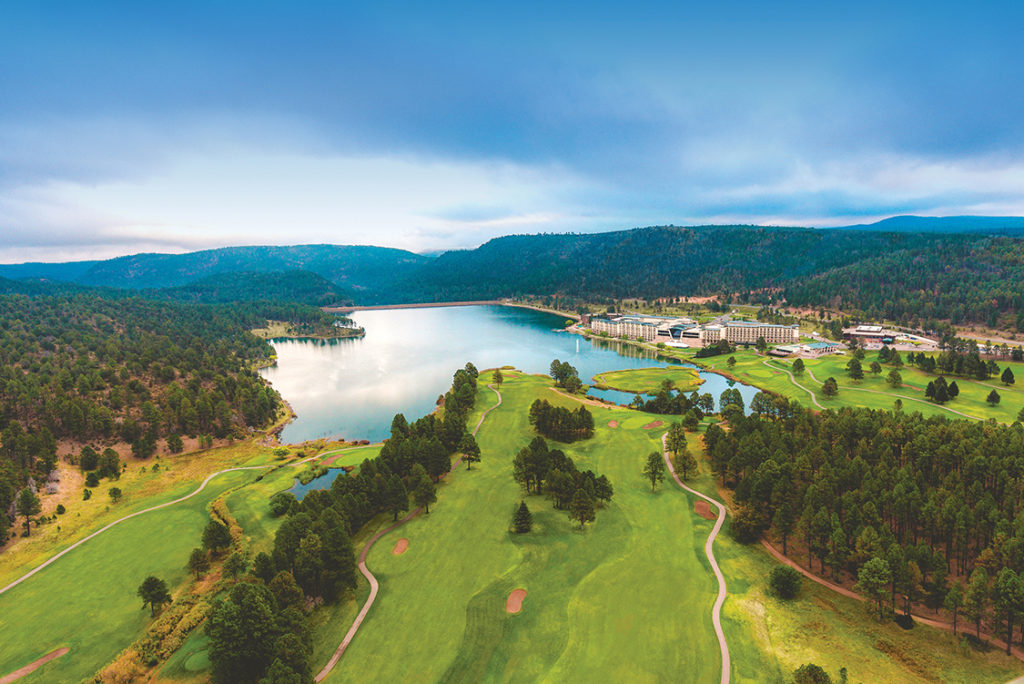 Rising majestically above nearly every hole, Sierra Blanca peak towers over one of the top golf courses in the U.S., Inn of the Mountain Gods Championship Golf Course. Located in the Lincoln National Forest, it's a destination for thrilling days on the course, relaxing evenings at Inn of the Mountain Gods Resort and Casino, and unrivaled views in every direction.
Surrounded by pine, cottonwood and aspen trees, the challenging 7,206-yard, 18-hole, par-72 course was designed by legendary golf course architect Ted Robinson. He incorporated the picturesque high desert and forested terrain to create a course demanding skill and accuracy from golfers.
While it has received numerous accolades such as Golf Digest's Top 40 Casino Courses and Golfweek's Top Courses You Can Play, Inn of the Mountain Gods Championship Golf Course is accessible for all skill levels. Golfers seeking either challenging play or to improve their game will be right at home. Open from early April through late October annually, the course can be played for much of the year, in one of the most spectacular parts of the country.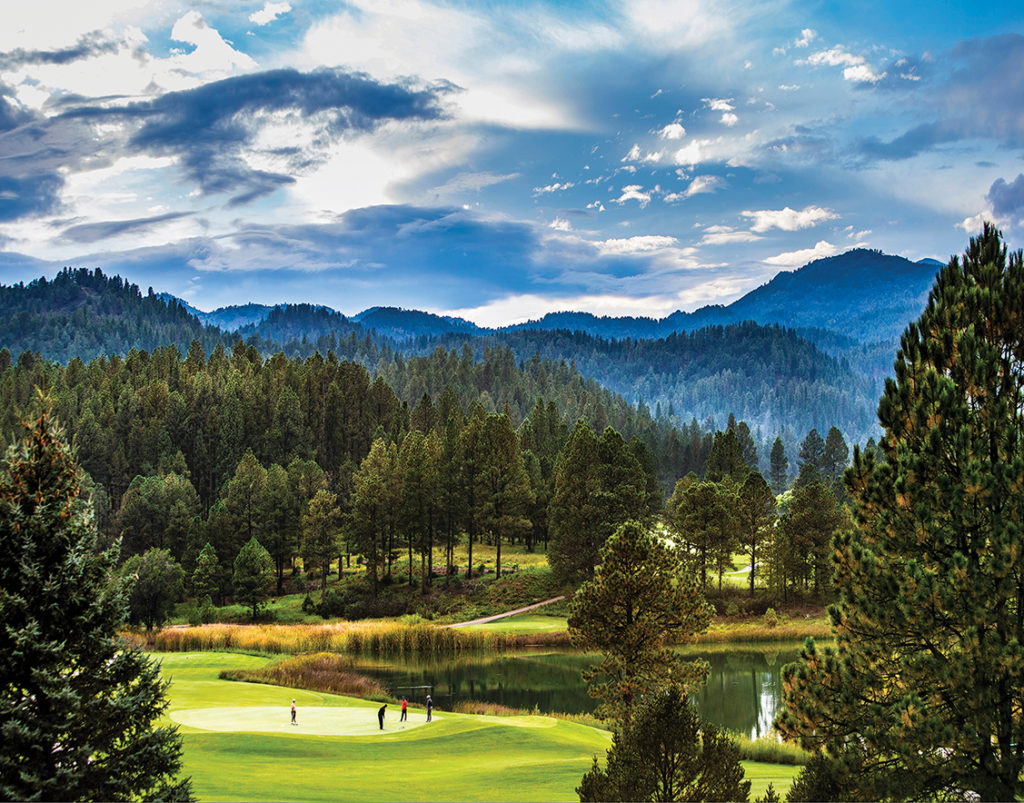 Among the challenges that golfers need to navigate through are fast-breaking greens, bunkers, elevation changes, dog legs, an island fairway and the resort's spring-fed Lake Mescalero. With a par-4, the 354-yard 10th hole is one of the toughest as golfers have to play from either the island fairway or carry the 280 yards across the lake.
After playing nine or eighteen holes, golfers can then head to the magnificent on-site resort filled with amenities, world-class gaming and exquisite accommodations. This mountainous retreat is also a haven for outdoor recreation beyond golf. Just steps from the casino resort you can try kayaking, paddle boating and fishing on the pristine Lake Mescalero, hiking, horseback riding, or some of North America's best big game hunting on the Mescalero Apache Reservation.
Pueblo of Isleta
Isleta Golf Club
Albuquerque, NM
Isleta Resort & Casino
isleta.com/golf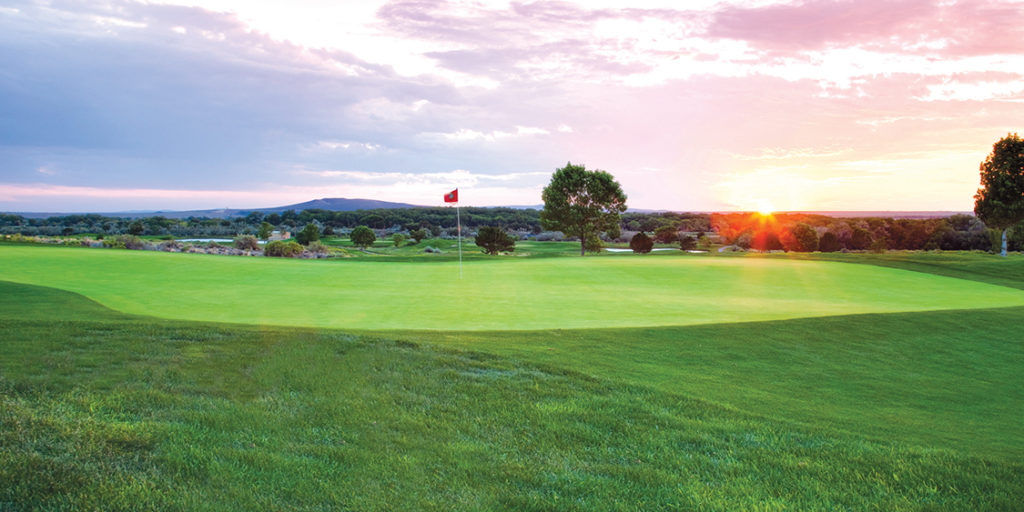 Isleta Golf Club is a 27-hold resort golf course. All courses have their own unique characteristics. The Pueblo of Isleta contracted architect William Phillips to build Isleta Golf Course in 1996. Each course, Mesa, Lakes, and Arroyo are designed around the clubhouse and sit west of the Isleta Resort and Casino.
The five different tee areas of the Mesa course allow golfers to enjoy a refreshing day and challenge those that are looking to test their golfing skills from the black championship tees. Thrill seekers aren't forgotten with a few risk/reward holes to improve or add to the score on their scorecards. Mesa 5 green is protected by an Arroyo that will test anyone's second approach. If you manage to carry the arroyo from 260+ yards you have an excellent chance in making an eagle or double bogey.
Lakes 9 will have you test those tee shots and approach shots as you make your way through five holes with water. Lakes 6 will require you to carry tee shots over a lake onto a green that measures 40 yards in depth. Risk/reward on the Lakes 9 include short par-4s that will test those nerves and force a sharp short game with the angulation on the recent redone greens.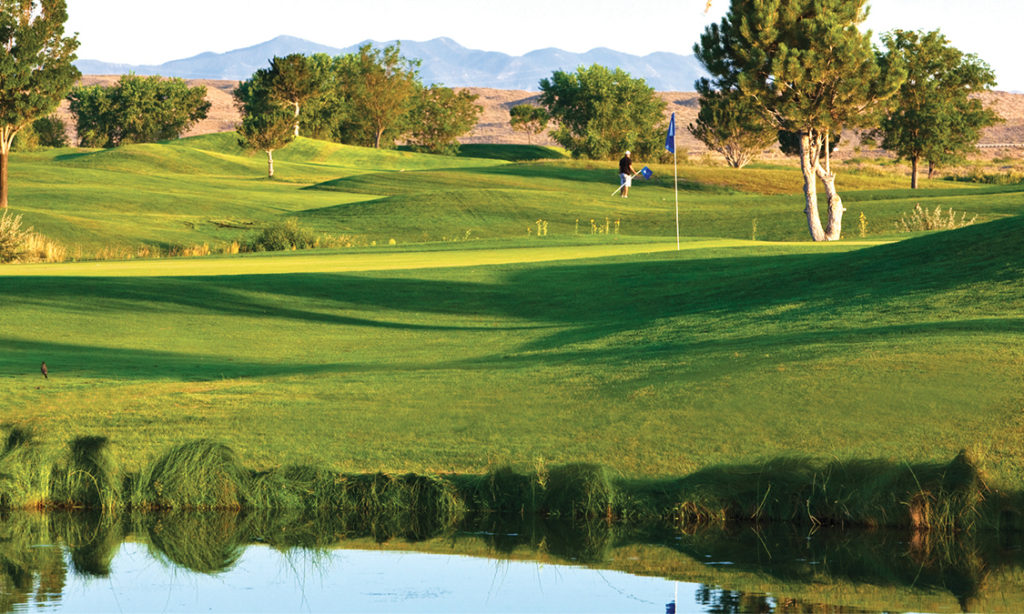 Arroyo 9 is the most underrated nine for its yardage, but makes up for its required accuracy from the tee to the green. The starting hole has you carrying your tee shot over an arroyo that can test any golfer. You will definitely fall in love with its breath taking views as your work your way up and down the course. Arroyo 4 is one of two par-4s that are reachable from the tee but can also make you a humble golfer if your game is not on target. Arroyo 4 is only 409 yards from the black tees straight down hill, but beware of the native vegetation and the bunkers protecting the green. You can easily reach the green or find yourself reaching into your bag for the provisional golf ball. Arroyo 6 is 328 yards from the black tees, but the green is protected with a lake on its shoulder. Similar to the Lakes, the greens have been recently redone to allow the golfer to enjoy its natural angulations that the land provides.
Upon completion of their rounds, players can enjoy the beautiful sunsets New Mexico has to offer with views of the Bosque and Rio Grande, while enjoying beverages and a meal on the balcony.
Other golf amenities include a 20-station practice tee area and newly renovated putting and chipping green. Upon check-in, guests are provided with GPS installed Club Car golf cars to utilize throughout their visit.
Pueblo of Sandia
Sandia Golf Club
Albuquerque, NM
Sandia Resort & Casino
sandiacasino.com/golf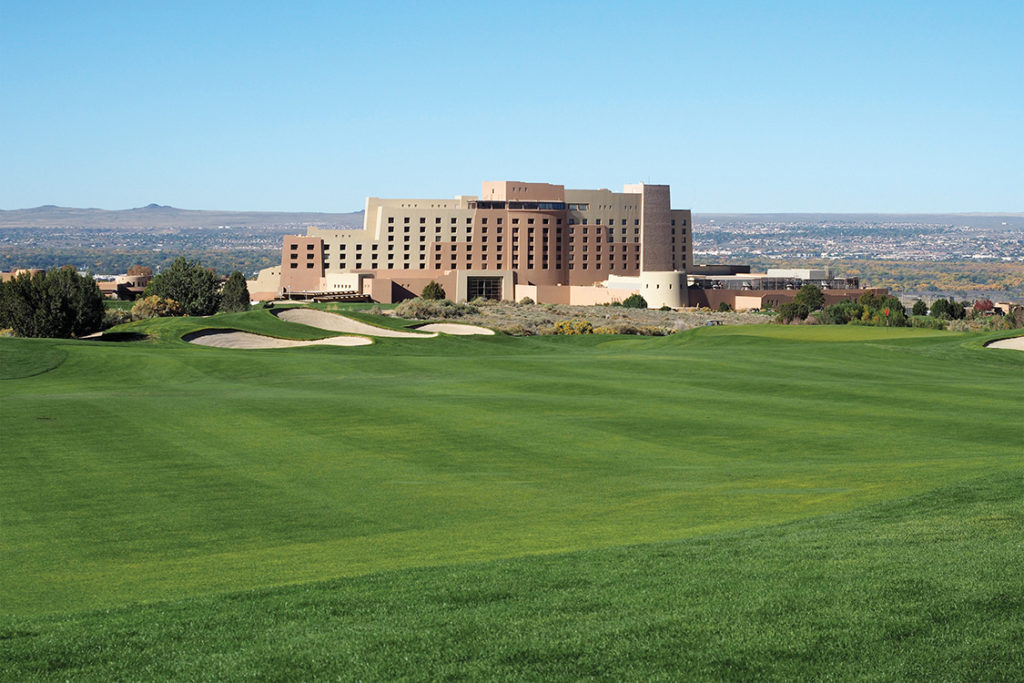 Overlooking the majestic Sandia Mountains, just minutes from downtown Albuquerque sits Sandia Golf Club at the Sandia Resort & Casino. Both facilities were developed by the Pueblo of Sandia as part of a reservation that covers 22,877 acres on the east side of the Rio Grande Valley.
Golfers are drawn by the 18 holes of Sandia Golf Club, designed by Scott Miller in 2005. The OB Sports-managed facility is ranked No. 22 on Golfweek's 2020 Best 50 Casino Courses, and offers 7,772 yards of grassy knolls, sparkling waterfalls and lush native landscapes designed to challenge beginners and professional golfers alike. Long-distance views are plentiful at the longest golf course in New Mexico, especially from holes 14 through 17, while the closing hole – a 505-yard par-4 with water left and long, plus two bunkers on the right – provides a memorable finish.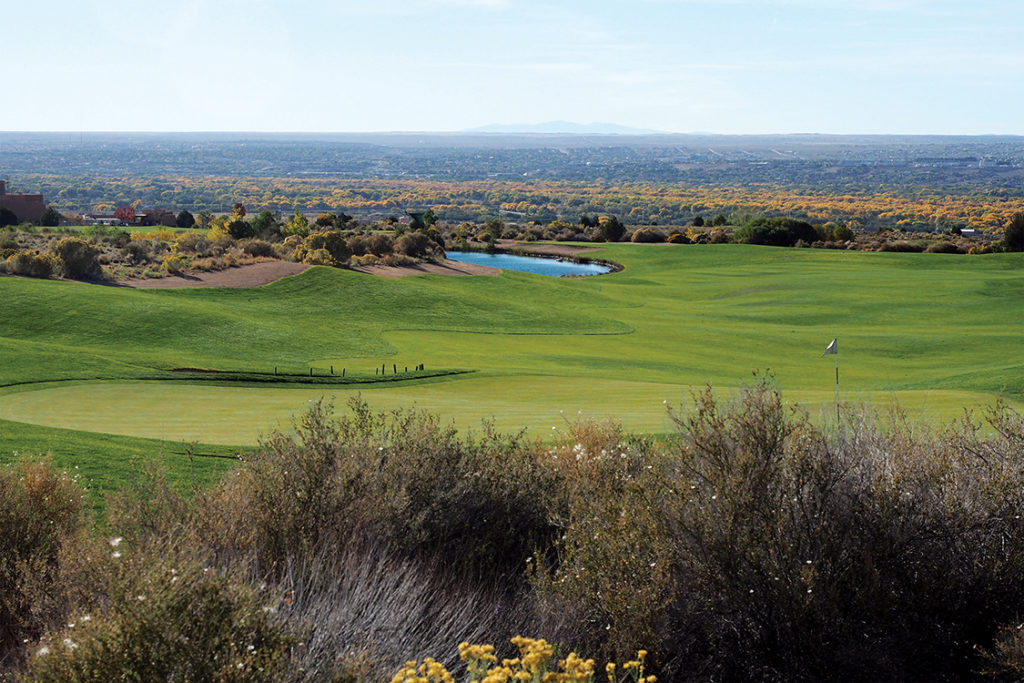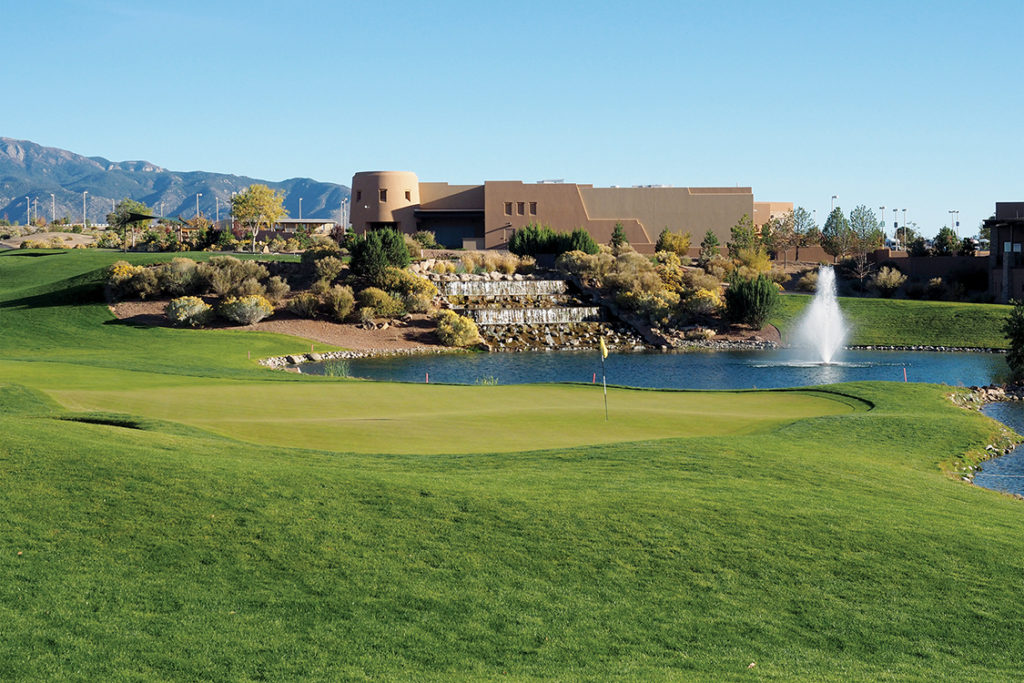 For the non-golfers in the group, a day of pampering and relaxation at Green Reed Spa at Sandia Resort & Casino is a must. The 228-room property boasts over 110,000 sq. ft. of gaming, 50,000 sq. ft. of meeting space and 13 dining and lounge offerings from casual fare to exquisite fine dining. As a bonus on your visit, you might catch a glimpse of the Sandia buffalo herd roaming a 107-acre preserve just east of the nearby Bien Mur Indian Market, the largest retail arts and crafts store in the Southwest.
Pascua Yaqui Tribe
Sewailo Golf Club
Tucson, AZ
Casino Del Sol
casinodelsol.com/sewailo-golf-club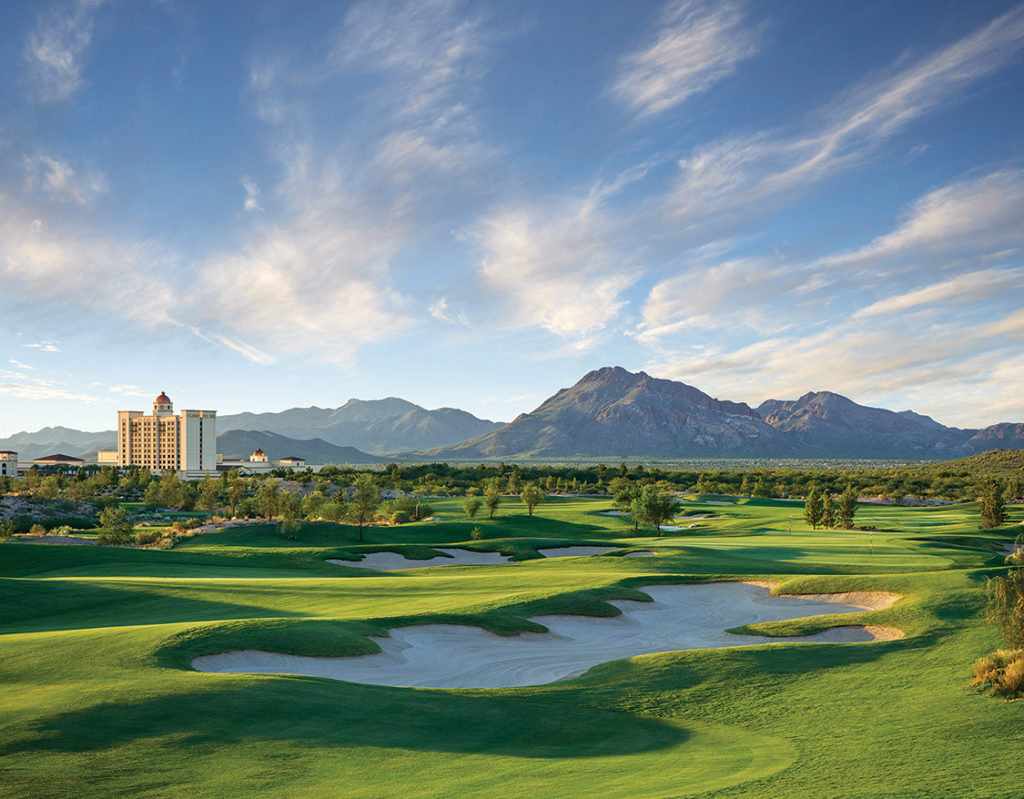 An enterprise of the Pascua Yaqui Tribe, Sewailo Golf Club is located on over 200 acres of pristine desert on the southwest side of Tucson, AZ, directly adjacent to Casino Del Sol. Continuously named one of the Best Courses You Can Play in Arizona by Golfweek, the 18-hole, par-72 championship course measures 7,400 yards from the tees and features five different tee boxes at each hole to allow for players of all levels and abilities. Designed by Notah Begay III, a standout player on the PGA Tour and commentator on the Golf Channel, and Ty Butler, a renowned golf course architect, Sewailo blends the natural Sonoran Desert landscape of Tucson with picturesque lakes and streams.
In the Pascua Yaqui language, the word Sewailo means "land where flowers grow" and Sewailo Golf Club exudes this sentiment with more than 30,000 native flowers, plants and cacti. On the course, players are surrounded by colorful snapdragons, weeping willows, Texas mountain laurels with hints of lavender, brittlebush, grasslands and towering pine trees, as well as Palo Verde, cacti and Mesquite trees. Sewailo's fairways are Bermuda grass overseeded with rye, intertwining between the seven lakes and two miles of flowing streams on the course.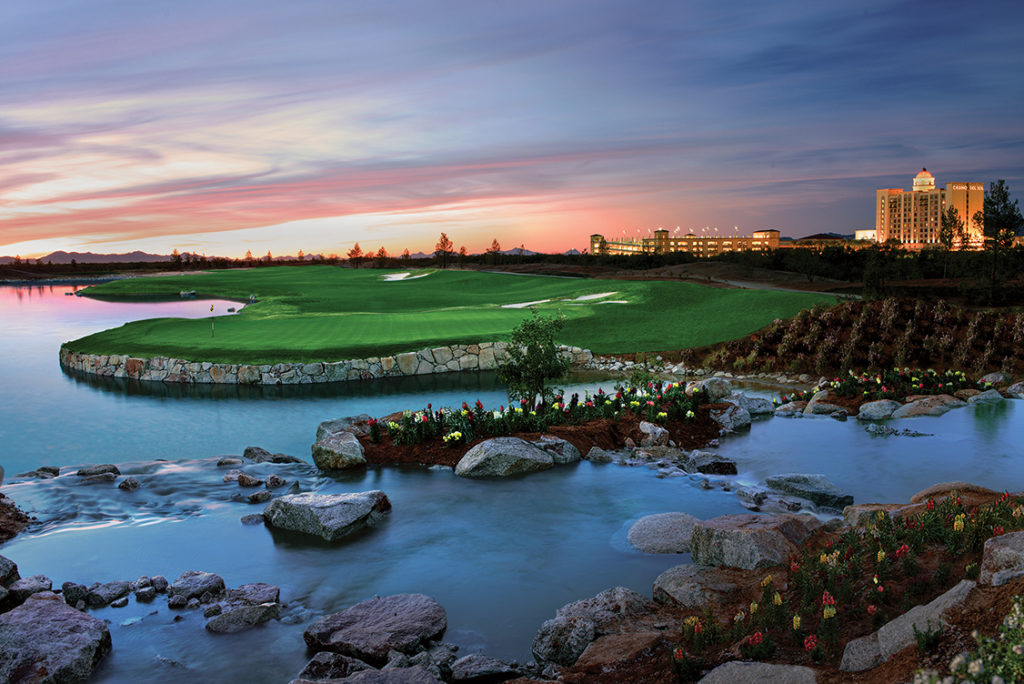 Additional features include an expansive driving range, practice areas for chipping and putting, club rentals and fittings, GPS-enabled golf carts and golf lessons by PGA professionals. There are also on-course comfort stations, a fully stocked golf shop with clothes and equipment, and a full-service restaurant at the clubhouse, Wildcats Grille, serving up breakfast, burgers, sandwiches, salads, beer, cocktails and more.
Sewailo is home to the University of Arizona men's and women's golf teams, and regularly hosts high-profile tournaments including PAC-12 play, as well as U.S. Open and LPGA qualifiers.
Salt River Pima-Maricopa Indian Community
Talking Stick Golf Club
Scottsdale, AZ
Talking Stick Resort and Casino
talkingstickgolfclub.com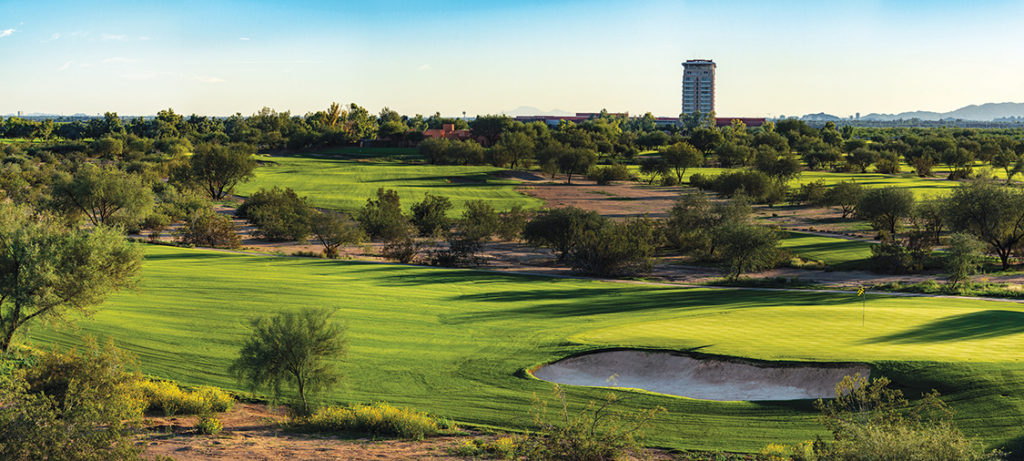 Just over 20 years ago, Bill Coore and Ben Crenshaw took a flat and relatively featureless part of the desert just east of Pima Road off of Indian Bend Road, and turned it into one of the best golf experiences in Arizona. It's hard to believe what has happened to the area since then, but there is no doubt that Talking Stick Golf Club, with its two highly regarded Coore/Crenshaw designed courses, set the tone for what would become one of the fastest growing and most dynamic entertainment destinations in the Southwest.
At the heart of the Talking Stick Entertainment District is Talking Stick Golf Club. Nestled alongside Talking Stick Resort, unencumbered by homes or development and showcasing spectacular mountain views, Talking Stick Golf Club is one of the country's best daily-fee facilities. It is rare to find such a high-quality golf experience surrounded by so many other modern amenities. Wildlife abounds on the course including coyotes, hawks, bobcats, rabbits, eagles, quail, and you may be lucky to spy some of the wild horses that inhabit the preserve bordering the property.
PGA General Manager Steve Leonard says golfers enjoy the variety the two courses provide. When the Coore-Crenshaw design team was commissioned to design Talking Stick Golf Club, their charge was to create two golf courses to accommodate public play, yet each decidedly different, with respect to playing characteristics. Talking Stick Golf Club's O'odham Course (formerly North Course), with its broad, angular holes, rewards thoughtful play through the rise of its many options according to one's level of skill. Its low profile, slightly crowned greens and close-cropped approaches encourage running as well as aerial assaults. The Piipaash Course (formerly South Course) with its tree lined fairways and raised greens defended at the sides offers a more straightforward style of play. It presents its challenge and strategy in an open and clear-cut fashion. Whichever course one chooses or prefers, it was the design team's desire to portray golf in a traditional sense, which quietly merges with its tranquil desert surroundings.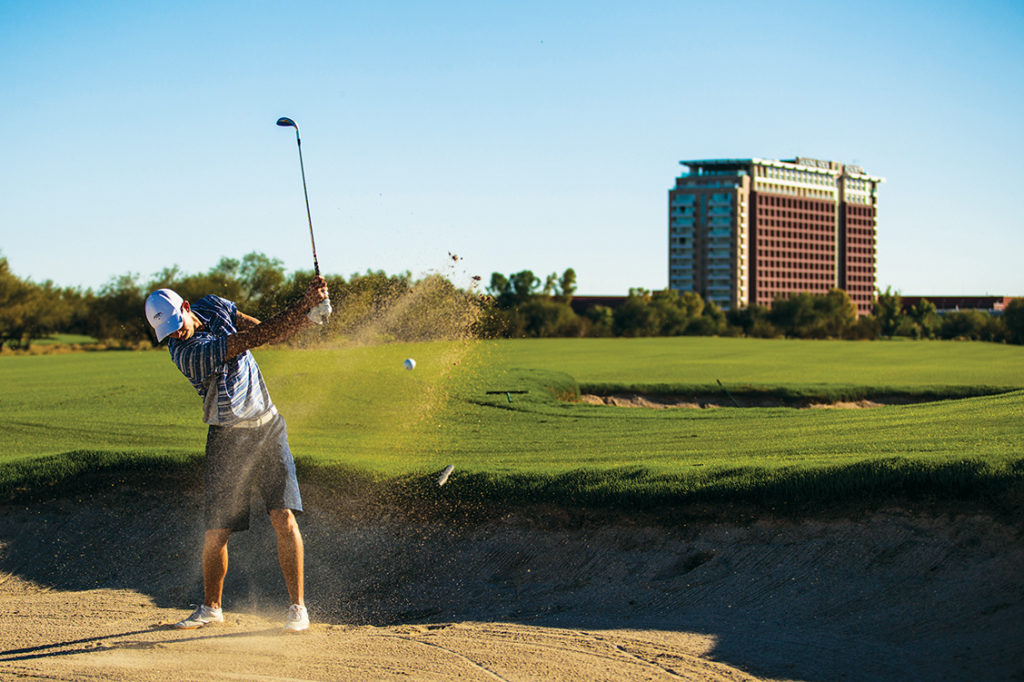 The Wildhorse Grille restaurant is open daily to the public and serves delicious traditional club fare including their infamous Torta Sandwich and golfer's favorite nachos. Other items on the menu include dishes inspired with ingredients used by the Maricopa Xalychidom Piipaash (People who live toward the water) and Pima Akimel O'Odham (River People) tribes.
The club is one of the Valley's top locations for golf instruction. The First Tee of Phoenix has a chapter at the club – the first chapter on tribal land in Arizona and only the second in the entire U.S. The club is also home to the top two female instructors in the U.S. with co-founders Pia Nilsson and Lynn Marriott of Vision54. In 2020, Mike and Sandy LaBauve, two of the nation's top 50 instructors, joined the club's team of outstanding golf instructors.
Fort McDowell Yavapai Nation
We-Ko-Pa Golf Club
Fort McDowell, AZ
We-Ko-Pa Casino Resort
wekopa.com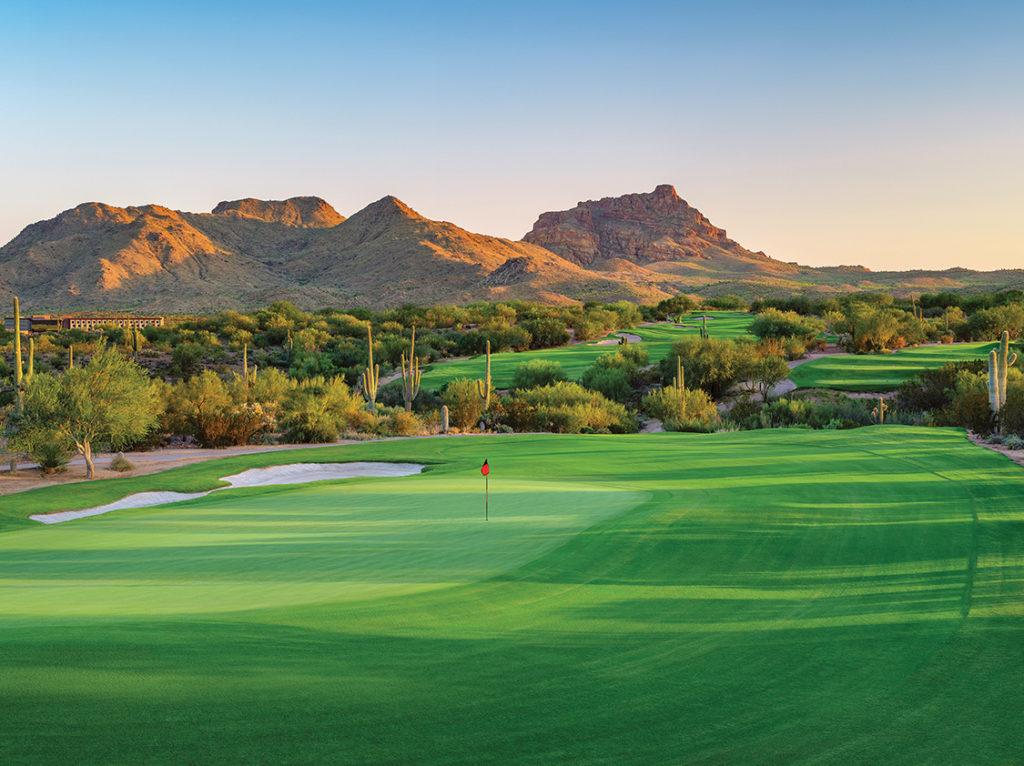 Since December 2001, all talk of We-Ko-Pa's Cholla Course has revolved around the gifts that nature has bestowed, and rightly so. Located on the Fort McDowell Yavapai Nation, just minutes from Scottsdale in Fort McDowell, AZ,We-Ko-Pa is blessed with jaw-dropping mountain vistas in every direction. In fact, "We-Ko-Pa" is the Yavapai pronunciation for "Four Peaks Mountain," a rugged rock formation that looms imposingly to the northeast.
Throughout one's round, players are greeted with all sorts of amazing light displays, as the shadows that are cast by the interplay of sun and mountains approach the artistic. At sunset, the colors and textures approach the surreal.
We-Ko-Pa's Cholla Course is the handiwork of architect Scott Miller. So spectacular are the views on the Cholla Course that the sound, strategic playing value of the holes that Miller designed could possibly get overlooked. Your first trip around will convince you otherwise. The variety in the routing and pacing of the holes will keep all levels of golfers entertained from opening tee shot to final tap-in.
The Cholla Course features an ideal blend of doglegs and straightaway holes, a mix of slender and ample fairways, a balance of benign and rugged green complexes. The long and strong will challenge all of Cholla's 7,225 yards, but well-spaced multiple tee boxes allow every type of player to enjoy the course, especially from the friendly front tees, which measure 5,289 yards.
The noted golf course architectural team of Bill Coore and Ben Crenshaw designed We-Ko-Pa's second 18, the award-winning Saguaro Golf Course. Open since December 2006, Saguaro has design elements not commonly found in the desert Southwest. Saguaro is much like the older more traditional courses found on the east coast, where greens are close to tees and the course follows the natural movement of the land making walking easy and enjoyable.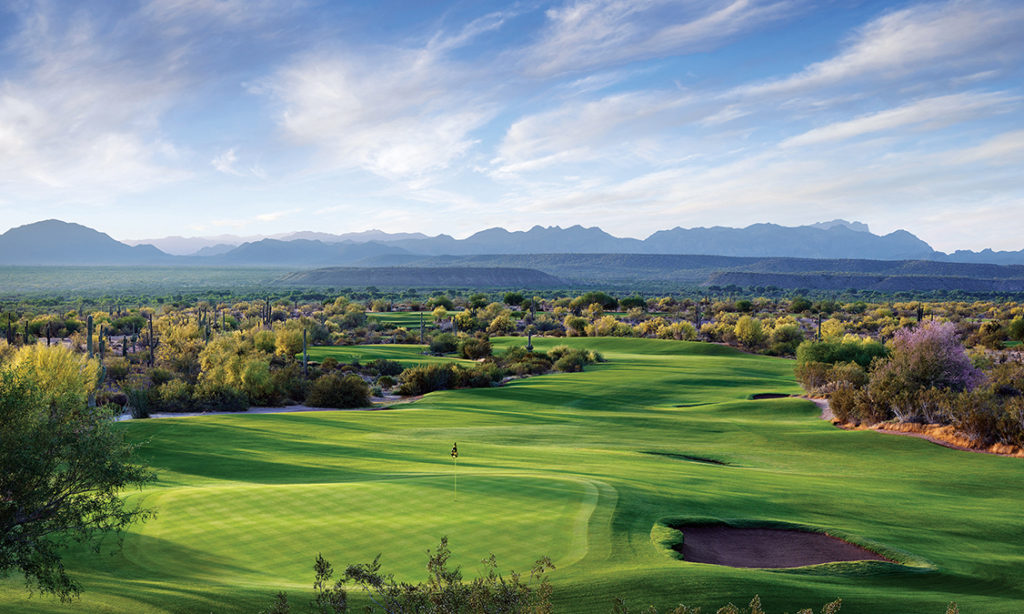 In Saguaro, Coore and Crenshaw re-introduced the all-important art form of tying the entrances to the greens into the greens themselves. The majority of the greens are open in front to allow for run-up shots. It is the subtle pitch and roll of the terrain on the approach to the greens that give each hole much of its unique playing characteristics.
We-Ko-Pa's two courses, Cholla and Saguaro, have much in common – both are meticulously maintained, both received high praise from the golf media and consumers alike, and both offer a tranquil golf experience free of houses and roads, thus preserving the unobstructed mountain views of the Sonoran Desert.