Gila River Hotels & Casinos – Wild Horse Pass, Lone Butte and Vee Quiva launched an awareness campaign in March, "Play for Good," to show its guests the positive impact tribal gaming contributions not only have on the Gila River Indian Community, but also the State of Arizona.
Under the Arizona Tribal-State gaming compacts, 12% of the tribe's contribution to the state has been invested back into the state to improve education, healthcare, conservation and the economy of local communities. Since 2003, tribes have contributed $2.5 billion to nonprofits around Arizona.
The gaming enterprise realized their guests may not know that whenever they play at any of Gila River Hotels & Casinos' three locations, they play for good, and saw this as an opportunity to create an awareness campaign. The creative campaign, Play for Good, highlights two organizations that have benefited from the tribal gaming contributions – Phoenix Zoo and Soldier's Best Friend.
Through beautiful imagery and powerful storytelling, the campaign utilizes awareness tactics like television, radio, billboards, organic social content and on-property collateral to show guests first-hand how Gila River's tribal gaming contributions make an impact on each nonprofit and to bring players together for a common cause: improving Arizona.
"We are proud to support the Phoenix Zoo and Soldier's Best Friend while bringing awareness to the good in tribal gaming," said Teaya Vicente, Public Relations Manager at Gila River Hotels & Casinos. "We hope that our guests carry a sense of pride with them knowing they played a part in funding meaningful projects around our state."
The Phoenix Zoo has been a staple to Arizona for almost 60 years. They are recognized around the world for their conservation efforts and the influence they make not just on the state, but the world.
Gila River's Play for Good campaign highlights the series of capital projects the tribal gaming contributions helped the Phoenix Zoo fund, including the expansion of their elephant habitat, new habitats in their African Trail-Namibian Village, the construction of a 500-seat amphitheater as well as the expansion and upgrade of their species conservation research facilities and programs.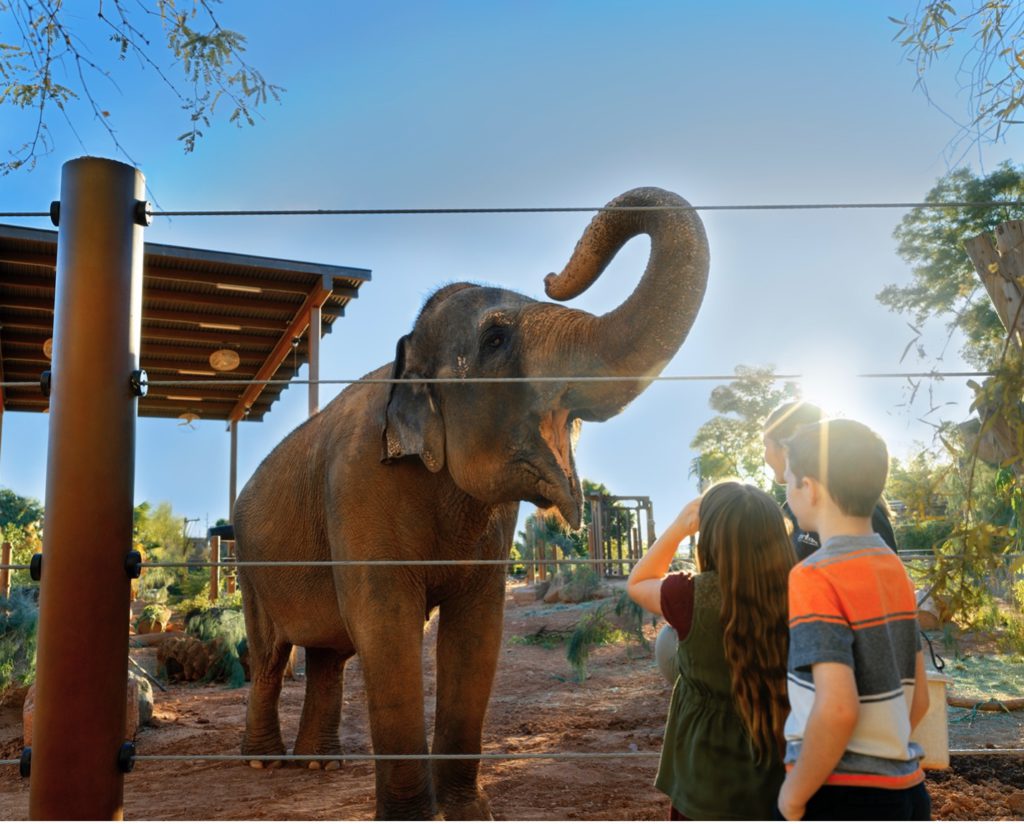 "We are grateful to the Gila River Indian Community and Gila River Hotels & Casinos for their generous donations made to the Phoenix Zoo on behalf of education, conservation and caring about all species, large and small," said Bert Castro, Phoenix Zoo President and CEO. "Their dedication to helping the community's non-profits is inspiring and their commitment to charitable giving makes it possible for the 1.5 million guests who visit the zoo each year to enjoy the many habitats, experiences and areas that have been bolstered through these grants."
The second organization featured in the campaign is Soldier's Best Friend, a local non-profit organization that pairs U.S. military veterans living with combat-related post–traumatic stress disorder or traumatic brain injury with service or therapeutic companion dogs, most of which are rescued from local animal shelters. This worthy organization saves two lives at once and inspires countless others.
The grant from Gila River Hotels & Casinos supported Soldier's Best Friend's Service/Therapeutic Companion Dog Training Program and was instrumental in building Soldier's Best Friend's training facility in Peoria, one of five training locations across Arizona. In one year, the funding allowed Soldier's Best Friend to serve 118 veterans, save 35 dogs from shelters, provide 2,500 hours of training to veteran/dog teams and expand the program to provide training equipment, veterinary care and more.
"The Gila River Indian Community and Gila River Hotels & Casinos' support over the years, and the countless players who have contributed, have undoubtedly made a difference in the growth of our organization," said Katie Ares, Soldier's Best Friend Interim Executive Director. "Thanks to Gila River, we have been able to continue our mission of touching two lives at once – bringing hope to veterans and helping reduce the homeless dog population in our state."
In the first few weeks of this new campaign, Gila River Hotels & Casinos received so much positive feedback, the gaming enterprise is planning a second phase of Play for Good launching this summer, highlighting two new nonprofit partners and continuing with their awareness efforts. Gaming serves a much bigger purpose than many casino-goers realize, and Gila River is using it's platform to share the importance of tribal gaming contributions and the stories of their nonprofit partners.
"When you play at Gila River Hotels & Casinos, you play for good. We are looking forward to launching phase two of Play for Good and sharing even more stories of the great work done around our state," Vicente said.