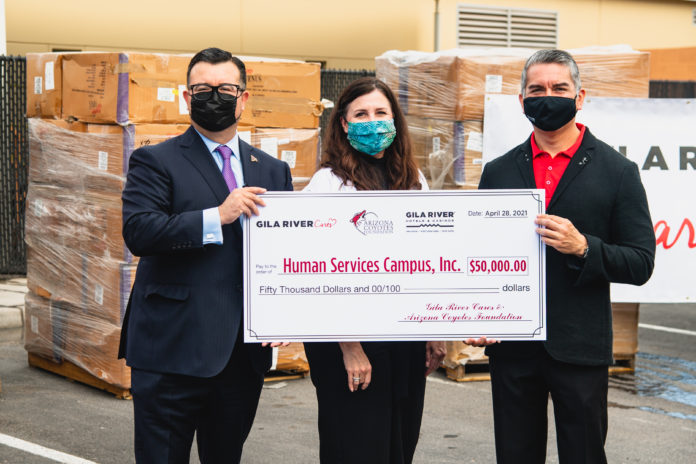 PHOENIX, AZ – Gila River Cares, the philanthropic arm of Gila River Hotels & Casinos – Wild Horse Pass, Lone Butte & Vee Quiva, and the Arizona Coyotes Foundation, joined forces recently to present a $50,000 check to Human Services Campus, Inc., (HSC), a 501(c)3 nonprofit agency dedicated to helping people experiencing homelessness. Gila River also donated 4,000 towels to assist with daily shower services. "Pay It Forward Day" is a global initiative that exists to make a difference by creating a huge ripple of kindness felt across the world.
Kenneth Manuel, CEO of Gila River Hotels & Casinos, and Xavier Gutierrez, President & CEO of the Arizona Coyotes presented the check to Amy Schwabenlender, Executive Director of Human Services Campus, Inc. The nonprofit owns and operates a 13-acre campus in downtown Phoenix that is home to 16 independent non-profit organizations providing wrap-around services and resources to people experiencing homelessness.
On any given night, there are an estimated 7,500 individuals experiencing homelessness in Maricopa County, according to the last Point-in-Time (PIT) count in January 2020. Of those, some 3,700 people are unsheltered. The last PIT count also reflects a nearly 20% increase in unsheltered individuals from 2019 to 2020 and nearly 800 more people experiencing homelessness each year.
"We are so fortunate to have an agency like Human Services Campus in our community," said Gila River Hotels & Casinos CEO Kenneth Manuel. "The work they do to help the homeless and other vulnerable populations is truly remarkable. Our Gila team is aligned with the Arizona Coyotes in supporting these critical community initiatives."
"We are thrilled to team up with our great partner Gila River Hotels & Casinos to make this significant donation to the Human Services Campus on Pay It Forward Day," said Coyotes President & CEO Xavier A. Gutierrez. "It's our responsibility to give back and be a leader in our community and we are proud to be able to make an impact and help so many individuals who are in need."
HSC Executive Director Amy Schwabenlender said that the funds will enhance multiple initiatives including, but not limited to, temporary shelter, behavioral health services, housing navigation, and day-to-day campus operations needed to support the 15 on-campus collaborative partners.
"We are truly overwhelmed by the generosity and breadth of these two donations and the overall impact they will have on the individuals experiencing homelessness we serve every day," said Schwabenlender. "For an individual experiencing homelessness, the simple act of taking a shower is a chance to cleanse, refresh both physically and emotionally, and feel a sense of dignity. Having this massive inventory of clean, fresh towels is a wonderful gift."