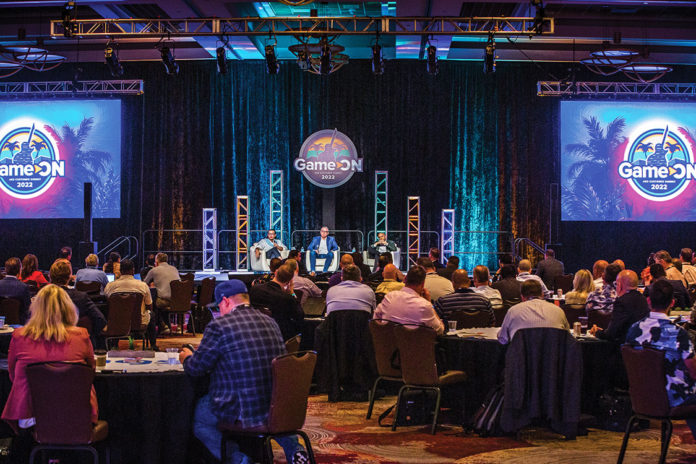 AGS recently welcomed their annual customer summit GameON to Seminole Hard Rock Hotel & Casino Hollywood. Created in 2016 with the goal to give back to customers and uplift the industry as a whole, this year's GameON provided attendees with a diverse mix of speakers, topics, and networking events.
"The way Julia [Boguslawski, AGS Chief Marketing Officer] pitched this to me years ago was, 'we have 362 days out of the year to sell products and pitch our customers, but these three days will be about us giving back to them,'" said David Lopez, AGS CEO, in his opening speech at GameON.
Sessions ranged from hot topics surrounding the gaming industry to global business and future tech trends. Chris Grove, co-founding partner of Acies Investments, presented his analysis of sports betting in the future, while industry competitors Omer Sattar, co-CEO of Sightline and Darren Simmons, FinTech business leader of Everi, came together for a thought-provoking discussion on the future of cashless technology in casinos. Travis Wright, co-host and co-founder of the podcast Bad Crypto, gave an introductory course on NFTs and crypto, which supplemented the NFT art gallery featured in the conference lounge area.
"We take great pride in the sessions we curate for GameOn," said Boguslawski. "We make every effort to provide actual, actionable value for everyone who attends. That's why we offered sessions about cashless payments, NFTs, sports betting, and other cutting-edge technology. We're not in those spaces directly, but these sessions are topical and provide value to our customers and partners."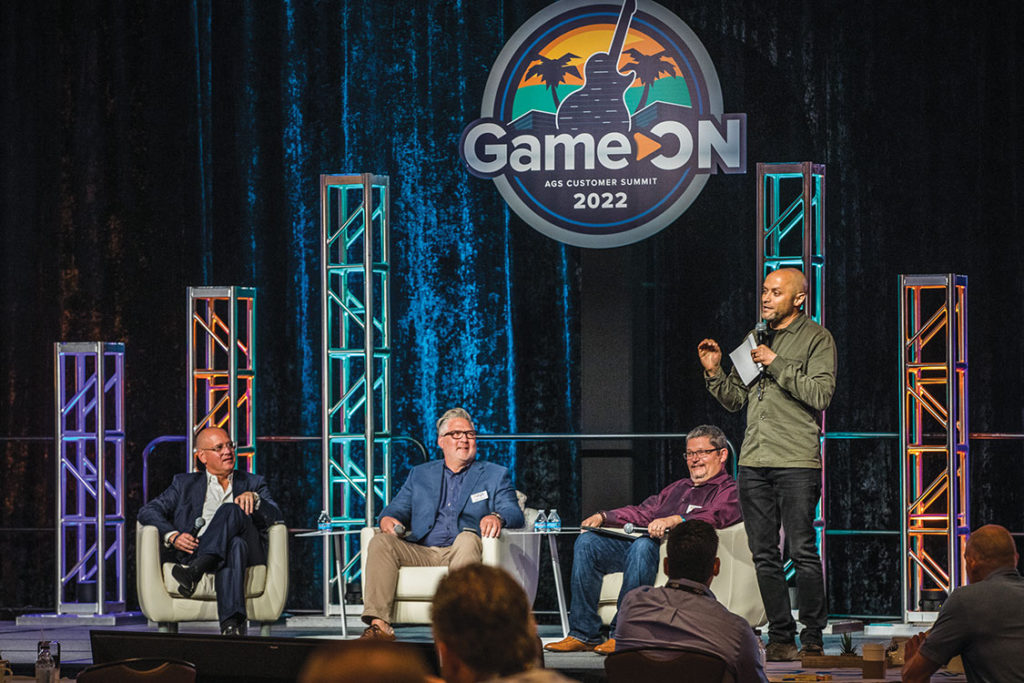 Many topics of conversation were about the next big things in the gaming industry. From artificial intelligence and machine learning-driven player development, presented by Tom Rafferty, co-CEO of OPTX and Dr. Steve Bright, VP of Data Science of OPTX, to esports and virtual sports within a casino in a chat with Brooks Pierce, COO & President of Inspired Entertainment and Hussain Moosvi, Chief Strategy Officer of Misfits Gaming Group.
Additional panels included influencer marketing strategies with slot influencer, Brian Christopher of BCSlots, along with Britt Carter, Director of Marketing & Business Relations of BCSlots, Thomas LaRocca, Director of Media & Digital Marketing for the San Manuel Band of Mission Indians – Yaamava' Resort & Casino, and Jacqueline McQueen, Marketing Content Manager of Cherokee Nation Entertainment. A chat on demand-driven inventory management and unified player and product segmentation with Nick Hogan, co-founder and CEO of ReelMetrics, Mark DeDeaux, SVP & GM of Slots at AGS and Steve Walther, VP of Game Development at AGS.
Brad Boyer, SVP of Corporate Operations & Investor Relations with AGS led a discussion on Wall Street with Chad Beynon, Sr. Analyst at Macquarie and Barry Jonas, Managing Director of Truist Securities. In the only truly product-driven presentation of the conference, AGS' John Hemberger, SVP & GM of Tables and Jamie Abrahamson, Senior Director of Table Game Content, explained the benefits of a floor-wide table games progressive, using AGS' successful Bonus Spin Xtreme.
Boguslawski stressed the integrity and uniqueness of GameON, which has proven successful year after year. "Our goal has always been to remove the pressure of selling that comes from the traditional customer conference. That's why this isn't a two-day-long AGS ad," said Boguslawski. "GameON will always be different than anything else in the industry because of this."
For more information about AGS, visit www.playags.com.