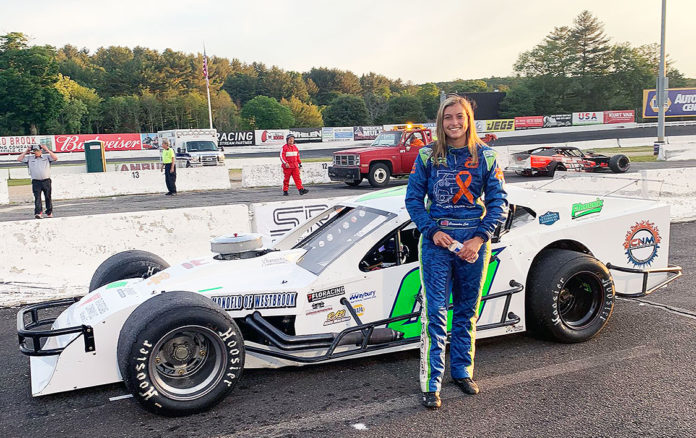 MASHANTUCKET, CT  –  Foxwoods Resort Casino has partnered with Cassandra Cole, a trailblazing women's race car driver, in celebration of Women's History Month. Foxwoods will be the primary sponsor of Cole's upcoming race on April 2 at Thompson Motor Speedway located in Thompson, CT, and throughout the season at Stafford Motor Speedway located in Stafford Springs, CT. At both race tracks, Cole will be racing in a Spafco house car prepared by Ken Barry located out of Preston, CT. 
"We are thrilled to support Cassandra in her racing endeavors, and to celebrate Women's History Month by highlighting the achievements of women in traditionally male-dominated industries," said Dale Merrill, Senior Vice President of Human Resources and Administration at Foxwoods. "Cassandra's talent, perseverance and passion for racing make her a true inspiration, and we are excited to have her represent Foxwoods on the track." 
A racing prodigy, Cole has been racing since she was nine years old and has competed in various racing divisions throughout her career. In 2022, she received her first podium finish in the Spafco Race Chassis SK Light. Cole has since become a vocal advocate for women in motorsports. For the third year in a row, she has teamed up with the organization, Driven To Cure for 2023 to help bring awareness and raise funding for the research of rare kidney cancers like HLRCC in children and young adults.
"I am honored to have the support of Foxwoods as I prepare for the 2023 season," said Cole. "As a woman in racing, I know firsthand how important it is to have allies and advocates who believe in your talent and potential. I am grateful for the opportunity to represent Foxwoods and to inspire the next generation of women racers."
In addition to her recent achievements, Cole has won several awards throughout her career, including "Rookie of the Year" at her home track, The New London-Waterford Speedbowl in Waterford, CT in 2014. She also became the first female to ever win in the Legend Division at The New London-Waterford Speedbowl in 2015, and was awarded "Sportsman of the Year" at The New London-Waterford Speedbowl in 2016.