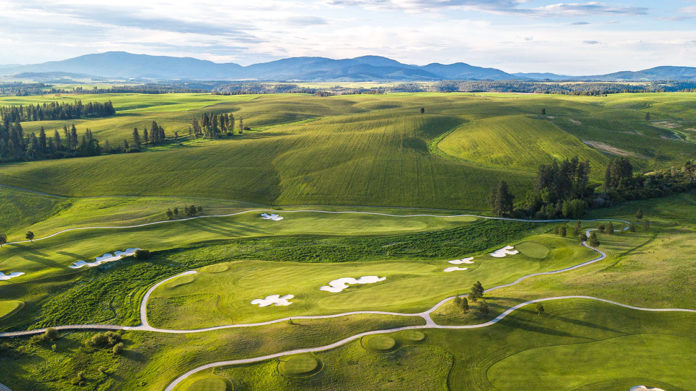 WORLEY, ID – Circling Raven Golf Club, part of Coeur d'Alene Casino Resort Hotel, recently hosted the inaugural Circling Raven Championship in which eight of the 10 women players earned their LPGA Tour cards for the 2022 season.
"We are honored to have had hosted these women in the 2021 Circling Raven Championship – it was amazing to hear them speak so highly about our course and its conditions – and we can't wait to see next season's group," said Laura Penney, CEO, Coeur d'Alene Casino Resort Hotel. "We support empowering women through the game. Doing so was one of the objectives the Coeur d'Alene Tribe set when it decided to build Circling Raven Golf Club, and it also factored in our decision to hold the tournament here. Congratulations to these women who are elevating to the LPGA Tour. They work extremely hard and are incredibly talented. We'll be rooting for them at the next level."
The Symetra Tour annually awards LPGA Tour Membership to the top players on the "Race for the Card" money list, and the conclusion of the Symetra Tour Championship ushers in the 2021 graduating class.
Listed below are the 2021 Symetra Tour graduates who competed at the Circling Raven Championship:
Lilia Vu (Fountain Valley, CA) – $162,292
Three wins and eight total top-5 finishes sealed Symetra Tour Player of the Year honors for Vu. She won the Garden City Charity Classic in May, the Twin Bridges Championship in July and the Four Winds Invitational in August. The UCLA alumna led the Tour in par-4 scoring (3.956) and was second in scoring average (70.037).
"At a few points over the last couple years, I thought about putting the clubs away and going to law school, but my mom convinced me otherwise," said Vu. "I'm happy she did and for my time on the Symetra Tour. It provided a renewed confidence in my game to help me succeed at the LPGA level. I know I'm ready for it, now."
Fatima Fernandez Cano (Santiago de Compostela, Spain) – $119,180
Made it back-to-back years as a Symetra Tour graduate for Cano. She was also No. 2 in 2020, when only the top-5 players earned LPGA Tour Membership because of the COVID shortened season. It's the first time since Jenny Gleason in 2011 and 2012 that a player finished the year as a Symetra Tour graduate in consecutive seasons. Fernandez Cano accomplished the feat thanks to 10 top-10 results, which includes three runner-up performances.
Casey Danielson (Osceola, WI) – $114,534
Two wins in her fourth season on the Symetra Tour propelled Casey Danielson into the Race for the Card Top 10. A four-time WIAA Division II State Championship medalist for Osceola High School and member of the 2015 NCAA Championship team at Stanford University, Danielson is now a Symetra Tour graduate and on her way to the LPGA Tour as a 2022 rookie. She collected her first professional win at the Symetra Classic in May and followed it up with another victory in July at the Donald Ross Classic, earning four additional top-10 results in 19 starts this season.
Sophia Schubert (Oak Ridge, TN) – $101,163
There may not have been a more memorable moment on the Symetra Tour in 2021 than when Schubert made eagle on the third hole of a sudden-death playoff to win the Carolina Golf Classic, her first professional win in the penultimate event of the season, and secure LPGA Tour Membership for 2022.
The 2017 U.S. Women's Amateur champion ranked second on Tour in sub-par holes (236) and greens in regulation (80.6% through 60 rounds) and was second in birdies (232) this season.
"The win in Greensboro is something that I'll remember for the rest of my life … My mom is out watching just about every week and to share the accomplishments with her made it even more special," said Schubert.
Amanda Doherty (Atlanta, GA) – $90,921
With her eighth top-10 finish in 2021 and a tie for third at the Symetra Tour Championship, Doherty clinched her place in the Race for the Card Top 10 and Gaelle Truet Rookie of the Year honors. She ranked fourth on Tour in scoring average (70.527), sub-par holes (231) and birdies (224). A Florida State University alumna, Doherty was a 2018 All-ACC selection and competed at the inaugural Augusta National Women's Amateur in 2019.
Allison Emrey (Charlotte, NC) – $82,644
Emrey's maiden Symetra Tour win at the IOA Golf Classic was presented by RP Funding in May. She collected four top-10 finishes the rest of the year enroute to securing her spot in the Race for the Card top 10.
"There are so many ups and downs in a golf season and every week on the Symetra Tour is a true grind," said Emrey. "I think it's the best way to prepare for the LPGA Tour."
Morgane Metraux (Lausanne, Switzerland) – $75,771
In 2019, Metraux suffered a shoulder injury that sidelined her for 10 months. Two years later, she is a Symetra Tour graduate. Metraux also elected to not compete on the Symetra Tour in 2020 due to the coronavirus pandemic, making her run in the Race for the Card that much more impressive.
"Reaching this goal just a couple years after a pretty devastating injury could be surprising, but I feel like I took the right steps to recover and keep my game in shape to at least give myself a chance at the top 10," said Metraux. "The opportunity to play on the LPGA is something I've dreamed of since I was a little girl."
Rachel Rohanna (Marianna, PA) – $75,608

A two-time Symetra Tour champion, Rohanna is now a two-time Symetra Tour graduate. She co-led the Symetra Tour in eagles (9) this season, and she won the 2017 Symetra Tour Championship when she was six weeks pregnant.

"This time as a Symetra Tour graduate means a little more because I have [my daughter] here with me," said Rohanna. "It's so special to be able to share the moment with her and see the smile on her face. Making it through a Symetra Tour season is one thing, but to do it as a mom and finish in the top 10 is a testament to my amazing family and team."