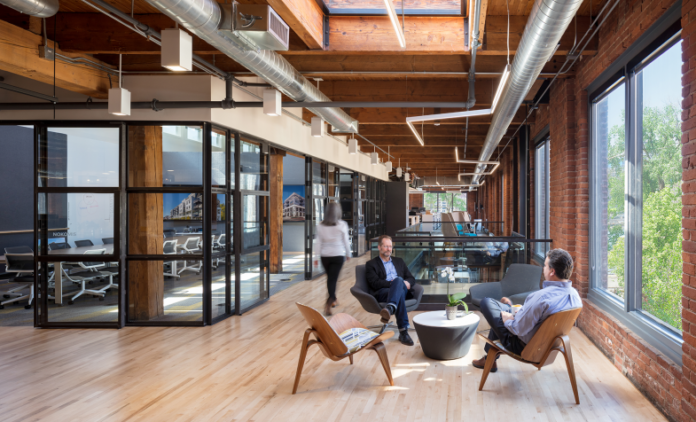 Cuningham has announced the appointments of a new Board Chair and Leadership Council as part of an internal restructuring that reflects the firm's continued dedication to meaningful collaboration and creating unique, forward-looking environments.
"At Cuningham, we've long been committed to designing and bringing to life environments that are continuously uplifting the human experience and have the future in mind," says Tim Dufault, FAIA, NCARB, LEED AP, Principal, and Chief Executive Officer at Cuningham. "Through close collaboration with stakeholders, we've identified new strategies to optimize our internal operations, allowing us to improve and enhance how we serve our clients and partners in consistently meaningful ways as we grow."
The unprecedented events of this past year have impacted how people view and interact with the built environment and the importance of design and delivery that is integrated, regenerative, and restorative, says Christy Cavataio, Associate AIA, Principal, President and Chief Operating Officer.
"Our new, expanded leadership platform will allow us to better leverage our team's deep expertise and capabilities across disciplines, markets, and locations," says Cavataio. "The Leadership Council is made up of the firm's studio and practice leaders and is charged with leading the firm to achieve our collective goals to enhance our expertise in each studio to provide superior services to our clients, while bringing a body of shared knowledge and learning to how we practice. We know that learning from each other and borrowing the best from each studio's markets while having a strong platform benefit our projects and their outcomes."
In line with this restructuring, the firm also updated its name to the singular 'Cuningham' from 'Cuningham Group,' which reflects this unified approach and conveys the close connection to every project, stakeholder, and team member.
Cuningham Principal Meg Parsons, FAIA, NCARB, ALEP, LEED BD+C, who has been with the firm for over 30 years, is also stepping into the role of Board Chair.
"Meg takes an active, inclusive approach to her work that is inspiring to all who have the pleasure of knowing her," says Dufault. "She will play a key role in ensuring that every strategy is aligned with maintaining an optimistic, idealistic, and engaging culture that celebrates our myriad of diverse backgrounds, talents, and voices and move Cuningham forward."
Parsons specializes in the planning and design of innovative learning environments from pre-referendum planning through construction. She is an Accredited Learning Environment Professional through the Association for Learning Environments and serves as the Chair for the Minnesota Board of Architecture, Engineering, Land Surveying, Landscape Architecture, Geoscience and Interior Design and is the Chair of Region 4 for National Council of Architectural Registration Boards. Parsons is also a Fellow of the American Institute of Architects.
Other members of the Leadership Council include: Nina Broadhurst, Principal/Executive Director – Work; Michele Espeland, Principal/Executive Director – Strategy; Kari-elin Mock, Executive Director – Grow; Jeffrey Schoeneck, Principal/Executive Director – Live; Wade Morgan, Associate Principal/Executive Director – Play; Lisa Schenck, Associate Principal/Executive Director – People; Marcy Schulte, Principal/Executive Director – Design + Performance; and Mark Tiscornia, Principal/Executive Director – Heal.