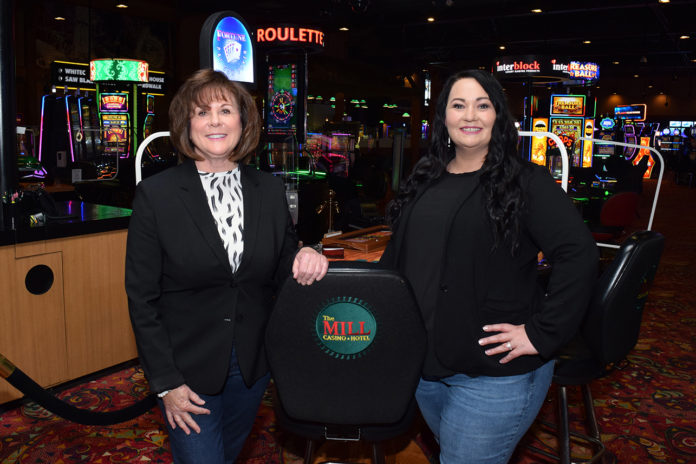 NORTH BEND, OR – The Coquille Indian Tribe has appointed Margaret Simpson as the first female tribal member to become Chief Executive Officer of The Mill Casino-Hotel & RV Park.
Simpson began her career at The Mill in 2000 and has worked through roles in food and beverage, players club, marketing and hotel operations. She has served as the assistant general manager and currently holds the general manager position. Simpson oversaw creation of a tribal member development program, and was integral in the property's response to one of its most challenging years, when it closed for three months and restructured due to the coronavirus pandemic. She accomplished all of this while graduating from college and earning a master's degree in hospitality from the University of Nevada-Las Vegas, America's top-ranked hospitality and gaming program.
"It is something to celebrate in Indian Country when you see tribal members work their way up," said tribal Chairman Brenda Meade. Simpson's role as CEO puts her in an elite group of young Native Americans who are challenging the dominance of non-Indians in the gaming industry.
"Strong Native people becoming gaming experts is an essential way to advance tribal gaming within the industry," said Simpson. She earned enthusiastic backing from the Coquille Tribal Council as well as the board of The Mill's parent company, the Coquille Economic Development Corporation (CEDCO). Board member Eric Smileuske described Simpson as a rare asset for a tribe. "The opportunities are few and far between to hire a member of their own tribe to be their CEO," he said. Smileuske added that Simpson offers all of the qualifications the tribe could have found in a nationwide talent search. "She is very qualified, she is unassuming, she is capable of leading, and she has great gut instincts," Smileuske said.
Simpson will replace her mentor, Terri Porcaro, as CEO. Porcaro, who plans to retire Dec. 31, said she has never met anyone as focused and dedicated as Simpson. "She just amazes me every day," Porcaro said. "She cares a lot about her tribe. She wants to see the tribe grow, and she wants to be part of it."
Simpson said she was "humbled and inspired" by the support she received from the Tribal Council and the CEDCO board. She praised Porcaro, The Mill's executive team, and CEDCO's "exceptionally talented" board.
"Operating the business that provides vital economic resources for my tribe is a huge responsibility that I take very seriously," Simpson said. "My motivation and desire to honor my ancestors and contribute to a brighter future for the next generations will continue to be the cornerstone of my work."