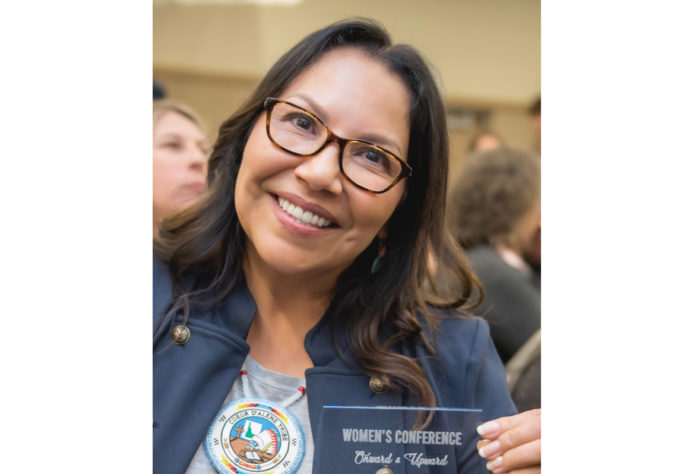 WORLEY, ID – Laura Penney, CEO of Coeur d'Alene Casino Resort Hotel, was honored with the "Woman of Impact Award" at the Onward and Upward Women's Conference, hosted by The North Idaho Alliance, a woman-based leadership organization.
The award recognizes Penney, also a keynote speaker at the event, for important traits that include an optimistic attitude, persistence, a strong and powerful voice, passion, purpose, self-confidence and authenticity, as well as her significant contributions to the community throughout her illustrious career.
"I am deeply honored and humbled to receive this award," said Penney. "I share this award with all of the women in my community – especially those who I work with every day at the Coeur d'Alene Casino Resort Hotel – who help create positive change and inspire others to break barriers and overcome obstacles."
"Laura truly emulates all the qualities of the 'Women of Impact' award criteria, which are not only reflected in her position as a leading businesswoman and CEO in our region, but as an individual woman," said Marilee Wallace, CEO of The North Idaho Alliance. "Laura has a quiet grace that leads and inspires everyone she comes in contact with."
The Coeur d'Alene Casino Resort Hotel celebrates its 30th anniversary this year and Penney has been with the resort since day one, beginning her career in gaming as an economic development planner and later as a planning director.
She was named CEO in 2019, and under her leadership, Penney guided it to be the first casino in the country to reopen after the pandemic began, setting the standard for health and safety measures for fellow casino operators nationwide.