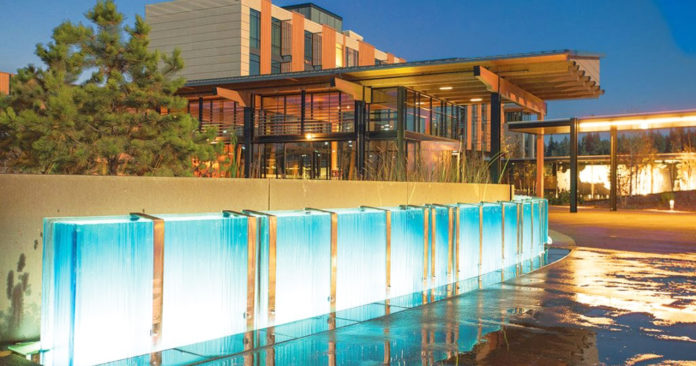 WORLEY, ID – Coeur d'Alene Casino Resort Hotel has opened its new Little Dragon Eatery serving quick, easy Asian-inspired dishes for lunch and dinner. Located in the casino resort's former High Mountain Buffet that was closed in March of 2020, it is adjacent to the high limit HnLamqe' VIP Gaming room. Little Dragon is the first offering of the new Smukwe 'shn Food Court.
"We opened Little Dragon because it serves a frequently requested, popular food type," said Laura Penney, CEO, Coeur d'Alene Casino Resort Hotel. "We strive to provide amenities and options that our guests and visitors prefer."
Little Dragon Eatery's menu was developed by Tracy Rose, Executive Chef of Coeur d'Alene Casino Resort Hotel. It includes chicken, beef, and vegetable dishes, as well as house-made sauces that can be substituted for any menu item's listed sauce.
November marks a month-long recognition of Native American Heritage. Events being held to commemorate the heritage celebration include "The Indian and the White Guy" Comedy Show on Nov. 18; The Winter Blessing, a free event on Nov. 20 that includes an afternoon of traditional storytelling and dance exhibition; and the "25 Winners of Up to $2,500" promotion on Nov. 19 where 25 players will win prizes of up to $2,500 in cash or extra play cash.
The resort also features a robust cultural tourism program, enabling guests and visitors to explore Native American foods, activities, experiential history, and the land that the tribe has called home for thousands of years. Coeur d'Alene Casino Resort Hotel was named Tribal Destination of the Year in 2019 by the American Indian Alaska Native Tourism Association.
"Everything that Coeur d'Alene Tribe does is designed to honor our culture and history as well as empower the tribe and its members to thrive now and going forward," said Penney. "Native American Heritage month is another chance for us to tell our story and continue building on it through education and our resort amenities and activities."