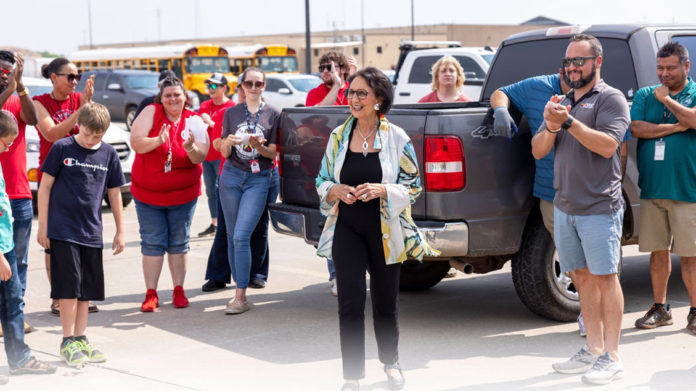 SHAWNEE, OK – Volunteers gathered in the FireLake Arena parking lot as Citizen Potawatomi Nation (CPN) partnered with Feed the Children and the Absentee Shawnee Tribe to help 800 families in the community.
"We've been working this year toward our Native populations," said Aaron Hazel, Event Manager for Feed the Children. "This was just a natural fit, because one, you just had a tornado that recently came through that impacted people, but then also, just for [tribal] members, I feel like this was a great partnership."
Two lines formed in the parking lot, where volunteers loaded six cars at a time with three boxes of products and one to two children's books. Products included one 25-lb. box of non-perishable food items, one 15-lb. box of hygiene items and one 8-lb. box with items such as makeup and women's clothing.
Brian Brady, Director of Distribution for Feed the Children, said the food box should help supplement a family for up to two weeks, and the hygiene box includes items such as toilet paper, paper towels and toothbrushes. "Anything hygiene, personal care related, because if you can't afford food, you can't afford personal care items," said Brady.
The organization estimated boxes would be passed out to 800 families, and lunch was provided for the volunteers who helped with the event. Gary Sloan, Chief U.S. Operations Officer for Feed the Children, said events the size of this one usually require help from 40 to 50 volunteers.
"I think this is a great way to get the community together," said Sloan. "We love working with the tribes here in Oklahoma, and we feel it's a very important part of what we do."
Absentee Shawnee Lt. Governor Ezra DeLodge spoke on behalf of the tribe at the event, thanking Feed the Children, CPN and volunteers for their efforts.
"It's not one individual, organization or group to uplift our community," said DeLodge. "It's all our responsibility to uplift and bring positive change to our communities."
CPN Vice Chairman Linda Capps also spoke before the event began. "I want to thank Feed the Children, not just this time, but for many times they have blessed us," said Capps. "Feed the Children has been partners with the Citizen Potawatomi Nation for a long time, and I know that they have done a lot of good in our communities."