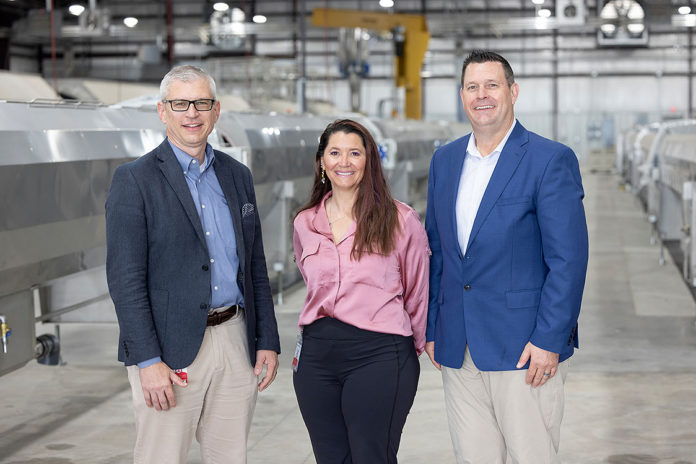 SHAWNEE, OK – The Citizen Potawatomi Nation (CPN) has launched its newest enterprise, Sovereign Pipe Technologies (SPT), which manufactures high-density polyethylene piping that help safeguard precious natural resources. Ronnie Wear, Chief Executive Officer and General Manager, is leading the venture.
"Our employees have the chance to be a part of something new and original," said Wear. "The tribe's innovative thinking is making business more accessible in Oklahoma, and we look forward to leaning into this exciting endeavor."
HDPE pipe is used by a variety of industries, including oil and gas, municipal and sewer, industrial, mining, geothermal and telecommunications. The 45,000 sq. ft. plant is the first business located in the tribe's 700-acre Iron Horse Industrial Park. With a central location, SPT has direct access to both railways and highway systems, making it easier to conduct both domestic and international business.
"[Infrastructure] for the entire country is at a really critical point," said Jeremy Hohn, Vice President of International Sales and Marketing. "We anticipate, worldwide, the need for plastic and pipe infrastructure to continue to rise over the next 20 to 30 years. And we're excited to be a part of that. As society experiences these scenarios where water is becoming more and more of a precious commodity, we have to have a pipe system and a pipe material that takes into consideration water loss and the magnitude to our society. Plastic pipe aligns very well with the CPN philosophy for having a green, carbon-friendly business here in the industrial park."
Wear, a Choctaw tribal citizen, said SPT's focus on environmental responsibility is one he shares as an Indigenous person. It is important to him that tribal values are upheld.
"One of the reasons I wanted to join the team here is the concept of why CPN is transitioning into manufacturing and the impact to [CPN] citizens," said Wear. "I'm excited what the business can do to support other programs and additional opportunities for the for the citizens in Pottawatomie County."