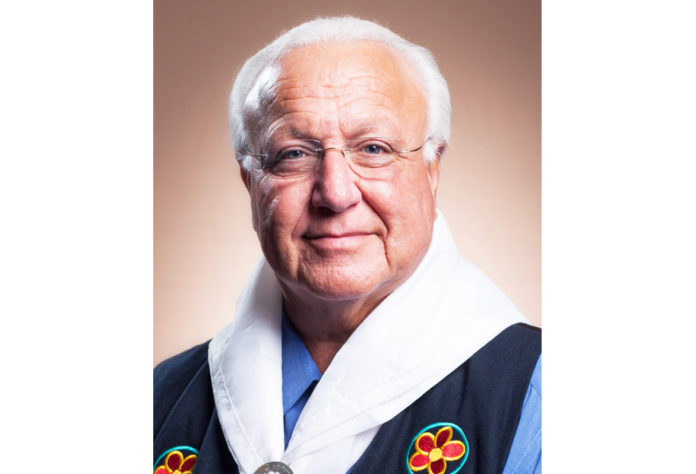 SHAWNEE, OK – Citizen Potawatomi Nation Chairman John "Rocky" Barrett has been recognized by two Oklahoma organizations. Barrett was appointed to serve as a Director on the Oklahoma Hall of Fame and Gaylord-Pickens Museum board, a term that began in January. Barrett was also recently inducted into the Shawnee Educational Foundation's (SEF) Hall of Fame. The SEF Hall of Fame honors former students of a Shawnee-area school who have made significant contributions to education.
Oklahoma Hall of Fame
Barrett will serve a three-year term on the board. The Oklahoma Hall of Fame and Gaylord-Pickens Museum are governed by a board of directors representative of the State of Oklahoma. The Oklahoma Hall of Fame was founded in 1927 to honor Oklahomans who gave outstanding service to the state during their lifetime and to provide educational programming for students of all ages through the museum and outreach programs.
"We are thrilled and proud to have him on the board and that he's able to bring his expertise and leadership to our organization," said Shannon L. Rich, President and CEO, Oklahoma Hall of Fame and Gaylord-Pickens Museum.
"I am honored to serve as a board member for the Oklahoma Hall of Fame," said Barrett. "Potawatomi families were among the first people to establish homes in 1873 in then-Indian Territory. Indigenous history is Oklahoma history. I am pleased to support the Oklahoma Hall of Fame's mission of telling Oklahoma's story through its people."
Through exhibits and experiences at the Gaylord-Pickens Museum, the Oklahoma Hall of Fame preserves Oklahoma's unique history and promotes pride in the state.
"The key mission of our organization is to tell Oklahoma stories through its people, and we do that by recognizing our inductee class every year at the annual induction ceremony and recognize incredible Oklahomans that way," said Michelle Sopp, Director of Marketing and Communications for the Oklahoma Hall of Fame.
With Barrett's executive experience and long-time support of educational endeavors, Sopp believes the board found a perfect fit.
"He is joining a board of directors of more than 60 people from across the State of Oklahoma," said Sopp. "The people on our board represent a variety of backgrounds and industries working as business professionals, civic leaders and philanthropists."
SEF Hall of Fame
Chairman Barrett was also honored by a Shawnee group that provides crucial financial support to area teachers and students. The Shawnee Educational Foundation (SEF) inducted Barrett into its Hall of Fame.
Barrett is a graduate of Shawnee High School. Under his tenure, CPN created its Department of Education in 2016, which provides college and career support to tribal members across the country. He was also instrumental in developing the Potawatomi Leadership Program (PLP). Held annually, the PLP educates, informs and encourages qualified Potawatomi students to develop a greater understanding of tribal operations, history and culture.
The SEF noted Barrett's support of local education as part of his philosophy that "a rising tide lifts all boats," including both the Nation and Pottawatomie County.
The Shawnee Educational Foundation is a volunteer board formed in 1989. The group raises money through an annual banquet to fund teacher and site grants in the Shawnee area. The grants support innovative classroom activities that benefit students in Shawnee Public Schools, Grove School, Pleasant Grove School and South Rock Creek School. SEF also awards scholarships to graduating seniors.