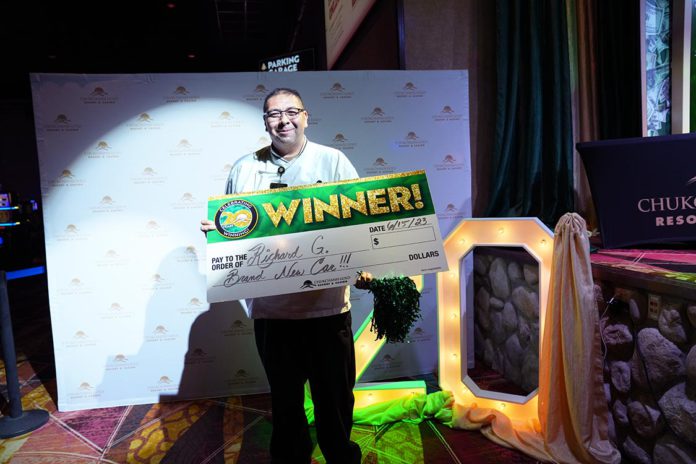 COARSEGOLD, CA – Chukchansi Gold Resort & Casino is celebrating 20 years in 2023, and along with a number of fun-filled events and big-time giveaways for guests, the resort honored its team members with $40,000 in cash and prizes.
Team member Richard G., an employee of 18 years who began as a steward and worked his way up to sous chef and now room chef, won a new vehicle, while team member another took home a Meta Quest 2VR headset. All team members, regardless of their time at Chukchansi Gold, participated in drawings for $5,000 in cash prizes, $500 in gas cards, or paid time off.
"Working for Chukchansi Gold Resort & Casino is a wonderful experience and has allowed me to provide for my family," said Richard. "I've really appreciated the opportunity to grow with the company. I also am grateful for everything Chukchansi does for us team members, including great benefits, vacations and giveaways like this. It warms my heart how much the property gives back to its team members, and that's why I have been here so long. I'd like to thank the tribe for opening the casino to provide job opportunities for so many of us. I'd also like to thank the Tribal Council, CEDA Board and Chukchansi Gold for the car. This is a blessing for my family."
"One of the most important aspects of the Chukchansi Gold experience is our team members," said Regina Manzano, Chukchansi Gold Director of Human Resources. "Our guests appreciate the effort and dedication they show daily, and we wanted to show our appreciation in return."
Richard was able to choose from 10 different vehicles provided by Steve's Chevrolet of Chowchilla, Clawson Honda of Fresno, Clawson Motorsports and Fresno Chrysler Jeep.