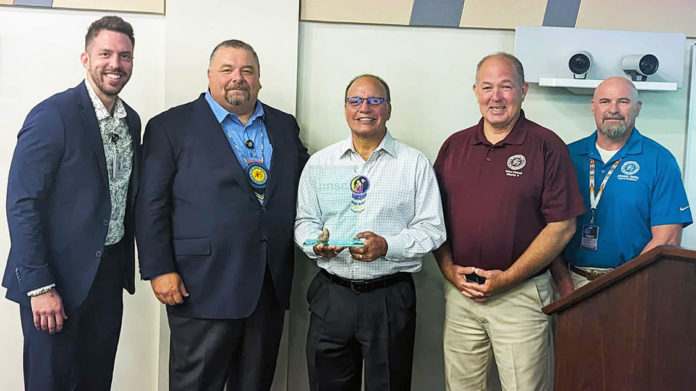 DURANT, OK – The Choctaw Nation of Oklahoma (CNO) recently received the Occupational Excellence Achievement Award from the National Safety Council and the U.S. Best-in-Class Employer by Gallagher for their exceptional efforts in the workplace.
The Choctaw Nation became the first tribe to achieve the Occupational Excellence Achievement Award, which recognizes organizations with injury and illness records that are better than or equal to 50 percent of the Bureau of Labor Statistics for their North American Industry Classification System (NAICS).
CNO's facilities worked more than 20.2 million hours in the 2022 calendar year and had zero fatalities and 66 incidents with injuries and illness that involved days away from work. These statistics resulted in a "Facility Total Lost Workday Case Incident Rate" of 0.65, significantly below the NAICS Code 92 industry standard of 2.0.
"I'm proud that the Choctaw Nation is the first tribe to receive this recognition from the National Safety Council, but I'm not surprised at the results this award highlights," said Choctaw Nation of Oklahoma Chief Gary Batton. "Our associates understand the importance of safety and the essential role of having a safe workplace at the Choctaw Nation. This has been a collaborative effort between our Choctaw Nation Occupational Safety and Health team and all of our teams, departments, and divisions."
CNO also participated in Gallagher's 2022 U.S. Benefits Strategy & Benchmarking Survey and was identified as an organization that excelled in optimizing employee and organizational well-being. The Choctaw Nation was recognized for its comprehensive framework for strategically investing in benefits, compensation and employee communication to support the health, financial security and career growth of its employees at a sustainable cost structure.
"The Choctaw Nation of Oklahoma was recognized as a U.S. Best-in-Class Employer because of how they approach organizational priorities with a long-term outlook; provide high-quality, high-value benefits; and build and solidify a strong organizational culture through their communications," said William F. Ziebell, CEO of Gallagher's Benefits & HR Consulting Division. "In doing so, the Choctaw Nation of Oklahoma invests in the whole employee by providing distinct and relevant well-being resources that will attract and retain talent."