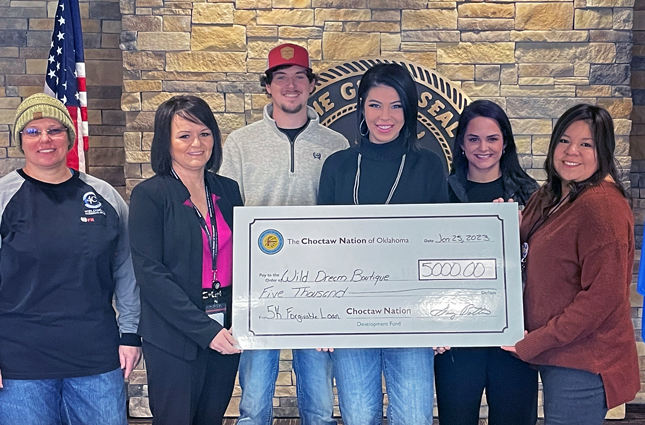 BOSWELL, OK – Wild Dream Boutique in Boswell, OK, was awarded a $5,000 small business forgivable loan from the Choctaw Nation Small Business Development program and the Choctaw Development Fund.
Wild Dream Boutique was opened in August of 2022 by a mom of two, Maegan Belvin, who had the vision of fulfilling her "wild" childhood dream to provide for her family in a little town in Southeast Oklahoma. Wild Dream Boutique truly offers everything from bohemian and western women's and children's clothing to accessories. In addition, Wild Dream Boutique offers authentic turquoise and white buffalo turquoise.
"It's been nothing short of a dream opening Wild Dream Boutique," said Belvin. "I've been overwhelmed with support and guidance. I can't thank my customers and the Choctaw Nation Small Business Development program enough for the opportunity, not only to support my family, but to offer my clientele something they feel beautiful and confident in, whether they're lounging around in a cute graphic tee or cutting a rug at the nearest rodeo."
The Choctaw Development Fund supports economic viability and sustainability by partnering with Choctaw small business owners, cities and municipalities to create long-term growth and job creation within the territories of the Choctaw Nation of Oklahoma.
"Maegan offers something truly unique with Wild Dream Boutique by making others feel comfortable in their own skin," said Courtney Wesley, Choctaw Nation Small Business Advisor. "Maegan's passion for fashion and strong work ethic makes her the perfect Chahtapreneur and recipient of this small forgivable loan to continue to offer boutique clothing and accessories for women and children at an affordable price."
Funds from the Choctaw Development Fund will assist Belvin in purchasing equipment and inventory for Wild Dream Boutique.