TAHLEQUAH, OK – Principal Chief Chuck Hoskin Jr. has signed into law the Cherokee Artist Recovery Act (ARA) of 2022, setting aside $3 million through 2024 to address the adverse economic impact of the COVID-19 pandemic on Cherokee artists.
Under the new law first proposed by Chief Hoskin and Deputy Chief Warner in September and approved by the Council of the Cherokee Nation, the tribe will set aside $3 million to purchase Cherokee art and provide more opportunities for artists to teach others over the next two years.
"The Artist Recovery Act is the largest single investment in the Cherokee Art community in history," said Principal Chief Chuck Hoskin Jr. "Among the principal goals of the ARA is helping Cherokee artists regain what they lost economically due to the hardships of the pandemic and inspiring Cherokee creativity, particularly among a new generation of young Cherokees seeking to make a positive impact on the world while making a living doing so. The ARA will result in a new collection of Cherokee art that reflects our history, our culture, our highest aspirations and our shared struggles. The ARA will help build a foundation so that Cherokee culture remains strong and vibrant far into the future."
The Cherokee Artist Recovery Act also establishes the Cherokee Artist Resource Collection, a comprehensive database of Cherokee Nation artists. A portion of funds under the act can be used for the rehabilitation or construction of facilities such as art galleries and teaching spaces.
"The Artist Recovery Act provides Cherokee Nation and Cherokee Nation Businesses with no less than $1.5 million over the next two years for purchasing art from Cherokee artists," said Deputy Chief Warner. "It also provides economic assistance to Cherokee artists so they can access commercial art markets, teach their art forms, and develop and administer special youth programs, outreach programs and competitions. This is an amazing opportunity to not just help our Cherokee artists, but to create new avenues for others to learn traditional art forms and help to carry on those traditions for future generations."
Artists selling their art or participating in programs under the act must be citizens of the Cherokee Nation. Preference will be given to Cherokee artists who have been designated as Cherokee National Treasures by the Cherokee Nation.
"As a Cherokee National Treasure and artist myself, I know how difficult it would be if I were trying to make a living with my art during the COVID-19 pandemic," said Deputy Speaker of the Council Victoria Vazquez. "I think this is going to be a great help to those who suffered through that. I'm hoping to see more artists reach out and have a visible presence online or attending shows as a result of the Artist Recovery Act."
Chief Hoskin and Deputy Chief Warner joined many of the tribe's Cherokee National Treasures to celebrate the new legislation in downtown Tahlequah and to fellowship over lunch.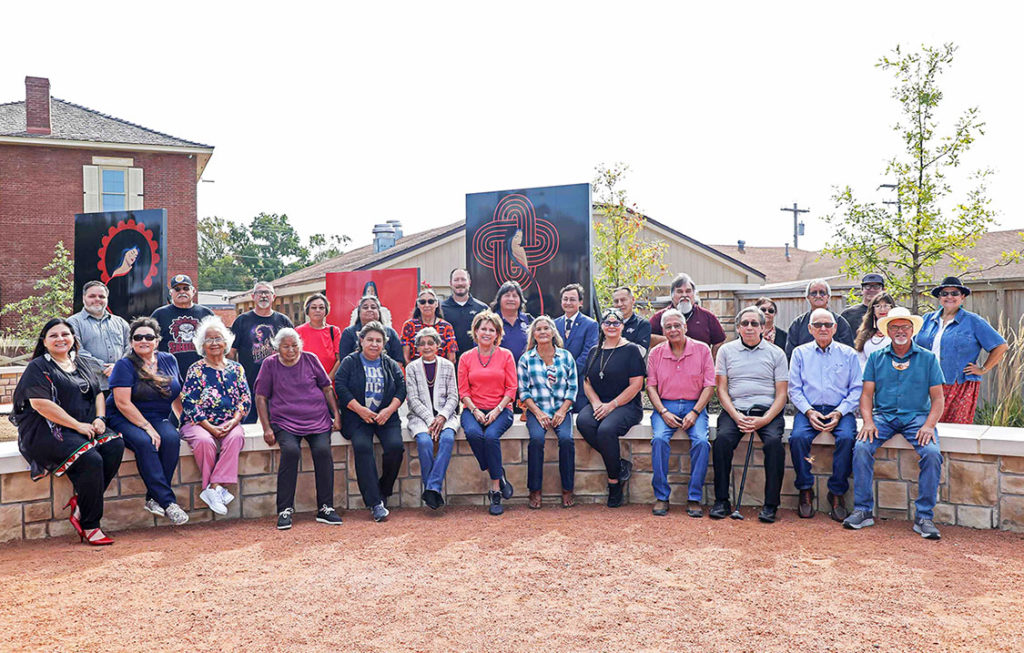 "I wanted to support this act for a number of reasons," said District 2 Councilor Candessa Tehee, who is also a Cherokee National Treasure. "It establishes new classes for the continuation of artistic traditions. The funding of additional and new classes, so we can create these future artists and National Treasures, is vitally important. The pandemic was a hugely stressful event in the lives of many artists. I really hope the Artist Recovery Act is one step toward healing some of those traumas and losses incurred during the pandemic."
The ARA funding through 2024 for Cherokee artists will be in addition to the annual funds expended by the tribe through its Cherokee Art and Facilities Act, which was signed into law more than a decade ago and requires one percent of the total construction or rehabilitation budget for Cherokee Nation facilities and properties to be used for artwork that is culturally and historically appropriate and created by Cherokee Nation citizens.
During the COVID-19 pandemic, Chief Hoskin and Deputy Chief Warner, with support from the Council of the Cherokee Nation, instituted a number of relief programs that provided over $750 million in direct cash assistance to Cherokee citizens, helping them to weather the pandemic's effects.