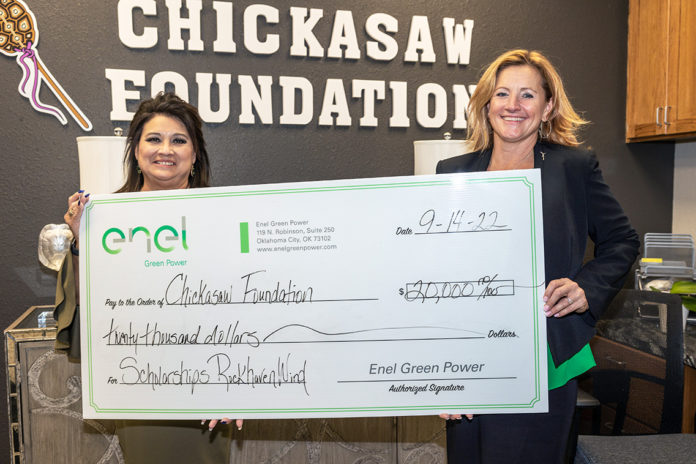 ADA, OK – The Chickasaw Foundation has received a $20,000 donation from Enel North America to provide two Chickasaw students with $10,000 scholarships. Beginning in the fall of 2022, selected students will receive $5,000 each for two semesters, pending continuation of meeting scholarship requirements.
Eligibility requirements for the Enel North America scholarship include being a Chickasaw undergraduate junior or senior student enrolled full-time at an accredited college or university and majoring in sustainable energy, or a science, technology, math or engineering field. Chickasaw students currently enrolled in the Wind Tech I Training program at High Plains Technology Center in Woodward, OK, are also eligible.
"Oklahoma has benefited tremendously from the increase in clean energy careers, and we want to be sure those opportunities are extended to every Chickasaw student who wants to pursue them," said Jason Stutzman, site manager for Enel's Origin and Rockhaven wind farms.
"The largest program within the Chickasaw Foundation is education, and it plays such an important role in our organization and tribe," said Johnna R. Walker, Chief Executive Officer of the Chickasaw Foundation. "Enel North America learned about the Chickasaw Foundation through relationships we have built with others and we were so excited for the opportunity to partner with them to provide scholarships."
Last year, scholarships totaling $113,150 were available to Chickasaw students pursuing higher education. The Chickasaw Foundation has seen growth with the establishment of additional scholarships for prospective students, including those like the Enel North America Scholarship.
"Donations are our lifeline," said Walker. "We are good stewards of the resources we've been entrusted with, whether it's a monetary contribution or an investment of time. For more than 50 years, those resources have allowed us to change lives and provide hope."