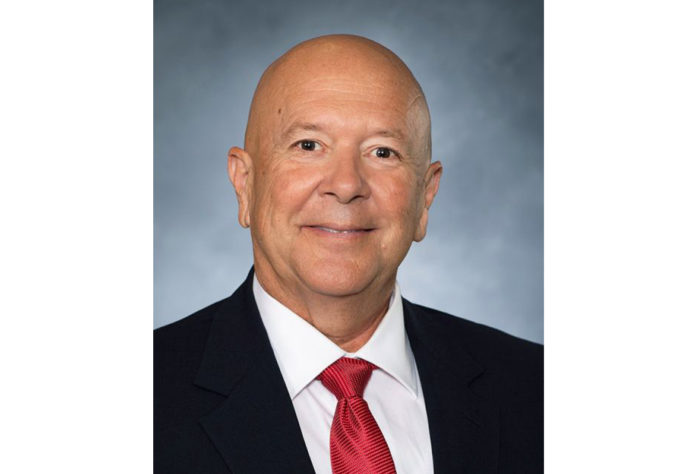 ADA, OK – Chickasaw citizen Kevin Meeks was recently appointed to the Department of Veterans Affairs (VA) Advisory Committee on Tribal and Indian Affairs.
Meeks is a retired rear admiral and the current Chickasaw Nation Deputy Secretary of Health. He and his fellow committee members comprise the first such committee for the VA.
"I am honored to be selected as a member of the newly formed VA Tribal Advisory Committee," said Retired Rear Adm. Meeks. "The Chickasaw Nation holds all veterans in the highest regard. As a patient in both First American health systems and the VA, I hope to use my personal experience and professional knowledge of both systems to improve service to all First American veterans."
The committee will provide advice and guidance to the VA's Secretary on all matters relating to First American tribes, tribal organizations, Native Hawaiian organizations and First American veterans. First Americans, Native Hawaiians and Alaska Natives have a rich legacy of service in the U.S. Armed Forces and have served with distinction in every major conflict for more than 200 years. There are approximately 160,000 such veterans across the country.
"This committee gives tribal leaders as well as American Indian, Native Hawaiians and Alaska Native veterans a place at the table with the highest levels of leadership within the VA," said Office of Tribal Government Relations Director Stephanie Birdwell. "It offers an unprecedented voice in how programs, policies and services may be delivered and provided."
Meeks has been a strong voice for First American communities through various positions during a 32-year career of service. Before his retirement from the Indian Health Service (IHS) in 2019, Meeks served as the Director of the Oklahoma City Area Indian Health Service and the IHS deputy director for Field Operations. In both positions, he was a strong advocate, educator and influence for tribal programs in high-level tribal policy negotiations at the agency and departmental levels.
He also served as the IHS contact for the U.S. Surgeon General to orient and educate the Office of the Surgeon General on important health issues affecting First Americans. Meeks is a longtime champion for increasing access to quality health services by working to add funding available to tribes and IHS, construction of new health care facilities, boosting the use of advanced telehealth technologies and more.
In September 2020, Chickasaw Nation Governor Bill Anoatubby appointed Meeks to be the deputy secretary of health for the Chickasaw Nation Department of Health. That same year, he was inducted into the Chickasaw Hall of Fame.
Meeks has been married to his wife, Janice, for more than 40 years and has three grown children and five grandchildren. His mother, Naomi Meeks, is a full blood Chickasaw as was his maternal grandmother and original enrollee, Bygimie Perry Parker.