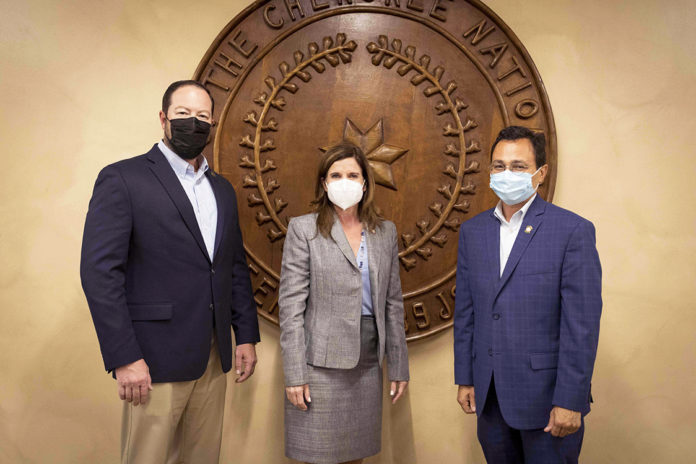 TAHLEQUAH, OK – Janees Taylor has been confirmed as the Cherokee Nation's newest Treasurer by the Council of the Cherokee Nation. Principal Chief Chuck Hoskin Jr. nominated Taylor for the position, and she was unanimously confirmed by the Council Thursday. Taylor will transition into her new role as Treasurer with the new 2022 fiscal year.
"Janees Taylor will oversee a $3 billion budget, the largest in the history of the Cherokee Nation, and oversee the spending of programs that will help countless of our Cherokee people recover through COVID-19 and continue to build up infrastructure within our tribe to benefit the next seven generations," Chief Hoskin said. "I'm thankful that the Tribal Council confirmed Janees and I look forward to her service and expertise."
Taylor, of Pryor, OK, served on Tribal Council for District 15, which includes parts of Mayes and Rogers Counties, since 2013. She has chaired the Executive and Finance Committee.
"I am looking forward to leading the financial resources team as Cherokee Nation continues to navigate the Covid-19 pandemic," said Taylor. "This is a critical time for us to take care of our Cherokee citizens and we are positioned to change our tribe in a way that makes the Cherokee Nation more self-sufficient than ever. My time on the Tribal Council has made me appreciate how Cherokee Nation uses funds to continually improve the lives of its citizens and the communities in which we are located. I am thankful that both Chief Hoskin and the Tribal Council have given me this opportunity to continue to serve my tribe in this new position as treasurer."
Taylor will manage more than 100 employees in finance and related departments and oversee the proposed $3 billion fiscal year 2022 budget.
"I have served with Janees Taylor for six years. During this time she masterfully chaired the Executive and Finance committee," said Keith Austin, Tribal Councilor and Executive and Finance Committee Chair. "Her commitment to detail and her integrity are unquestioned. I applaud Chief Hoskin for his nomination of her. Today's confirmation vote without opposition by the Council was well deserved."
Taylor will succeed former Cherokee Nation Treasurer Tralynna Scott. Scott vacated the position to become Cherokee Nation Businesses' Chief Economist and the Cherokee Nation's Special Envoy to the U.S. Department of the Treasury.