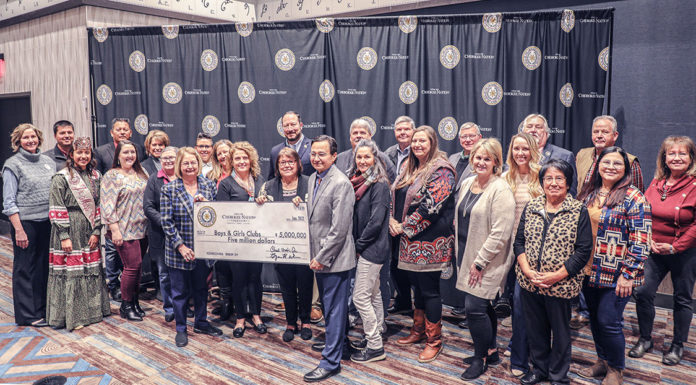 TAHLEQUAH, OK – Cherokee Nation leaders met with 100 representatives of local Boys & Girls Clubs as Principal Chief Chuck Hoskin Jr. and Deputy Chief Bryan Warner unveiled plans to invest an additional $5 million into Boys & Girls Club programs over the next two years.
Funding is specifically designated to help clubs in Bartlesville, Pryor, Tahlequah, Nowata, Chelsea, Tulsa, Adair County, Delaware County and Sequoyah County with capital projects, addressing food insecurity among students, and grants that could help the clubs provide additional services during some holidays or over the summer months.
"When it comes to the Boys & Girls Clubs, these programs do important work," said Chief Hoskin. "The Cherokee Nation is always looking ahead seven generations, thinking in generational terms, and naturally we look to the young people across the reservation. So much of what we aspire to do for young people are things our local Boys & Girls Clubs are already doing. Over the last four years, we've given nearly $1 million to the Boys & Girls Clubs across the Cherokee Nation reservation. Now, we are setting aside $5 million in additional funds to further support our Boys & Girls Clubs and the important work they do. We cannot measure what it means for a young person to have a place to go after school during those crucial hours, or to have a place where they find nutrition programs and healthy meals. I know these new investments will yield immeasurable results for Northeast Oklahoma for years and years to come."
Of the $5 million in funds, Cherokee Nation will be setting aside $2.7 million for a childcare pilot project that will help the local Boys & Girls Club programs on the reservation with grant opportunities that could provide funding for holiday and summer programs.
"There are an untold number of children in Northeast Oklahoma that have been positively impacted by the wonderful work of Boys & Girls Clubs programs," said Deputy Chief Warner. "I am proud of the great work that has been done by all of these programs and the lives that have been changed as a result of finding a safe place to be challenged, to learn, and to be mentored."
As a part of the new funding, the Cherokee Nation will contribute $100,000 each to nine programs for food security initiatives over the next two years, for a total of $900,000. Funds can be used to support existing food programs or create new programs to help students and their families through food donations, food cards, nutrition classes or other similar programs.
Cherokee Nation will also contribute another $100,000 to each of the nine clubs for capital projects over the next two years. This will provide grants that support maintenance and equipment projects.
"This is important to us all," said Speaker of the Council Mike Shambaugh, a former Boys & Girls Club of Delaware County Board Member. "We do this to further the programs we have for our kids, and it's not only our Cherokee kids, but when we can do something that's positive for any child, we've done really well. I have learned a lot about what it means to be in a safe learning environment because of the work of the Boys & Girls Clubs have on our kids."
The additional investment to area Boys & Girls Clubs was recommended by the Cherokee Nation Early Childhood Task Force, which was created by Chief Hoskin in March of 2022 to identify areas of opportunity and areas of unmet needs regarding early childcare within the Cherokee Nation reservation.
"It's almost overwhelming," said Brynn Barron, Boys & Girls Club of Nowata Director. "We are thrilled to be partnered with Cherokee Nation. Cherokee Nation has been one of our biggest supporting partnerships since the founding of our club. We have 100 children in our program and a lot of our kids face food insecurity, so I'm thrilled to know that's something we can expand with the new funds."
The Early Childhood Task Force was assembled as part of the Verna D. Thompson Early Childhood Education Act, which was created by Chief Hoskin and Deputy Chief Bryan Warner in 2021. It invests up to $40 million to replace or rehabilitate all of the tribe's Head Start centers.
During the luncheon with area Boys & Girls Clubs representatives, the Cherokee Nation also distributed annual charitable contributions to eight Boys & Girls Club programs. The donation amounts to each group included:
$14,873.33 to Boys & Girls Club of Delaware County
$5,417.02 to Boys & Girls Club of Bartlesville
$3,319.10 to Boys & Girls Club of Green Country
$14,935.95 to Boys & Girls Club of Chelsea
$5,761.46 to Boys & Girls Club of Nowata
$11,773.41 to Boys & Girls Club of Sequoyah County
$96, 535.73 to Boys & Girls Club of Tahlequah
$67,384 to Boys & Girls Club of Adair County Schools