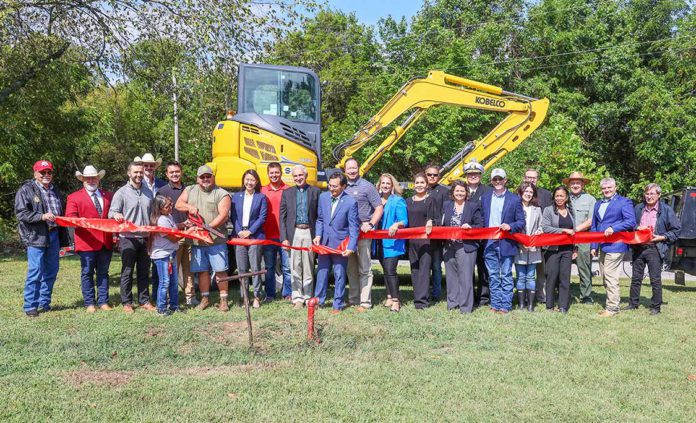 CHEWEY, OK – Leaders from the Cherokee Nation and the State of Oklahoma joined representatives of Delaware County in a ribbon cutting ribbon on a $2.39 million waterline project in the community of Chewey, which is providing access to safer and more reliable water.
The Cherokee Nation installed approximately 15,000 ft. of new 6-inch waterlines, 2,500 ft. of new 8-inch waterlines and 8,500 ft. of 2-inch waterlines as part of the project.
"Deputy Chief Bryan Warner and I often say that small communities like Chewey are ones that the rest of the world has seemingly forgotten about, but we don't forget about them because Cherokees founded these communities," said Cherokee Nation Principal Chief Chuck Hoskin Jr. "People might ask, why invest in these small Cherokee towns like Chewey, or Kenwood, or Marble City, or Bowlin Spring? But if we ask that question, we may as well ask whether Cherokee culture is worth investing in, whether Cherokee community is worth investing in, or whether Cherokee language is worth investing in. If this community were to fail, then these efforts to build this Nation from the grassroots up could fail. But we at the Cherokee Nation refuse to see our Cherokee communities, Cherokee culture and Cherokee lifeways disappear."
The tribe partnered with the Oklahoma Water Resources Board (OWRB), South Delaware County Regional Water Authority and Indian Health Service to complete the $2.39 million waterline project. Funding for the project included $1.4 million from the Cherokee Nation Respond, Recover and Rebuild Act, $694,000 from IHS and $301,500 from the OWRB.
"This particular project is special for numerous reasons, one of which being the partnership between the Cherokee Nation, the government of the United States and the State of Oklahoma," said Deputy Principal Chief Bryan Warner. "We believe in working together. We believe in the Cherokee word and idea of gadugi, which means working together with a purpose of accomplishing a greater good. That's why these relationships the Cherokee Nation has built with organizations like the Oklahoma Water Resources Board, South Delaware County Regional Water Authority, and Indian Health Service are so important."