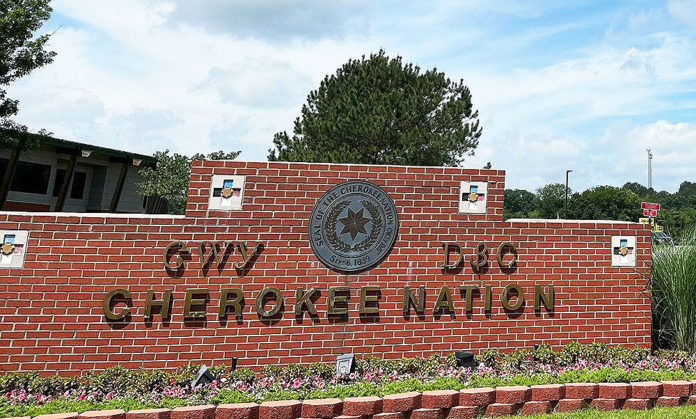 TAHLEQUAH, OK – The Cherokee Nation recently received a federal infrastructure grant worth more than $12.9 million for a reconstruction project on Mud Valley Road in Cherokee County.
The U.S. Department of Transportation's Federal Highway Administration grant is part of President Biden's overall $130.5 million bipartisan infrastructure law. The Cherokee Nation received one of seven awards under the Nationally Significant Federal Lands and Tribal Transportation Projects Program.
"I am proud of the Cherokee Nation Department of Transportation and Infrastructure for seeking additional funding sources, including federal grant opportunities, to improve our Cherokee communities," said Cherokee Nation Principal Chief Chuck Hoskin Jr. "Mud Valley Road is a critical route for Cherokee citizens and this funding will allow us to complete substantial work to make it safer and more reliable."
The Mud Valley Road project spans more than 4.5 miles and includes three bridge construction projects to replace existing, undersized and aging drainage structures along the route. The road will be constructed to include 11-ft. lanes and three-ft. paved shoulders, and the project also includes realignment of a dangerous intersection and improving sight distance. The construction project is estimated for completion in early 2025.
"Along with these important elements of the Mud Valley Road project, construction will also improve the drainage in the area, where the road was previously made impassable during heavy rains," said Deputy Chief Bryan Warner.
"Under President Biden's leadership, we are delivering infrastructure improvements on federal and tribal lands that communities have needed for decades," said U.S. Transportation Secretary Pete Buttigieg. "With today's announcement, we are making it easier for Americans to access some of our greatest natural wonders, and improving road safety in tribal communities, which face some of the highest rates of traffic deaths in the nation."
In a press release, the U.S. Department of Transportation's Federal Highway Administration said the project will also include pedestrian and bicycle safety improvements.
In just over three years, the Cherokee Nation has helped construct and rehabilitate over 146 miles of roads and built a number of bridges throughout the Cherokee Nation reservation for a monetary investment of more than $38 million.