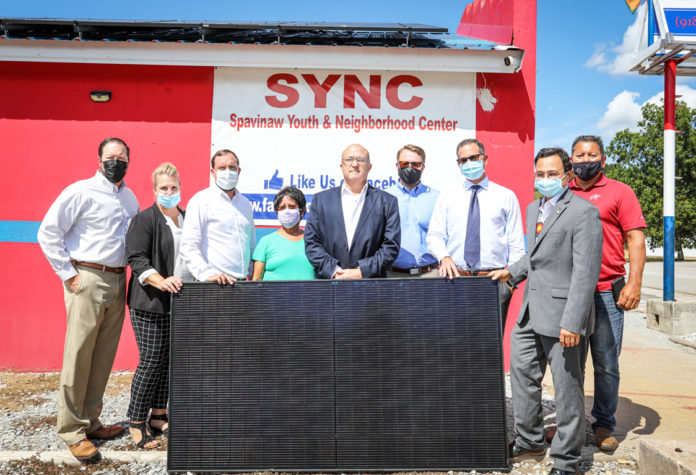 SPAVINAW, OK – The Cherokee Nation is providing an eco-friendly boost to the Spavinaw Youth & Neighborhood Center through the installation of rooftop solar panels on the neighborhood center's building, which are expected to lower utility costs by as much as 80 percent.
The installation is part of the $30 million Housing, Jobs and Sustainable Communities Act created by Cherokee Nation Principal Chief Chuck Hoskin Jr. and Deputy Principal Chief Bryan Warner in 2019. Twenty-five percent of funds through the Housing, Jobs and Sustainable Communities Act are set aside to help Cherokee citizens with housing repairs and to upgrade Cherokee community buildings with connectivity and sustainability projects such as solar power, HVAC systems and Wi-Fi connectivity.
"The Spavinaw Youth & Neighborhood Center does so much for its community," said Chief Hoskin. "Rusty Henson and the team of volunteers here help keep the Cherokee culture alive. What we want them to do less of is worry about the electric bill. These solar panels will take about 80 percent away from their utility bills. It also helps us meet our responsibility to lower our carbon footprint. This is all a part of an initiative Deputy Chief Warner and I, along with support of the Council, began working on a couple years ago. This is the sustainable community part of that important legislation, helping us to make sure we have a sustainable planet."
Over the lifetime of the solar panels and subsequent reduction of utility costs at the Spavinaw community center, the savings will be equivalent to taking three vehicles off of the road, planting more than 11,000 trees, saving more than 460,000 pounds of coal, and saving more than 1,000 barrels of oil.
"I think it's great to have this because our electric bills seem like they're so high," said Councilor Shotpouch. "I think we're all for anything that will help people make it to be, maybe, less stressful and to conserve energy. I think this is great to see this project becoming a reality."
The solar project is distributed through the tribe's Community & Cultural Outreach sustainability grant, which is meant to fund green-friendly efforts and other cost-saving renewable energy technology in Cherokee community buildings across the tribe's 14-county reservation.
"It is very difficult to raise funds as a non-profit. Any money we can save, whether through energy costs or any overhead costs, is more funds we can raise for the community and especially for the youth of the community," said Henson. "It will provide more afternoon snacks or veterans programs, to enhance them, to make them better and make the community more enjoyable. We're glad to be a partner with the Cherokee Nation and we hope we can continue that partnership for many years to come."
The Cherokee Nation has also assisted Mid County Community Organization in Adair County, Native American Fellowship Inc. in Nowata County, Tri-Community Association in Cherokee County, Neighborhood Association of Chewey in Adair County, and Rogers County Cherokee Association in Claremore with rooftop solar panel installations.