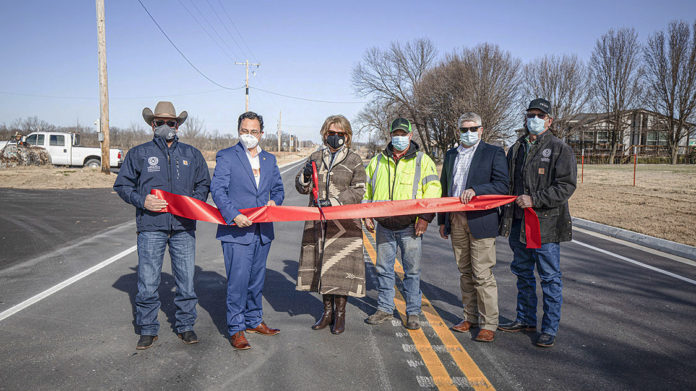 WHITE OAK, OK – Cherokee Nation leaders recently joined Craig County officials to celebrate the completed reconstruction of NS4340 Road in White Oak, OK.
"With the partnership of Cherokee Nation and Craig County officials, we were able to provide a safer and more improved roadway for all those who use this route in the White Oak community," said Cherokee Nation Principal Chief Chuck Hoskin Jr. "It's important to keep our infrastructure a priority in order to help connect communities like White Oak."
The road project consisted of a complete reconstruction of more than four miles of the previous road. A school parking lot and sidewalk were also included in the project. With its completion, the road will provide an improved route connecting a school, community building and two highways.
"I have a lot of constituents who live on this road," said Victoria Vazquez, Council of the Cherokee Nation Deputy Speaker, who represents District 11. "I also am friends with several people who attend the Shawnee stomp grounds and there's a building down the road that's a tribal community building. So, there are a lot of people impacted in a positive way in my district, and I'm thrilled that we were able to do it."
Construction on the project began in June 2020, and the Cherokee Nation contributed over $8 million for the project.
"This project means a lot because it was a project that the county couldn't afford to do and it really was a project that needed to be done through the heart of our community," said Lowell Walker, Craig County District 1 Commissioner. "It was a great mutual agreement between the two parties."