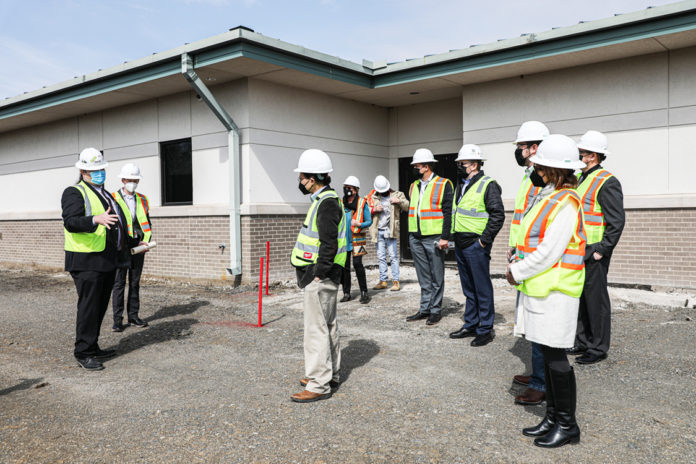 TAHLEQUAH, OK – Cherokee Nation is investing a total of more than $12 million to add new patient services or expand existing services and space at four tribal health centers located across the tribe's 14-county reservation area.
Cherokee Nation outpatient health centers in Vinita, Nowata, Ochelata and Muskogee are part of the ongoing capital improvement projects covered by the tribe's COVID-19 Respond, Recover and Rebuild plan. The projects were designed to help Cherokee Nation Health Services better meet the growing number of yearly patient visits and ensure the centers have the equipment and space needed to monitor patients previously diagnosed with COVID-19, while also providing room for staff and patients to practice social distancing.
"Each of these four projects will have a great impact on their communities and the patients and staff who utilize Cherokee Nation Health Services at these locations," said Cherokee Nation Principal Chief Chuck Hoskin Jr. "Expanding access to health care is good for Cherokee citizens, their families and their communities, and it is good for the economy as well. These four projects will create more jobs within our health system, and overall, the expansion of services, state-of-the-art equipment, and facility space will greatly complement the $435 million we are investing into other health care capital improvement projects, including planned construction of a new hospital in Tahlequah and a new outpatient health center in Salina."
Chief Hoskin, Deputy Chief Bryan Warner and Chief of Staff Corey Bunch recently met with District 11 Councilor Victoria Vazquez to tour the projects in Vinita and Nowata, District 12 Councilor Dora Patzkowski to tour projects in Nowata and Ochelata, and District 4 Councilor Mike Dobbins to see the construction in Muskogee. Health Services staff helped lead the tours and detailed the plans for each project.
"Over the last decade, Cherokee Nation Health Services has seen a dramatic expansion of services for patients, and today we remain the largest tribally operated health system in the country," said Cherokee Nation Deputy Chief Bryan Warner. "We must keep investing so that Cherokee families have the best health care. That's why these four capital improvement projects are particularly important. We must continue to evolve our health care system to meet the changing needs of our citizens, and these four projects will address the needs that have been identified within each of the specific communities."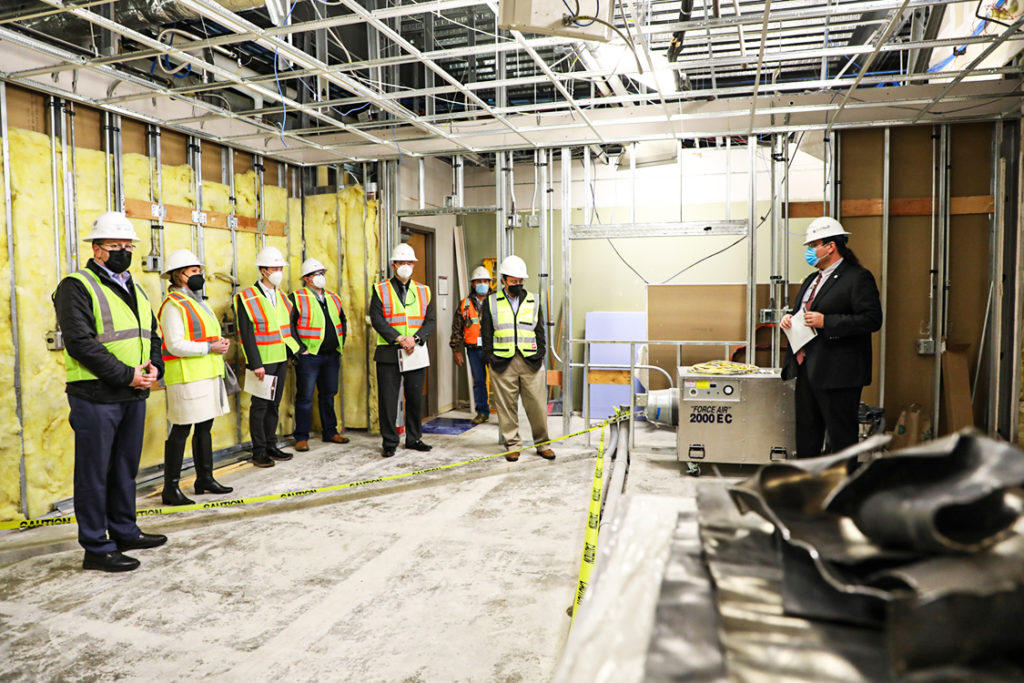 The Vinita Health Center project will expand the existing radiology department to add CT services for patients, and is set for completion in the spring of 2022. The new service line is expected to add three new positions when fully operational.
"It's very exciting that our Vinita Health Center patients will now have the ability to receive important CT services right here in their community rather than having to drive a little farther to have the test completed at another health center," said Councilor Vazquez. "This project, coupled with the addition of dental services for patients who use the Will Rogers Health Center in Nowata, will be such a blessing for Cherokees in my district and I am so proud of this progress."
The Will Rogers Health Center expansion in Nowata has the potential to add up to 13 new staff positions and will add dental service while providing additional space for optometry services. When the expansion project is complete, the health center will have eight dental exams, five optical exams, two optical treatment spaces and other necessary space to facilitate patient and staff needs. Expected completion of the project is summer of 2022.
The Cooweescoowee Health Center expansion in Ochelata will expand space for the facility's laboratory and provide three additional dental exams, six new primary care exams, a treatment room and other space for treatment needs. The project will add approximately 12 new positions. The current estimated completion of the project is summer of 2022.
"Health care is always one of the main issues the Cherokee citizens in District 12 want to talk about, so it's always great to see our Health Services team be able to improve their facilities and equipment," said Councilor Patzkowski. "I'm glad to see we are addressing the needs of our growing Nowata and Ochelata health centers."
The Three Rivers Health Center project in Muskogee will add CT services for patients, allow all radiology to be housed in one space, and will expand other spaces in the health center, with an estimated completion of summer 2022. The expansion is expected to add three new staff positions.
"Adding CT services for patients at Three Rivers Health Center is going to make health care even better for Cherokee citizens this community," said Councilor Dobbins. "Now, patients will be able to receive this service closer to home. This is a great addition to our Muskogee health center and I can't wait for us to complete this project and make it available to patients who need it."
Cherokee Nation Health Services is the largest tribally-operated health care system in the U.S. with nine outpatient health facilities throughout the Cherokee Nation Reservation, as well as the W.W. Hastings Hospital in Tahlequah.