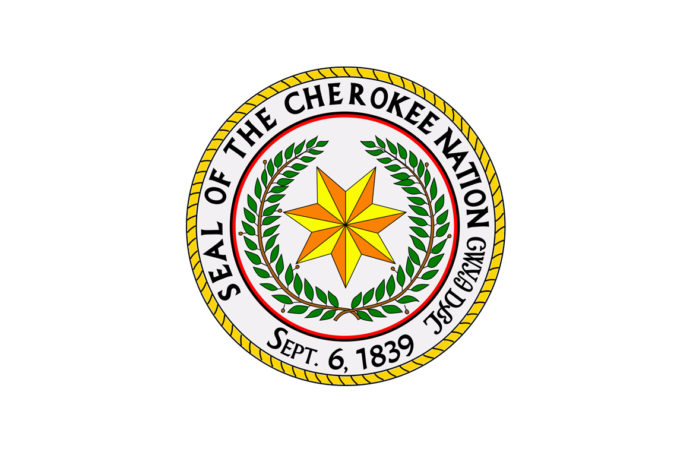 TAHLEQUAH, OK – Members of the 2021-22 Cherokee Nation Tribal Youth Council were recently sworn into office during a virtual inauguration ceremony. Principal Chief Chuck Hoskin Jr. gave the keynote address, which also included and invocation by Deputy Chief Bryan Warner and remarks from the Speaker of the Council of the Cherokee Nation Mike Shambaugh. Executive Director of Education Services Corey Bunch and Cherokee Nation Delegate to Congress Kim Teehee also spoke to the youth members.
"Deputy Chief Warner and I look forward to seeing the great things that this group of young Cherokees are sure to accomplish as they serve on the Tribal Youth Council," said Chief Hoskin. "The exchange of knowledge between the Cherokee Nation and the Tribal Youth Council can be an invaluable asset for the tribe. For as much as they expect to learn from us, we in turn will use their input to help identify issues affecting our Cherokee youth throughout our reservation. This group is to be commended for their efforts."
The 14-member youth council will have an opportunity to help shape future tribal policy by learning the Cherokee Nation Constitution and bylaws. The Tribal Youth Council also strives to identify issues affecting Cherokee youth and to pass on recommendations to the Tribal Council and Cherokee Nation administration.
"When I initially ran for the At-Large position, it was important to me to be able to learn more and be involved with my tribe," said Abigail Lowe, At-Large representative, 21, Wellington, KS. "The Cherokee Nation Tribal Youth Council has exceeded my expectations thus far, and I know I only have more to learn which is why I am so thankful to be able to serve another year."
The Cherokee Nation Tribal Youth Council leadership program began in 1989. Members meet monthly, but also serve as ambassadors of the Cherokee Nation on a daily basis. Its establishment gives Cherokee youth a platform to learn leadership skills and a chance to serve their communities.
"I'm honored to have the opportunity to represent my family, community, and school by being a part of the Tribal Youth Council," said Laney Williams, Westville High School senior. "Being on the tribal youth council is something that I've always wanted. I hope to use the platform to inspire other Cherokee youth – especially in Adair County – to learn more about the government, culture, language, and history of our people. I am grateful to the Cherokee Nation for this opportunity and experience."
The 2021-22 Tribal Youth Council members include: Chenoa Turtle and Kenzie Snell of Park Hill; Lauryn Fields and Kennedy Weedon of Sallisaw; Luke Spradlin of Porum; Daley Reynolds of Claremore; Taylor Lynn of Tahlequah; Jayden Jackson of Owasso; Brooklyn Hawkins of Muldrow; Makaya Crisp of Pryor; Abigail Lowe of Wellington, KS, Jessica Kantola of Fort Smith, AR, Shace Duncan of Stilwell and Laney Williams of Westville.
The Cherokee Nation Tribal Youth Council is selected to a one-year term and will meet once a month.