TAHLEQUAH, OK – The Cherokee Nation honored three veterans with the Medal of Patriotism during the September meeting of the Council of the Cherokee Nation.
Ross Fred Reavis Jr., of Tulsa; Donald R. Davis, of Muldrow; and Eardie J. Six, of Marble City were recognized by Cherokee Nation Deputy Principal Chief Bryan Warner and Secretary of Veterans Affairs S. Joe Crittenden, acknowledging their service and sacrifice to their country.
Reavis entered the U.S. Navy on March 7, 1968, and was sent to Great Lakes, IL. He was then sent to the Navy's aviation electricians school in Jacksonville, FL. Reavis was selected as the person to load and unload the photography module on the A7E aircraft, along with maintenance responsibilities. In November 1970, Reavis's squadron, the VA-192, was deployed to Vietnam aboard the aircraft carrier USS Kitty Hawk. He was then honorably discharged in January 1972, where he would go on to complete his college degree.
"It's quite an honor to be able to stand in front of my people and be recognized for my military service," said Reavis. "Thank you very much."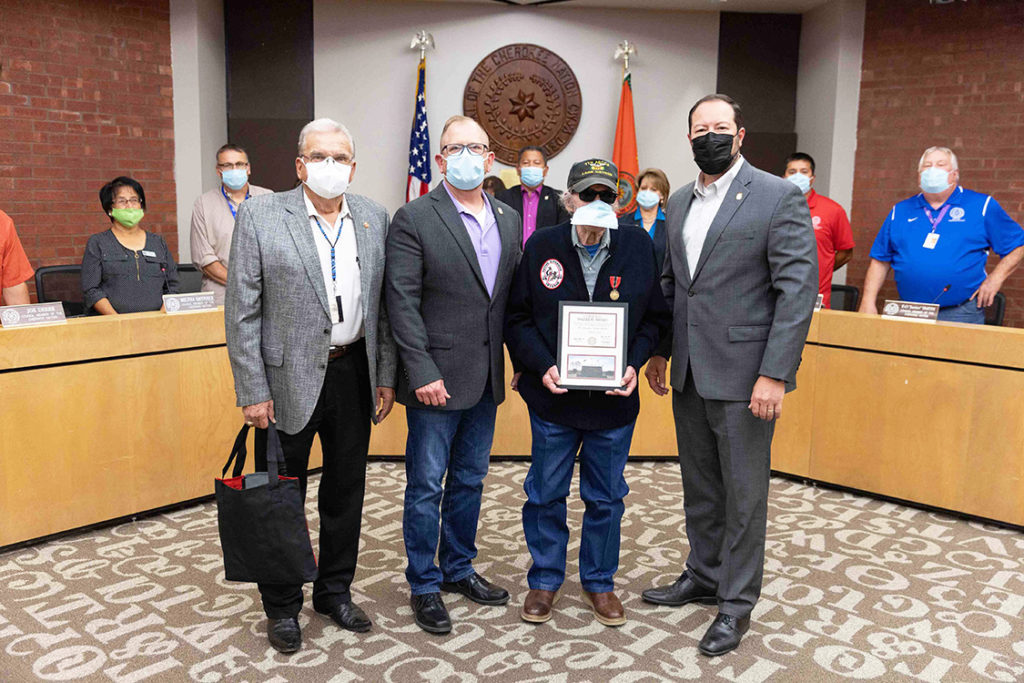 Davis entered the Air Force in 1955. After his training, he was sent overseas to Midway Island, Guam, Resolution Island and the Philippines. Davis, along with his crew, did five tours in Southeast Asia, as well as flying several combat missions in Laos and other areas while in Vietnam. He was part of a crew who flew 12-hour missions aboard a C-130 Airborne Command Control Center, where they directed all bombers and fighter jets to their targets, as well as assisted in ground rescue. Davis was part of the Strategic Air Command's 55th Air Mobility Support Group, where he retired with an honorable discharge after 20 years as an E-6 Technical Sergeant.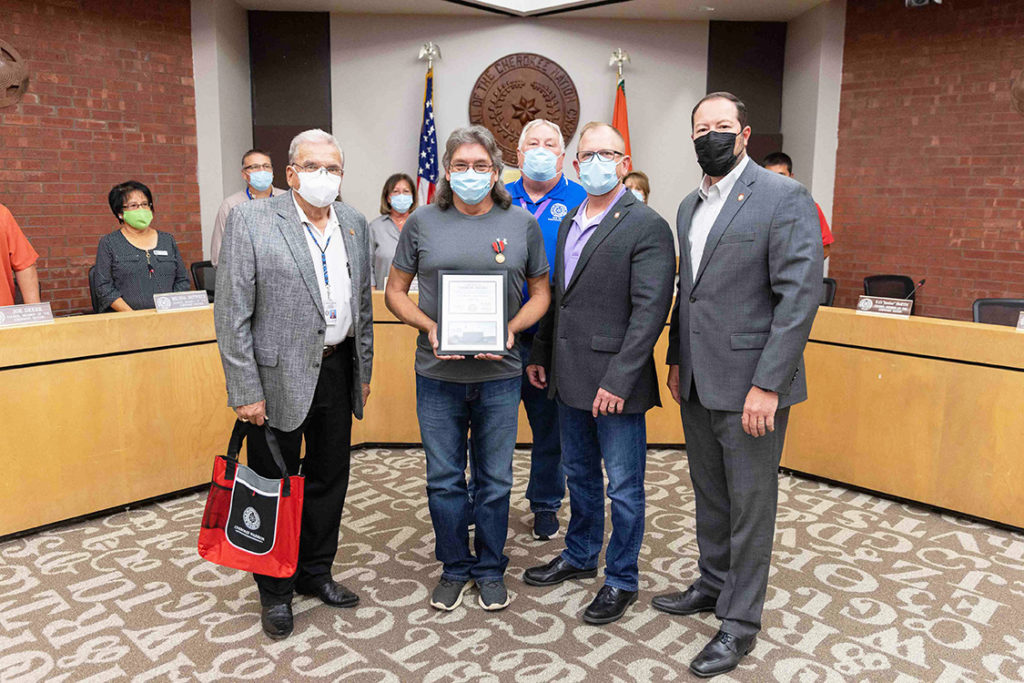 Six entered the Navy in 1984 and served on the USS Midway Aircraft Carrier CV-41. For most of his time in the Navy, Six was stationed on-board as a firefighter. He spent the majority of his tour in Germany as an electrical/mechanical equipment repairman until he returned stateside in 1987 and was honorably discharged as an E-3 Seaman.
Each month, the Cherokee Nation recognizes Cherokee service men and women for their sacrifices and as a way to demonstrate the high regard in which all veterans are held by the tribe. Native Americans, including Cherokees, are thought to have more citizens serving per capita than any other ethnic group, according to the U.S. Department of Defense.