TAHLEQUAH, OK – The Cherokee Nation honored three veterans with the Medal of Patriotism during the January meeting of the Council of the Cherokee Nation.
Steven Michael Cheatham of Bryan, TX; Randall Fredrick Willmon of Amarillo, TX; and Mark Allen Prather of Claremore, OK, were recognized by Cherokee Nation Principal Chief Chuck Hoskin Jr., Deputy Chief Bryan Warner, and Secretary of Veterans Affairs S. Joe Crittenden, acknowledging their service and sacrifice to their country.
Steven Michael Cheatham joined the Marines on Mar. 5, 1996. He served as a C-130 Hercules Loadmaster. Gunnery Sgt. Cheatham was selected to become a member of the world-renowned Blue Angels Demonstration Team and he additionally served as a Jungle Warfare Training Center instructor and tracking expert. Cheatham then served as the detachment commander responsible for protecting the Department of State Embassy located in Algiers, Algeria, and was deployed boots-on-ground to Iraq with the Marine Corps storied "Fightin'" Fifth Corps. Cheatham was honorably discharged on Mar. 31, 2016, and continues to work as a cadet training instructor for the esteemed Texas A&M Corps of Cadets.
"It's truly an honor to be here," said Cheatham. "Thank you to the Council for letting me come up here."
Mark Allen Prather joined the United States Navy in February of 1967. He completed boot camp at San Diego Recruit Training. Machinist Mate Petty Officer 2nd Class Prather was then assigned to Great Lakes Naval Center for 12 weeks for engineering school and was designated as a Machinist Mate. Soon after graduating from Great Lakes Naval Center, he made the flight from Travis Air Force Base in San Diego to Yakota Air Force Base in Japan. Prather boarded his first ship, an old World War II destroyer named the USS Black DD666, and went to the Vietnam gun line to provide fire support for various Army and Marine forces inland. Prather made two tours in Vietnam aboard the USS Black DD666 until decommissioned in 1969. At that time, he had achieved the 2nd Class Machinist Mate rank. Prather had one more deployment to Vietnam aboard the USS John Paul Jones DDG32, a guided missile destroyer. He was honorably discharged in October 1970.
Randall Fredrick Willmon was unable to attend the Council meeting but was recognized on Jan. 10 during his visit to the Cherokee Nation Veterans Center.
Randall Fredrick Willmon enlisted in the Army in March of 1995 where he served as a Light Wheel Mechanic for six years. He was then reclassed to Cavalry Scout for the remaining 14 years of his service. Sgt. 1st Class Willmon served in the 82nd Airborn 1/37 Armored Regiment, 3rd Cavalry Regiment, 5/15 Cavalry, 101st Airborn and 4th Cavalry Brigade. During that time he was deployed to Kosovo, Iraq twice, and Afghanistan. During those times, he also served in many different positions such as Team Leader, Dismount Squad Leader, Senior Scout, Scout Platoon Sergeant, Drill Sergeant of the 101st Division G-3 operations Non-commissioned Officer in Charge, and Military Combat Operations Advisor for Afghanistan troops. Willmon retired after 20 years of service and was honorably discharged in March of 2015.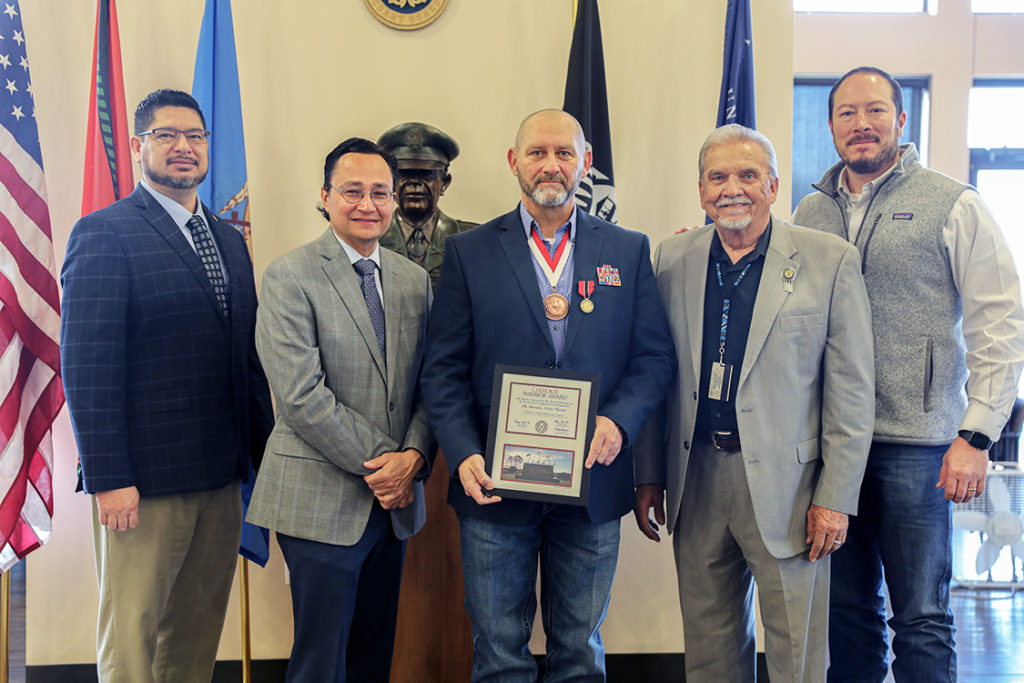 Each month, the Cherokee Nation recognizes Cherokee service men and women for their sacrifices and as a way to demonstrate the high regard in which all veterans are held by the tribe. Native Americans, including Cherokees, are thought to have more citizens serving per capita than any other ethnic group according to the U.S. Department of Defense.