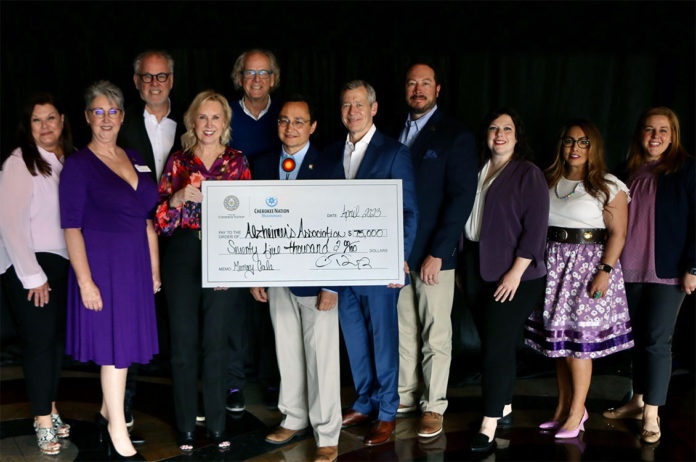 TULSA, OK – Cherokee Nation and its businesses recently presented a $75,000 check to the Alzheimer's Association Oklahoma Chapter.
"The Cherokee Nation has long been supportive of our citizens, friends, neighbors and communities," said Cherokee Nation Principal Chief Chuck Hoskin Jr. "Our tribal government, our businesses and our employees take great pride in our role as an outstanding community partner and we remain dedicated to creating a positive and lasting impact for all Oklahomans."
According to the association, more than 67,000 Oklahomans are living with Alzheimer's disease and more than 135,000 friends and family members provide unpaid care for their loved ones each year. More than six million Americans are living with Alzheimer's, while more than 11.5 million people provide their unpaid care.
"We are always working to expand and sustain partnerships that can raise awareness and provide much-needed services to Oklahomans impacted by Alzheimer's and dementia," said Sandi Pellow, Executive Director of the Alzheimer's Association Oklahoma Chapter. "Given the prevalence of Alzheimer's and dementia, as well as the ever-increasing number of caregivers in Oklahoma, this partnership is a way for the association and the Cherokee Nation to provide educational programming and support groups to tribal members in their own communities."
The Alzheimer's Association is the leading voluntary health organization in Alzheimer's care, support and research. Through its vision of a world without Alzheimer's, the non-profit organization aims to eliminate the disease through the advancement of research, to provide and enhance care and support for all affected, and to reduce the risk of dementia through the promotion of brain health.
"With millions of people worldwide living with neurodegenerative diseases, the incredible work and services provided by the Alzheimer's Association are absolutely invaluable," said Chuck Garrett, CEO of Cherokee Nation Businesses. "We are honored to lend our support and to join them in the fight to end Alzheimer's."
The tribe will serve as a 2023 and 2024 presenting sponsor of the Memory Gala, the non-profit's annual fundraiser.