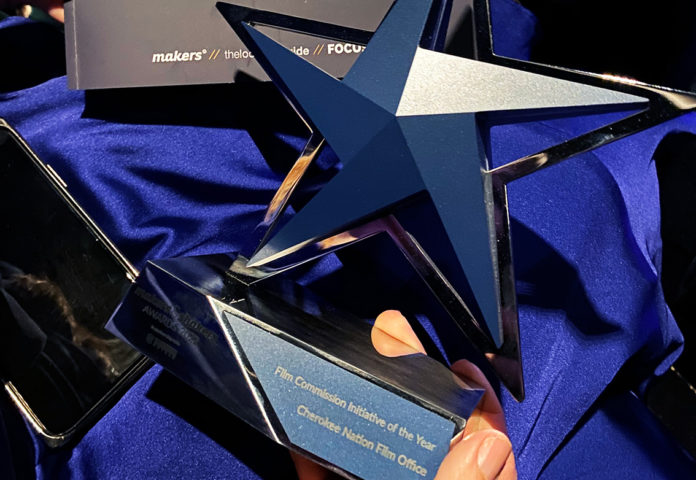 TULSA, OK – The Cherokee Nation Film Office (CNFO) has been recognized for its talent directories featuring Native American citizens. CNFO won Film Commission Initiative of the Year during the 2022 Makers & Shakers Awards ceremony held at the British Academy of Film and Television Arts (BAFTA) headquarters in London. The tribe's film office was the only finalist from the U.S. to be nominated for the honor.
"We are incredibly honored to accept this recognition, which is an absolute win for all of Indian Country," said Jennifer Loren, Senior Director of Cherokee Nation Film and Original Content. "Representation matters, and it is vital that Indigenous people see themselves accurately and authentically represented in all forms of media across the globe. It is the inspiration that drives our mission and encourages our team to continue working diligently on new and proactive ways to engage and support Native talent across the film and television industry."
Judges selected the tribal film office for its ongoing effort to help Native Americans be fairly represented across mainstream media, as well as its role in the exponential growth of Oklahoma's film and television industry. The award highlights CNFO's unique, all-inclusive talent, crew and consulting directories featuring Native actors, extras, crew and cultural experts, as well as Native-owned businesses and support services.
The Film Commission Initiative of the Year award recognizes a local, regional or national film commission for its significant impact on its region. The 2022 finalists included CNFO, the Dominican Republic Film Commission, Film Queenstown Lakes, The National Film Authority of Ghana, Roma Lazio Film Commission, Trentino Film Commission and The Ukrainian Content.