TAHLEQUAH, OK – The Cherokee Nation is contributing nearly half a million dollars to 136 Northeast Oklahoma fire departments. The tribe's annual contribution helps support volunteer fire departments, which otherwise rely on fundraisers, membership dues and the help of their communities' residents to maintain their vital operations.
Hundreds of Northeast Oklahoma firefighters gathered in Tahlequah for the tribe's annual Volunteer Firefighter Appreciation Banquet. Each of the 136 fire departments received $3,500 to help with equipment, fuel or other items needed to protect lives and property of families throughout the Cherokee Nation Reservation. The funding is set aside in the Cherokee Nation's annual budget.
"In Oklahoma, the vast majority of firefighters are volunteers who risk their lives not for the pay or the glory, but because they are public servants at heart," said Principal Chief Chuck Hoskin Jr. "Thousands of these men and women throughout the Cherokee Nation Reservation will leave their homes and their families at a moment's notice to help protect and save lives. I know that our firefighters always have our backs, and because of their service and sacrifices it is critical that the Cherokee Nation continues to support their efforts. I believe we owe all of our firefighters a debt of gratitude for their selflessness and acts of courage, which we often do not see first-hand. Just as they always have our backs, the Cherokee Nation has their backs, and Deputy Chief Bryan Warner and I have their backs."
Keys Fire Department in Cherokee County and Disney Fire Department in Mayes County were recognized as this year's 2022 Volunteer Fire Departments of the Year.
Keys Fire Department was recognized for its willingness to assist neighboring fire departments in Cherokee County with training, mutual assistance, or by covering neighboring districts when other departments were unavailable or needed additional resources. Keys also helped to provide coverage for the City of Tahlequah when Tahlequah firefighters were attending funerals and other community events.
"We pride ourselves in serving the members of our community and to be honored for something that we love to do is precious," said Keys Fire Department Chief Yogi Cole. "I've been in fire service 39 years and fire departments, especially small-town, rural fire departments, can stretch a dollar farther than any organization I've ever seen. We have short and long-term goals and the Cherokee Nation funding helps us accomplish those goals."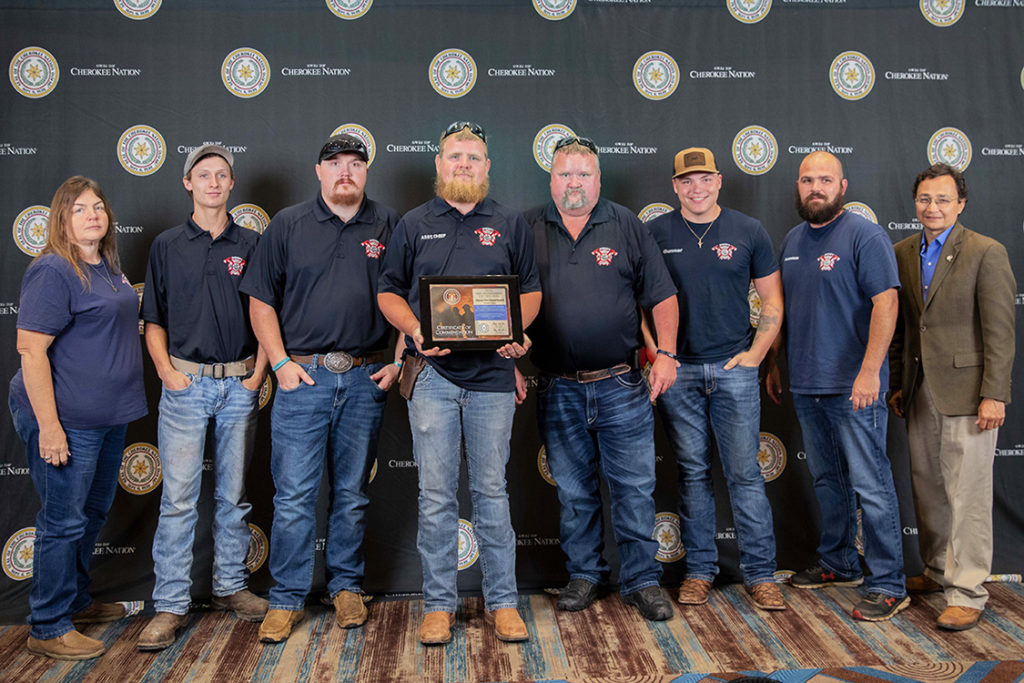 Disney Fire Department was recognized for its commitment to lowering its ISO rating. Insurance companies use ISO ratings, which are graded from a 1 to 10, to help establish fair premiums, and municipalities use the ratings as a benchmark for measuring the effectiveness of their community's fire protection services. Disney lowered its ISO rating from a 9 to a 5, having added on to its fire department. The department also built a new rescue truck, added new equipment, and focused on improved training. The department continues to focus on improving its fleet of vehicles and equipment to continue providing critical services to the community.
"We use the Cherokee Nation contribution for building better facilities, to keep our trucks going, our fuel, and our equipment to fight fire," said Disney firefighter Larry Sanders. "It means a lot to have support from the Cherokee Nation."
The Cherokee Nation also selected five recipients for the 2022 Volunteer Firefighter of the Year awards:
Jordan Lancaster, Whitehorn Fire Department, for his bravery and courage. Lancaster stepped in and volunteered to perform the role of safety officer when the department's safety officer had to take a leave of absence. Lancaster was also a leader among firefighters when responding to structure fires. When a fellow firefighter fell through a floor at a structure fire, Lancaster helped rally those on the scene to quickly get the firefighter to safety. They continued to fight the fire and saved a significant portion of the structure in doing so.
Shane Richardson, Collinsville Fire Department, for his help during a highway traffic collision. Richardson came across a crash where a man had been trapped inside the vehicle, and the vehicle caught on fire. Richardson retrieved a fire extinguisher and calmed the fire while others who had stopped to help were able to pull the trapped and unconscious man out of the vehicle.
BJ Baker, Tahlequah Fire Department, for his leadership among peers during the COVID-19 pandemic. Baker continued to respond to calls in the community during the pandemic and was a source of encouragement to younger firefighters, making it his mission to check on their mental health during the trying times. He has also continued to train and was appointed to the Oklahoma State Firefighters Association Legislative Committee, which is responsible for promoting legislation that benefits firefighters across the state. He is committed to focusing on health, safety, training, and improved equipment and funding for firefighters and fire departments throughout Cherokee Nation and the State of Oklahoma.
Rick Russell, Redland Fire Department, for his exemplary dedication to serving his community. Russell responds to nearly all emergency calls the department receives, often responding alone. During a structure fire in January of 2022, Russell was first to arrive at the home, which was fully engulfed in flames. He was able to do a quick search for victims. While there were no people inside the home, Russell was able to find and save a family pet.
Misty Martin, West Siloam Fire Department, for her passion to the fire service. Martin serves as Assistant Fire Chief. Martin responds to the vast majority of calls received by the department and helps provide training and oversee day to day operations. Fellow firefighters recognize the heart, compassion and commitment Martin has for protecting her community and never giving up on attempts to save lives and property when responding to an emergency. Martin was recently instrumental in the recovery efforts of a tragic structure fire and subsequently helping to provide closure to the family.