SALINA, OK – The Cherokee Nation has begun construction on its 106,000 sq. ft., $35 million health center, which will replace an existing 29,000 sq. ft. facility in Salina.
Cherokee Nation Principal Chief Chuck Hoskin Jr., Deputy Chief Bryan Warner and other leaders gathered for the official groundbreaking to celebrate the replacement health center that will include, for the first time, a 15,000 sq. ft. wellness center with cardio and strength training room and group fitness classes, physical therapy services and an outdoor half-mile walking trail.
"Building this new, two-story health center in Salina completes our work to have all new or expanded health centers for our citizens across the reservation," said Chief Hoskin. "In my State of the Nation, I also promised to find other opportunities across the reservation to make physical wellness programs available. And here is Salina, we achieve that promise for more public health and wellness options for our people."
In December 2021, Chief Hoskin and Deputy Chief Warner signed legislation investing $440 million into healthcare capital improvement projects. Aside from the new $400 million replacement W.W. Hastings Hospital in Tahlequah, the investment also includes a $35 million replacement health center in Salina and $5 million toward Northeastern State University College of Optometry.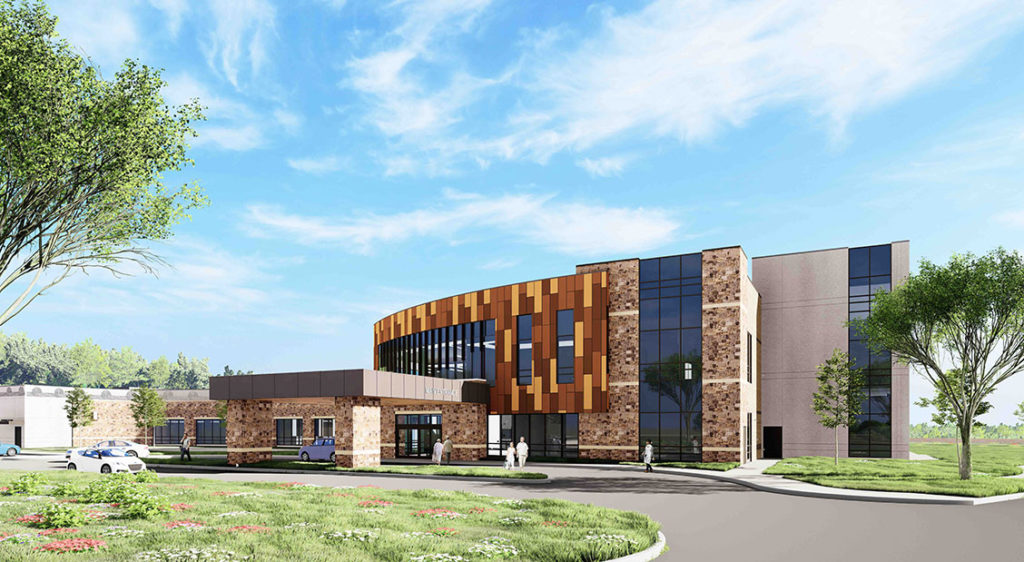 The new health center will feature 12 exam rooms for primary care, a two-lane drive-thru pharmacy, 12 dental chair spaces, expanded optometry, a demonstration kitchen for community cooking classes with an outdoor roof terrace, conference rooms, labs, WIC, radiology and helipad.
"This new health center will offer Salina and the surrounding communities access to more services with more space to better serve our citizens," said Deputy Chief Warner. "By investing critical dollars to improve our health system with this exponential growth to meet the needs of our citizens, this will positively impact our tribe for generations to come. This project will also create 400 to 500 new jobs, as well as other opportunities for our Cherokee families and communities to have a brighter future."
Originally, the health center in Salina started in the mid-1980's in a strip mall with about 25 employees. The current space opened in 1996 with fewer than 50 staff and has undergone several improvement projects to accommodate for growth. The space on the south side of the facility was added in 2005 for optometry, a larger pharmacy, additional exam rooms and offices. A dental clinic was added on the north end of the building in 2010. In the past year, Salina Health Center had 50,000 patient visits. The current Salina Health Center employs about 110 healthcare staff.
"The staff at Salina have been so patient and appreciative of all the improvements over the years, and we are excited to finally build them a space that is reflective of the extraordinary work they already do," said Dr. R. Stephen Jones, Executive Director of Cherokee Nation Health Services. "They worked creatively and industriously to serve the Cherokee people with limited space and resources."
The wellness space in the new Salina Health Center is part of Chief Hoskin and Deputy Chief Warner's Public Health and Wellness Fund Act of 2021, created to bolster more community wellness centers and fitness programs for citizens across the reservation.
The wellness center will include a cardio area, strength machines, two group activity rooms, child care, locker facilities and offices. One group activity room is dedicated to exercise stations. The second group activity room is dedicated to yoga, spin and other group fitness classes. The health center will also have an outdoor, half-mile walking trail with seven fitness workout stations and three stone-beam benches along the perimeter of the fitness trail.