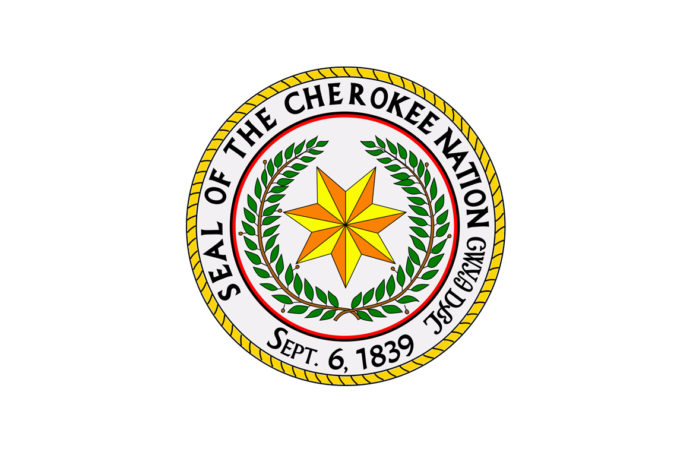 TAHLEQUAH, OK – Cherokee Nation Principal Chief Chuck Hoskin Jr. and Deputy Chief Bryan Warner have announced a new $1.675 million Community Impact Grant program for the tribe's nearly 70 affiliated non-profit organizations across the reservation and across the United States.
Chief Hoskin announced the program during his remarks at the 18th annual Conference of Community Leaders, presented virtually by the tribe's Community and Cultural Outreach (CCO) department.
"Our latest grant program for CCO-participating organizations has the potential to make the most impact," said Chief Hoskin. "We cannot build Cherokee communities from the top down. We must build them from the grassroots up."
The tribe's CCO department works with over 40 Cherokee community organizations across the tribe's 7,000 sq. mi. reservation and 25 "at-large" organizations across the U.S. The organizations focus on a variety of areas such as cultural preservation, nutrition and community service. Many of the organizations operate the over 30 community buildings across the reservation.
CCO administers a number of outreach and grant programs for community organization capacity building and capital projects.
In 2019, Chief Hoskin, Deputy Chief Warner,and the Council enacted the Housing, Jobs and Sustainable Communities Act, injecting $7 million into community organizing efforts focused on environmental sustainability. The law was extended earlier this year with another $7 million commitment for CCO's sustainability grant program.
The new Community Impact grants add to the existing CCO programs, providing up to $25,000 for the following community impact areas:
Community food security
Community organization public outreach / membership drives
Community needs survey
Community organization overhead costs
Support for volunteer in-kind assistance for community members in need
CCO will provide grant applications to each of the CCO-participating organizations later this week. The new Community Impact grants as well as CCO's other grant programs will also be the focus of its annual grant kickoff meeting to be held later this fall.
Community Impact Grant applications will be taken from August 15, 2022 to December 31, 2022. The grant must be spent by September 30, 2024. Only the nearly 70 on-reservation and at-large CCO-participating community organizations are eligible for this program.
"We've been working with CCO for decades," said Bill Davis, President of Native American Fellowship Inc., of South Coffeyville, OK. "CCO empowers Cherokee community organizations to serving the needs of local Cherokees and their families. We will immediately begin making plans to put a Community Impact grant into action."
Deputy Chief Bryan Warner praised the new program for helping all Cherokee community organizations, both those on the reservation and at-large.
"I've traveled our reservation extensively and also visited with many at-large community leaders," said Deputy Chief Warner. "No matter where I go there is a hunger among Cherokee citizens to work together, in the spirit of 'gadugi,' to preserve our culture, teach our history and serve those in needs at the local level. Community Impact grants will help community leaders achieve those goals."
Tsa-La-Gi LA Chair Cynthia Ruiz said she has seen more resources for at-large Cherokee organizations in recent years and looks forward to learning more about the new grant program.
"Cherokees are Cherokee no matter where they live," said. "Our organization puts funding provided by Cherokee Nation to good use and it keeps us connected to our tribe."